How Many Children Does Philadelphia 76ers Coach Doc Rivers Have?
Here's why Philadelphia 76ers head coach Doc Rivers marriage to his wife of more than three decades recently made headlines, plus how many children and grandchildren he has.
Glenn Anton Rivers, better known as Doc Rivers, is currently the head coach of the Philadelphia 76ers and also the patriarch of one of the most well-known families in basketball. In September 2019, his family became connected to another famous NBA family through marriage. Then a few months after that, Doc's own marriage to his wife of more than 30 years made headlines, but not for a reason he would have liked. Here's more on that, plus how many children and grandchildren the Sixers coach has today.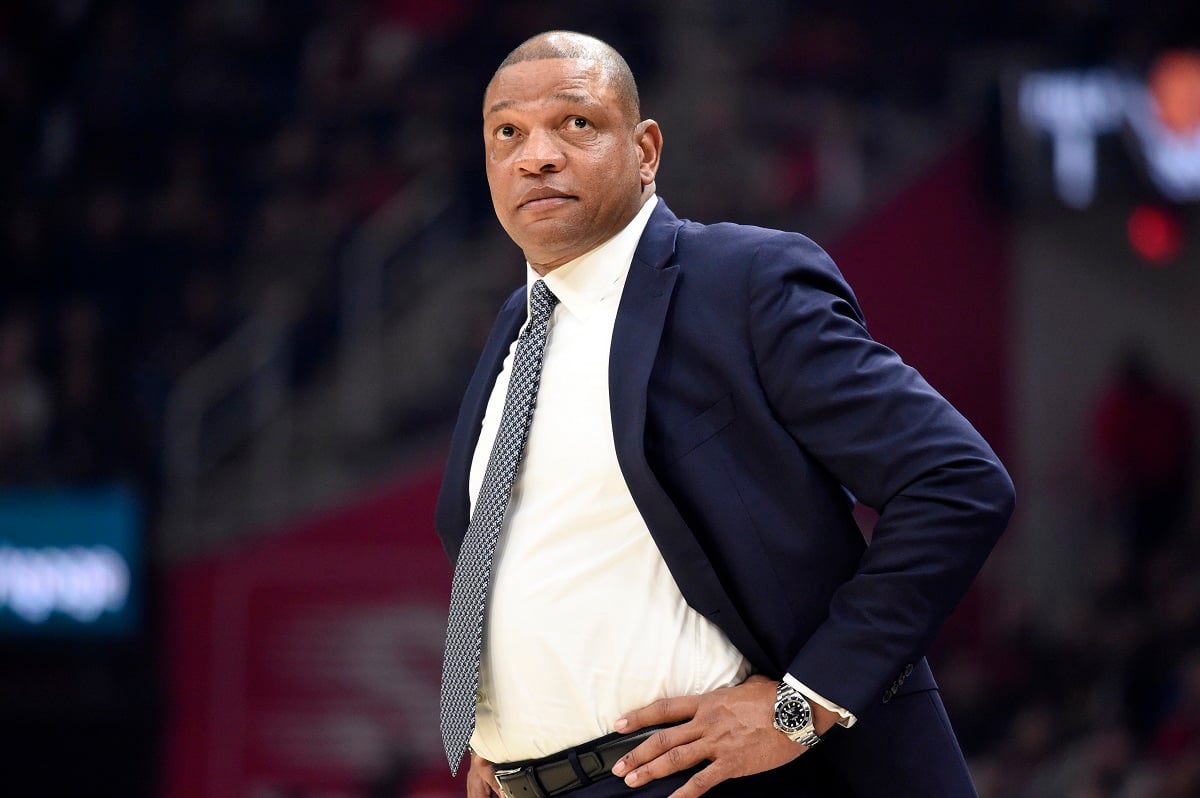 The reason Doc and Kristen Rivers' relationship was in the news
Kristen Rivers (née Campion) was born in 1961 in Wisconsin. Kris and Doc first met when they were in college together at Marquette University. Eventually, they began seeing each other and tied the knot in 1986. But in January 2020, multiple tabloids published photos of Doc out with a woman who wasn't Kris.
The images showed the longtime NBA coach looking cozy with another woman outside of San Vicente Bungalow in West Hollywood. The headlines blared everything from "Doc Rivers Dumps Wife For Younger Girl" to "Doc Rivers Cheating With His New 25-Year-Old Lady." Divorce rumors then followed as The Sun claimed that Doc had already divorced Kris. At the same time, other outlets reported that the two had been separated for a while but did not officially end their marriage.
Doc and Kris, however, did not comment on the reports and have kept quiet on the matter.
How many children Doc Rivers has
Doc and Kris have four children together.
Their eldest son, Jeremiah, was born on July 27, 1987. Two years later their daughter, Callie, was born on Sept. 17, 1989. Kris and Doc welcomed another son, Austin, on Aug. 1, 1992, followed by their youngest son, Spencer, on June 27, 1995.
Doc is not only a coach in the league, he also played the game of basketball and all three of his sons take after him in that regard. Jeremiah played college ball at Georgetown University and Indiana University. He then played in the NBA D-League for the Maine Red Claws. Austin currently plays for the Denver Nuggets, and Spencer has played for Winter Park High School and for UC Irvine. Their sister, Callie, is also an athlete as she played volleyball for the University of Florida. In 2019, Callie married into another famous basketball family when she wed Dell Curry's son and Stephen Curry's younger brother, Seth Curry.
This meant that there would be times when Doc would have to coach against his daughter's husband. That was until he was hired to coach the 76ers in 2020 and traded for his son-in-law to play on the same team.
How many grandchildren Doc has now
Today, Doc and Kris have three grandkids.
Callie and Seth welcomed their daughter, Carter Lynn Curry, on May 9, 2018. But that wasn't the only one of Doc's grandchildren born that year. As Distractrify noted, Austin and his former fiancée, Brittany Hotard, also welcomed a little one in 2018. They named their son Kayden James Rivers. Austin then had another son with model Audreyana Michelle. Their baby boy was born in March 2021.
Prior to the birth of his third grandbaby, Doc spoke to The Philadelphia Inquirer in December 2020 about doing family gatherings during the coronavirus (COVID-19) pandemic. Because he is in the NBA he was tested every day and looked forward to spending time with his grandchildren during the Christmas holiday.
"The fact that I get to spend Christmas with both grandkids is nice," Doc said. "Really, Seth, Callie, and Austin, I don't need to see them. But the fact that I get see my grandkids, man, come on, that's the best."