'Chilling Adventures of Sabrina': 6 Things Fans Want for Part 4
Raise your handbasket if you've already finished devouring part three of Chilling Adventures of Sabrina. Netflix dropped the eight-episode season on Jan. 24, and those who have already completed the binge are aware that fresh faces and fresh threats continue to shake Greendale and the academy at its supernatural foundation. If you haven't watch yet, don't read ahead as this contains spoilers.
At the beginning of this latest season, Sabrina was determined to rescue her love muffin, Nick Scratch, from hell and her father's grasp. She and her crew also had to help save Greendale from a pagan mutiny, refill the magical coffers for the coven, and stave off Blackwood's craziest new scheme.
All seemed somewhat stable by the end—with the exception of her twin time paradox situation—but we know this isn't over. Part four is coming, and fans have their own questions and thoughts for the next installment.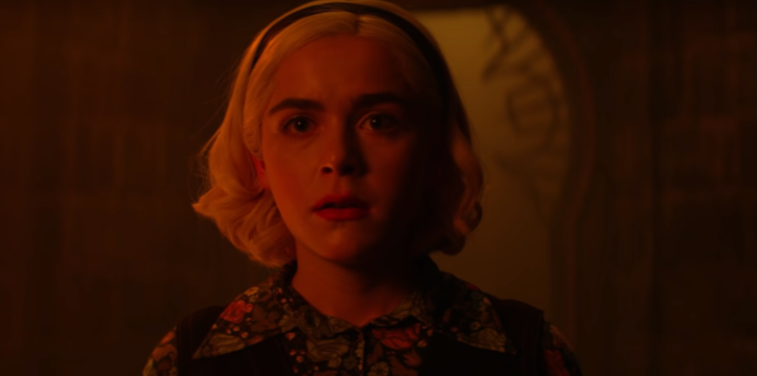 Some want to see the coven turn into a matriarchy
With all the hedge witches, coven witches, and Mambo Marie working together to reclaim and channel their powers, women are currently running the magical side of things in Greendale. After the dark lord started to dry up their power source, they turned to the old Greek goddess Hekate in the end. Will this continue into part four?
The young witches and warlocks in the Church of Night followed Zelda's lead in calling upon both Lilith and Hekate, and now there's a lingering question about whether the warlocks will be on board with this woman-centered practice.
An official 'Riverdale' and 'CAOS' crossover, ok?
Fans were treated to a few Riverdale Easter eggs this season, and they were generously spread out from the very first episode. But how about a full, interconnected mission where Archie, Jughead, Betty, and Veronica link up with Sabrina? It happened in the comics, so why not?
Spellman twins feuding or colluding
Back in the '90s when Sabrina the Teenage Witch was on the air, the sitcom introduced Katrina Spellman, Sabrina's evil twin. That may or may not be the case in CAOS, but with two Sabrinas who have different agendas, they're either bound for friction or otherworldly cooperation. Fans want the story to bring it on.
An appearance from Cthulhu
One of the biggest cliffhangers left at the end of part three was the release of the eldritch terrors, courtesy of Blackwood breaking that egg. In the CAOS comic series, Sabrina encounters the supernatural eldritch creatures and one of them is H.P. Lovecraft's Cthulhu.
There were hints in part three that the old monster could show up soon, and the fans that picked up on the clues are excited for a potential Sabrina-Cthulhu matchup, even if she doesn't become his bride.
Sabrina will choose a suitor
Realistically, Sabrina has three guys who aren't obvious about their affection for her, but the show's fandom has broken itself off into three camps. There are those who want a Caliban tryst, some who are still shipping Harvey and Sabrina, and another group that is rooting for a reconciliation with Nick.
Since there are two Sabrinas right now, it's possible one or both of them will decide to fool around with someone on Earth or in Hell.  Caliban and Nick may actually find ways to redeem themselves, but even if they don't, fans want the prince of hell to get more screen time in part four.
Theo gets a real shot at love
Love was in the air for Hilda, Zelda, Prudence, and Sabrina. Why not Theo? All of Theo's friends have some sort of love interest, but the union with Robin was short-lived because of the life-or-death drama with the pagans. Fans want Theo to have a lasting teen romance too, whether it's with Robin or someone else.
Part four of Chilling Adventures of Sabrina is due to drop on Netflix in October 2020. We'll just have to wait and see which of these storylines are woven into the next chapter.