Chip and Joanna Gaines' Son Crew's Adorable Exercise Outfit Has Fans Obsessed: 'I Can't With This Kid!'
Crew Gaines may not be a 'Fixer Upper,' but he definitely wins the hearts of the show's fans. Take a look at the response to social media posts featuring the tyke.
It's official: Chip Gaines has the cutest running buddy we know. While Gaines' three-year-old son, Crew, might not help anyone reach their personal record time (yet), it's safe to say watching him trot down a recent marathon course could make almost anyone want to lace up a pair of sneakers. 
While Chip Gaines is the main champion of the Silo District Marathon he hosts in his hometown of Waco, Texas, each spring, his son, Crew, certainly stole the show this year when he joined his dad for the charity run. 
Chip and Joanna Gaine's son, Crew Gaines, showcased his workout gear at the annual Silo District Marathon
Chip Gaines began hosting the Silo District Marathon in 2019. Today, this includes a full marathon that serves as a qualifier for the Boston Marathon, a half marathon, a 5k race, and other events. He was inspired to begin running after meeting professional long-distance runner Gabriele (Gabe) Grunewald in Central Park during a 2017 trip to New York City, his wife Joanna Gaines recounted in a recent Instagram post. 
The Silo District Marathon has been held three years so far and benefits the Brave Like Gabe Foundation, which Grunewald founded to support rare cancer research. Grunewald died in 2019 at age 32 following complications from her own cancer, the New York Times reported. 
Before her death, Grunewald became a mentor to Gaines as he trained for his first marathon. The Magnolia Network founder marked her absence in a Twitter post to celebrate this year's race in late April, calling Grunewald his friend. "Me and the kids ran hard for you today, Gabe!" he wrote. According to the post from Joanna, the races raised $150,000 for Brave Like Gabe and another $50,000 for Community Cancer Association of Waco. 
Fans love the youngest Gaines' style 
Though Gaines missed Grunewald's presence at the race, he was joined by his youngest son, Crew. Crew stole the show in his athletic wear, complete with sweatband, tube socks, and wristbands. Sparkling white Adidas shoes, gym shorts, and the customary marathon T-shirt completed his fashionable ensemble. 
In the social media posts where Crew is pictured, fans couldn't get enough of his outfit and participation in the race. 
"Go Crew go!" wrote a fan on one of Gaines' Instagram posts about the race. "The tube socks and sweatband! I can't with this kid!" another fan wrote on an Instagram video of Crew running, followed by a laughing emoji. 
"I love this. Way to go!!!" another commenter wrote with a clapping emoji. "You're never too old, or too young to make a difference-to set an example, and be an encourager." Even Grunewald's husband, Justin, commented on the fun. "That's a beautiful stride. Go Crew! Thanks for everything Chip," he wrote with a blue heart. 
Crew has become a fan favorite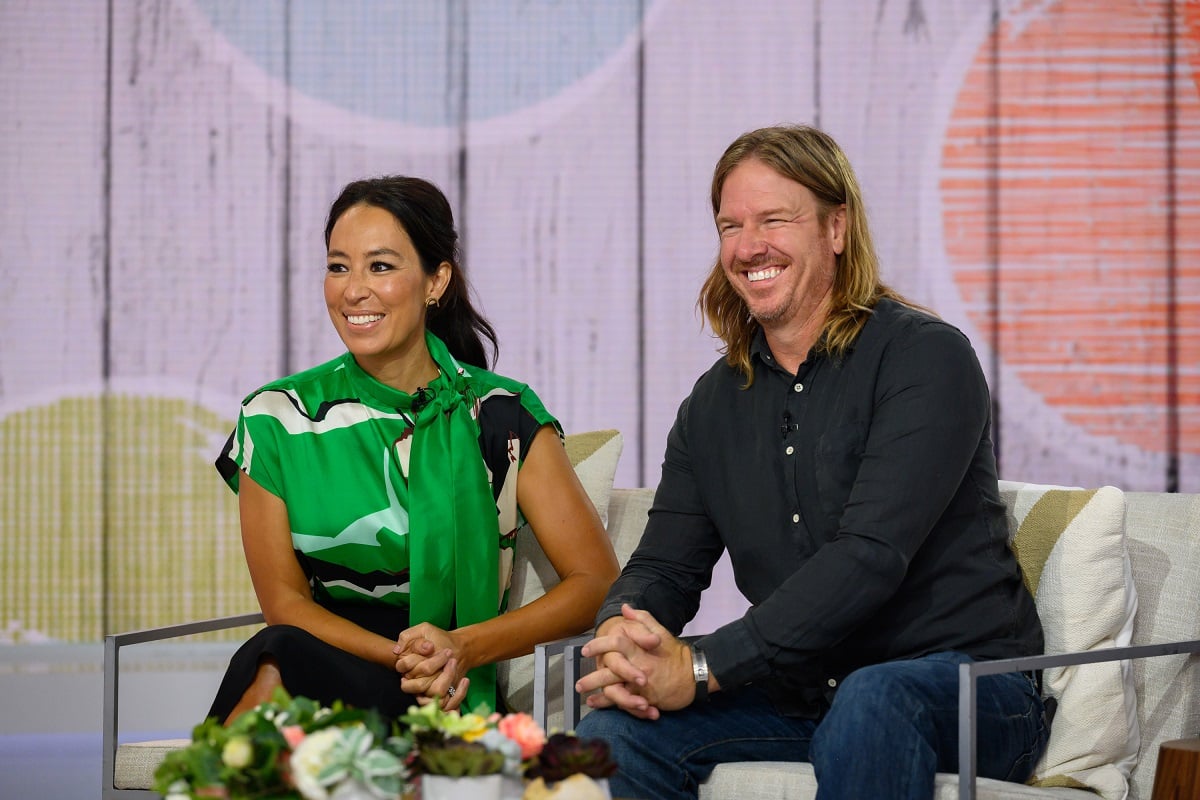 The Gaines family, including the couple's four older children, became famous long before Crew was around. Drake, Ella Rose, Duke, and Emmie Kay all made appearances on Fixer Upper from time to time, especially to join Joanna for pizza as she put the finishing touches on some of the homes featured on the HGTV show. However, it's clear that Crew has charmed fans and audiences since his arrival. 
Fans have caught glimpses of Crew's stylish choices before and can't get enough. Though at his age, it's hard to say if Crew is naturally stylish or if his parents have something to do with it. He's also won over the plant-loving contingent by saying goodnight to his greenery in the sweetest way. 
It was a safe bet that Crew's appearance in the latest Silos marathon would be a hit with fans. After all, he was the cutest attendee a few years ago when Chip Gaines pushed him in the first one they hosted when he was 10 months old. That inaugural race earned $300,000 for the Brave Like Gabe Foundation, PopSugar reported.