Chloe Bailey of Chloe x Halle Once Played the Younger Version of Beyoncé's Character in This Musical Comedy
Over the years, we've learned a few things about Chloe x Halle. Not only are they extremely talented singers and the protégés of the one and only Beyoncé, but the sisters are also skilled actresses who've gained further prominence by starring in the hit sitcom Grown-ish.
But one thing many people probably didn't know about the singers is that Chloe actually played a younger version of Beyoncé's character in a movie back in 2003.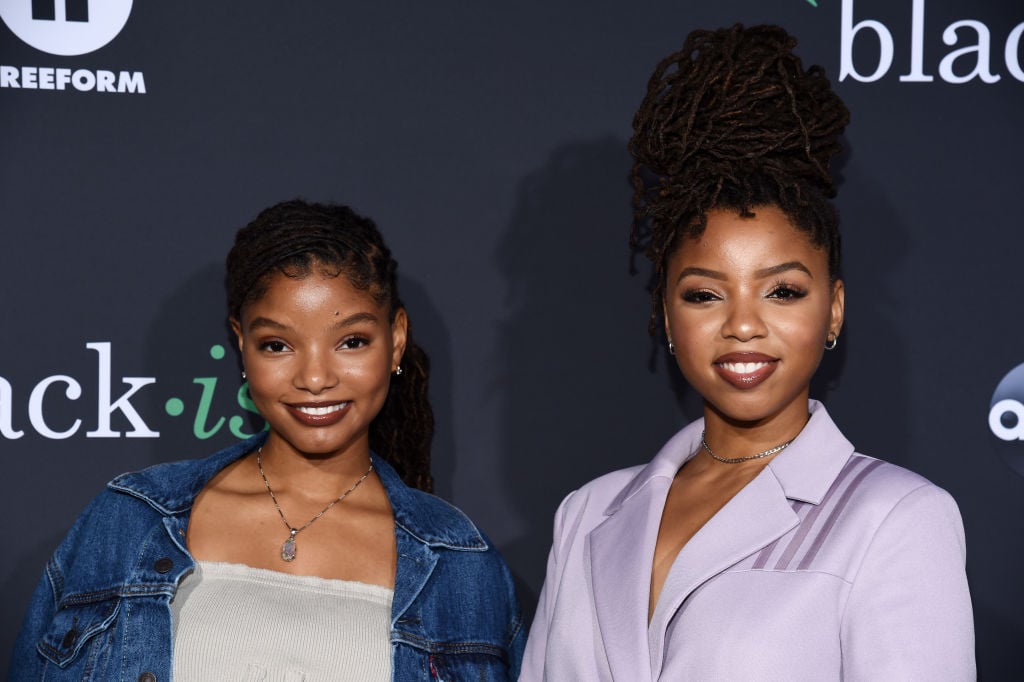 Beyoncé knew Chloe X Halle before she signed them to her label
In 2013, Chloe and Halle Bailey uploaded a beautiful rendition of Beyoncé's single, "Pretty Hurts," on their popular YouTube channel.
The video quickly went viral, garnering thousands of likes (today, it has over 19 million views), and soon, it caught the attention of the Queen B herself, Beyoncé.
RELATED: Chloe x Halle: 5 Fast Facts
After watching the talented sisters perform her hit song, Bey posted their video on her Facebook page with the caption, "So amazingly talented!!"
From there, the relationship between Beyoncé and the Bailey sisters blossomed, and in 2015, the songstress signed the singers to her label, Parkwood Entertainment.
While it seemed like Chloe x Halle were two talented teens who Beyoncé just so happened to come across, it turns out that three singers actually met for the first time 10 years prior.
Back in 2003, Chloe Bailey played a young version of Beyoncé's character, Lilly, in the musical comedy The Fighting Temptations.
Chloe even spoke about her experience playing the younger version of Bey while appearing on The Breakfast Club in 2018.
"When we first met [Beyoncé], I was 4, and [me and Halle] acted too. It was in The Fighting Temptations; I played the younger version of [Beyoncé]," she said. "That's when our paths first crossed. So, it's crazy how the universe works and sends you those little signs."
Chloe X Halle became Beyoncé's protégés
As fate would have it, Bailey and Beyoncé crossed paths again years later, and both of their lives ended up changing in a special way.
After Chloe x Halle signed a $1 million, five-year contract with Parkwood Entertainment, they began working on their debut EP, Sugar Symphony, which was released April 29, 2016.
Later that same year, Beyoncé featured the sister duo in her Lemonade visual album. She even had them open up for her during the European leg of her Formation World Tour.
As their fame's continued to grow, Beyoncé has remained by the sisters' side, serving as their mentor and dishing out advice whenever she can.
RELATED: Beyoncé's Protégés, Chloe x Halle, Deliver Beautiful Performance During the Super Bowl
"Being in the midst of having such a beautiful mentor like her, we were allowed to explore with our creativity, and we're so thankful to her for providing her platform and always reminding us that you don't have to dumb down your art for the world — you can keep creating new, innovative things and let the world catch up to you," Halle told People in 2018.
Today, Beyoncé still mentors Chloe x Halle and even gave the sisters' new album, Ungodly Hour, her stamp of approval.
"When we sent her the album, she said that she loved it and didn't have any notes," Chloe recalled in an interview with The Associated Press. "(We) were like, 'Oh wow!' She must really like it because she always sends notes, which we appreciate and add in most of the time. I'm really proud of this album and if she loves it, I hope everyone else loves it, too."
But even if their album didn't receive positive reviews (don't worry, it did!), Chloe x Halle will always have the support of Beyoncé, who also happens to be one of the most successful female artists of all time.