Chlöe Bailey On Inspiration Behind 'Have Mercy' Music Video
Chlöe Bailey's says 'Have Mercy' is all about women taking ownership of their bodies. Bailey's video has over 10 million views.
It's no secret that Chlöe Bailey is anticipated to be the music industry's next big thing. And with Beyoncé as her mentor, she's unstoppable. Stepping out from the dynamic duo with her and her younger sister Halle, Chlöe is embarking on a solo career and is coming out swinging.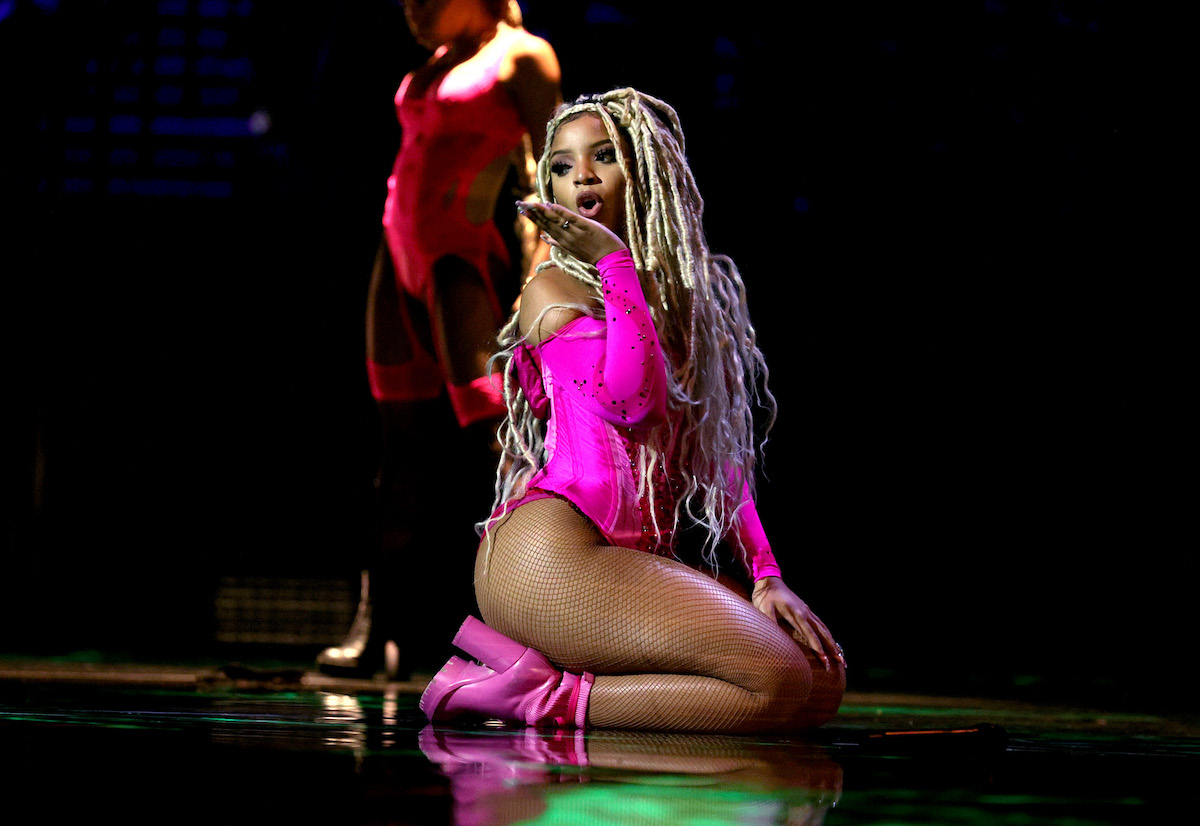 Her debut single 'Have Mercy' and its accompanying music video is the talk of social media. She followed it up with a showstopping performance at the 2021 MTV Video Music Awards. And now, she's revealing some behind-the-scenes secrets into the music video shoot. 
The singer says she wanted to reverse typical gender roles
Bailey's debut single and accompanying music video was debuted on Sept. 10 and currently has over 10 million views. Beyoncé's protegee kills it in a sorority-themed music video with unmatched dance moves, artsy ensembles, and confidence through the roof in a song that details body positivity at its highest. For Bailey, it was all about making the woman the boss. 
Related: ​​Chloe Bailey, Cardi B, Missy Elliot, and More Defend Lizzo In Body-Shaming Attacks Online
"Men can glorify ass in their videos, I wanna do it with this in an artful, really fun and beautiful way," she told MTV News. "It's so great how women can claim ownership of their bodies and not let the world do it and we get to do it in the way that we want to and it was really fun. I really felt really pretty on the shoot days and I look back and I'm like, 'That's not the same person right here, but it was fun for the moment. Imma tap back into that sometimes, but it was really fun."
Interestingly, Bailey says she finished the project in April. She says she's held on to it for a big rollout, such as her first performance at the 2021 MTV VMAs.
Chlöe Bailey wasn't initially sold on the music video concept
Despite the incredible rollout of the video and the fans' response, she admits she was a bit hesitant about the video concept. The video was choreographed by Beyoncé's former dance captain, Aisha Francis. Bailey's creative director merged his and Bailey's concepts for the music video. Overall, the goal was to create a visual of men in a trance of a woman's aura. 
Related: Chloe x Halle: Which Bailey Sister Has the Higher Net Worth?
"Andrew, who is my creative director, we really wanted this to feel fun and we both saw pink and we were trying to figure out what could kind of, you know, and he thought of a sorority," she explains. "At first I was like, 'Huh?' But then I kind of saw the light and for me, I like everything with a suspenseful twist. I love a storyline. I was like, 'OK, if we do sorority, can we add a little dark twist in there somehow?' 
Bailey says the whole point is to showcase a woman's magic. "And after watching the video, I wanted to make it all about ass, but in an artistic way. I think it's incredibly powerful how women can leave men almost in a trance with their bodies and their spirits and the way they carry themselves. So it's literally luring men and turning them into stone. So, it's like a modern-day Medusa."
Bailey is still in the final stages of prepping her solo album. Out of over 100 songs she recorded, she's narrowing it down to about a dozen.