Chris Brown Flirted with Doja Cat and Fans Are Not Here for It
Chris Brown seems to have a thing for Doja Cat and he's not afraid to let people know it. He recently left a bunch of comments on social media that appear to show his attraction to the "Juicy" crooner. But he didn't get the most ideal reaction.
Rather than encouraging Brown and expressing support for this potential duo, fans flooded the Internet with comments warning him to stay away from Doja Cat.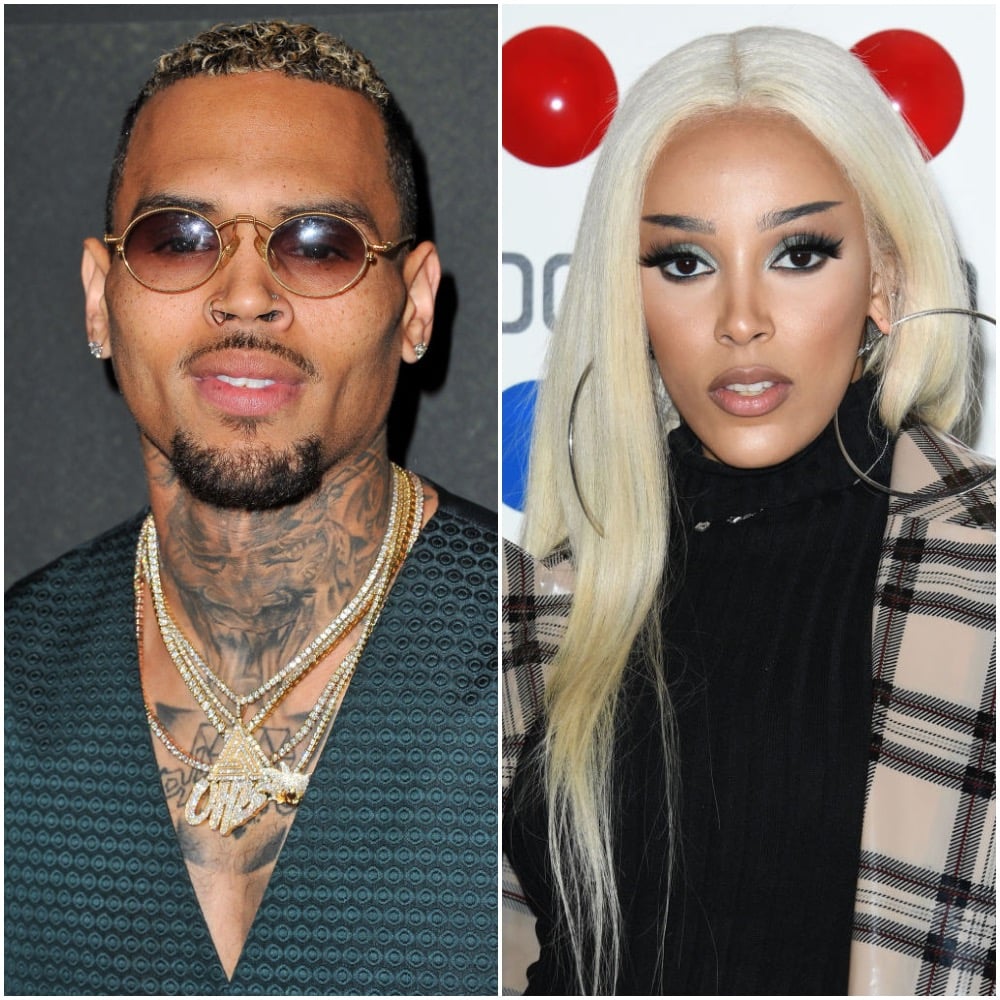 What happened with Chris Brown and Doja Cat
Brown had been tuned into Tory Lanez's Instagram Live on March 31, when the "Say It" singer started inviting women on for a twerk competition. The contest featured fans and celebrities alike, including former Basketball Wives star DJ Duffey and Jhonni Blaze of Growing Up Hip Hop.
Screenshots obtained by the blogs The Shade Room and The Neighborhood Talk show Brown requesting that Doja Cat join the live and dance. One comment even included a couple of flirty emojis, including one of a kiss print and another of a tongue.
Fan reactions to Chris Brown thirsting over Doja Cat
Once the blogs shared the screenshots, fans hit the comment section and shared their thoughts. Many were critical, with fans citing his rocky relationship history and the fact that he just had a baby a few months ago.
"Run Doja!!" read a comment.
"This what we're not going to do," said another message.
Someone else declared: "Chris you just had a baby … sit down sir." The message references Brown's son, Aeko, whom he welcomed with model Ammika Harris in November 2019.
But there were some positive comments. Many social media users said they didn't blame Brown for thirsting over Doja Cat because of how beautiful she is. Unfortunately for him, though, Doja Cat never joined the Instagram Live.
She's not the only person he's gushed over in recent months, either. Brown has been seen flirting with everyone from his "Easy (Remix)" collaborator, DaniLeigh, to his ex-girlfriend Rihanna.
Is Doja Cat dating anyone?
Doja Cat appears to be single after splitting from fellow musician Johnny Utah earlier in 2020. The pair began dating in 2019 after connecting on social media. But in late February, Doja Cat announced during an Instagram Live that she had split from Johnny Utah, who is best known for the 2019 single "Honeypie."
"Everything is ok. I unfollowed my ex-boyfriend and everything is ok. We have been cool," she said in the video. "Nothing weird going on. No drama, or weird sh*t going on. Sh*t just didn't work out." 
They had dated for at least five months before their split.
It's unclear if Doja Cat is ready to jump back into the dating pool, but if she is, it looks like she might have at least one option to choose from already.
Read more: Why Chris Brown Isn't Allowed to See His Infant Son Aeko