Chris D'Elia Fans Finally Figured out Who He's Dating
Some celebrities have no problem putting it all on public display when they're in a relationship, but many like to keep things under wraps.
With gossipy headlines and constant fan scrutiny putting added pressure on so many relationships, it's no wonder that a lot of stars like to keep people guessing when it comes to their current relationship status. 
One such celebrity is Chris D'Elia. The popular podcaster and stand-up comedian shocked fans when he announced that he would soon become a father.
They had no idea who D'Elia was even dating! It took a little sleuthing, but fans have figured it out. Here's what we know about this relationship. 
Chris D'Elia rarely gets personal on his podcast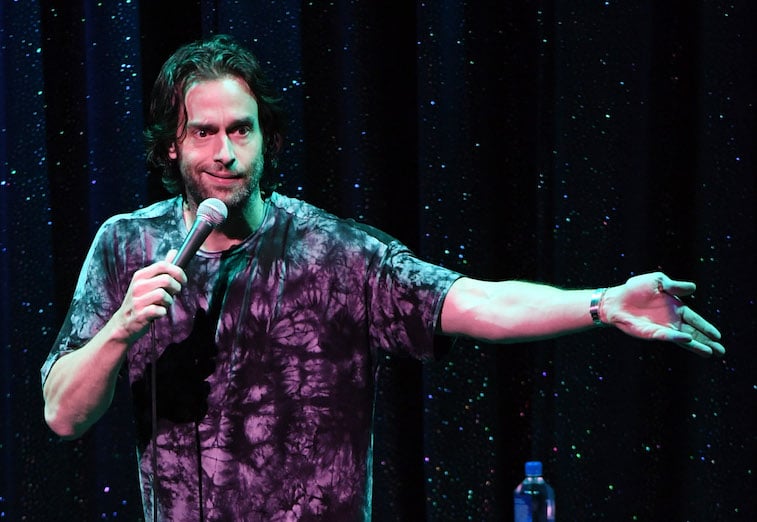 D'Elia hosts Congratulations with Chris D'Elia, a podcast that features the comedian talking about whatever happens to be on his mind. He has a plethora of five-star reviews, and commenters are delighted by his honest and random view on the world.
"Although this podcast is literally him just talking to himself about whatever, it is still utterly hilarious and a great time," one wrote. Another said, "Chris is the funniest comedian I know right now."
His podcast is just one platform for him to share his hilarious perspective. With a ton of pop culture references and impressions, he keeps things fresh and interesting. He also has several stand up specials and movies on Netflix, which means that D'Elia has been growing his fanbase steadily.
He doesn't really divulge much about his personal life through his comedy, though. Fans may get observational glimpses of his day, but he tends to keep things pretty quiet when it comes to his love life.
Fans were shocked to hear Chris D'Elia is having a baby
In a recent episode of his podcast, D'Elia finally revealed some big news. He's about to become the father of a baby boy! Fans took to Reddit to share some congratulations of their own for the comedian.
"This is kinda crazy. He barely ever talks about his personal life and relationships, I've only heard him talk about his girlfriend a few times, and refers to her as 'my girl' and makes it seem super casual. I've never seen a picture of them together and he never posts about her," one commenter wrote.
Another observed that D'Elia had "talked a few times in the pod about wanting to be a dad and have a family." Fans are excited to see those dreams are coming true for him.
However, they still had lingering questions about just who his "girl" is and how long they have been together. There are no photos of this mystery woman on social media, and his rare mentions of her are vague. 
Fans figured out who Chris D'Elia is dating
No matter how secretive you'd like to keep your life, it's tough to maintain such a high level of privacy in the age of the internet. With a little detective work, fans were able to determine that D'Elia's significant other is Kristin Taylor, a stop-motion animator and creator of Hi Big Dog Media.
The artistic Taylor says in her profile for the project that she is from North Carolina, has a Bachelor's degree from the University of Missouri, and likes "hip-hop, holidays, dogs, girls, pop culture, and folktales." 
While we can't be certain how long Taylor and D'Elia have been together, a short clip from the Sicario: Day of the Soldado premiere shows D'Elia being photographed on the red carpet with a woman identified only as "his date."
This event was in June of 2018, and it turns out that Taylor was his date for the day, so we can assume they've been together for quite some time. Maybe as the pair settle down into parenthood together we'll get to hear a little more about their life.
After all, becoming a dad has to provide D'Elia with a lot of new material for his comedy routine!