Chris Evans Brings Back Captain America's Beard In 'Defending Jacob'
Chris Evans is bringing back his Captain America beard in a new Apple TV+ series, 'Defending Jacob,' premiering April 24.
Chris Evans is bringing back his Captain America beard in a new Apple TV+ series, Defending Jacob. Fans have longed to see Evans rock the beard ever since Avengers: Infinity War and a new trailer for the series confirms that his beard is officially back in action. Here's a quick look at Evans' Captain America look, plus everything we know about the actor's new show.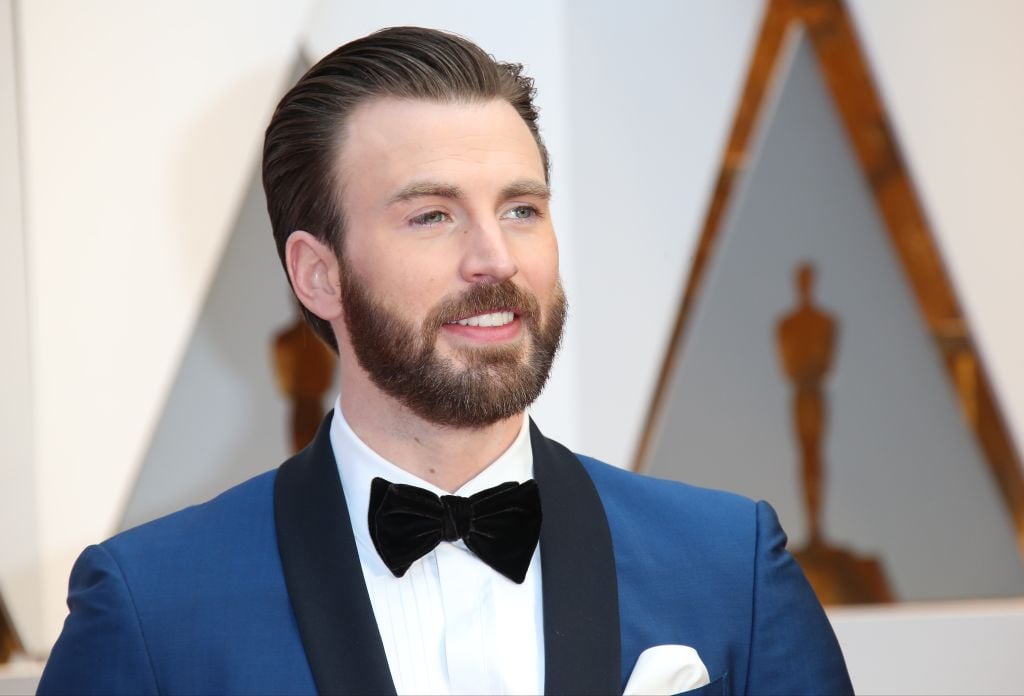 Apple drops the first trailer for 'Defending Jacob'
Apple TV+ is doing its best to help people stuck at home during the coronavirus pandemic. To that end, the streaming service just released the first trailer for Evans' new series, Defending Jacob, which is set to premiere in late April.
The show is a limited series and follows the story of a district attorney named Andy Barber (Chris Evans), whose world comes crashing down when his son, Jacob (Jaeden Martell), is accused of murder. The series also stars Michelle Dockery as Jacob's mom, Laurie.
The trailer offers a great aesthetic look at the show, which was shot in tones of gray and white. Not unlike Netflix's hit show, Ozark, everything in Defending Jacob appears to be tinted in monochromatic colors, even the fictional town that lies at the heart of the story.
The clip also revealed some hidden gems about the show, including a guest appearance from J.K. Simmons. The limited-series stars the likes of Cherry Jones, Betty Gabriel, Sakina Jaffrey, and Pablo Schreiber.
Chris Evans rocks Captain America's beard
While the trailer for Defending Jacob offered a good look at what to expect from the show, fans quickly noticed that Evans is rocking his old Captain America beard. We have no idea how the series will be received, but including the beard was definitely a good idea.
Evans wore a similar look for Infinity War, a move that went over very well with Marvel fans. Unfortunately, he ditched the beard for Avengers: Endgame, so it is nice to see him return to a grizzled look once again.
After appearing as Captain America in the Marvel Cinematic Universe for nearly a decade, Chris Evans hung up his shield following Endgame. It is unclear if Evans will ever reprise the role of Steve Rogers, but fans are hoping Marvel finds a way to bring him back in some capacity.
In the meantime, Evans has been very active working on other projects. Aside from Defending Jacob, the actor recently enjoyed an appearance in the murder-mystery, Knives Out. He also worked as an executive producer for Defending Jacob, expanding his experience behind the cameras. 
Everything we know about 'Defending Jacob'
Apple scheduled Defending Jacob to premiere at the end of April. But in light of the coronavirus pandemic, it is possible that the series will be released ahead of time.
Unless things change, fans will have access to three episodes of Defending Jacob whenever it premieres. Apple when then release weekly episodes until the series calls it a wrap.
The show is comprised of eight episodes and will end after the first season. Each installment is roughly one hour long.
Aside from Chris Evans, the show features a pretty stellar cast with plenty of experience on the small screens. Some of the credits from the cast members include Downton Abbey, Handmaid's Tale, Orange Is the New Black, and House of Cards.
Is Chris Evans' character in 'Defending Jacob' a real person?
Although the story sounds like it could be based on true events, Defending Jacob is actually based on a work of fiction.
Producers have adapted the series from William Landay's book, Defending Jacob. The story was published in 2012 and quickly rose to the top of the charts in the true crime genre.
We do not know how closely the series will stick to the books, but we are definitely excited to see how things play out. Even if the show is not as exciting as it looks, at least fans will get to enjoy a little bit more of Evans' iconic beard.
Fans can watch Chris Evans in action when Defending Jacobs hits Apple TV+ on April 24.