Chris Evans Believes There's 'No One Better' to Play Captain America Than Anthony Mackie
Chris Evans addressed Anthony Mackie becoming Marvel's new Captain America, admitting there's 'no one better' for the job.
Chris Evans played Captain America in the Marvel Cinematic Universe for nearly a decade, but Anthony Mackie has taken up the shield in the wake of Avengers: Endgame. The Falcon and the Winter Soldier saw Sam Wilson grappling with its legacy, and Captain America 4 will finally mark his big-screen debut. For Evans, it's been strange leaving the role behind. However, when it comes to Mackie, he feels there's "no one better" to take up that legacy.
Chris Evans says life is 'different' since leaving Marvel behind
For much of the MCU's existence, Robert Downey Jr. and Chris Evans were two of the biggest names attached to the franchise — and given Iron Man and Captain America's roles on the Avengers team, that's probably no surprise.
Evans made his debut as the star-spangled hero in 2011's Captain America, and he went on to appear in multiple sequels and Avengers movies after. He took his final bow in 2019's Avengers: Endgame, when Steve Rogers decided to go back in time and live out his life with Peggy Carter (Hayley Atwell). He passed Captain America's shield on to Anthony Mackie's Sam Wilson, leaving his legacy in his hands.
Bidding farewell to Evans' hero was an emotional experience for fans. And it sounds like it was jarring for the actor as well. In a video interview with Yahoo Entertainment's Kevin Polowy (shared via Twitter), Evans called his time as Cap "the best 10 years" of his acting career. He also admitted how much life has changed since parting ways with the role:
"It's different. For 10 years, you always have a movie around the corner. For 10 years, it's always… you know, you finish one, and then your life is scheduled by, 'Okay, for six months we have press. [In] six more months, we start the next movie. To kind of have open waters is… there's parts of it that are nice, and there's parts of it that I really miss."
Chris Evans said there's 'no one better' to play Captain America than Anthony Mackie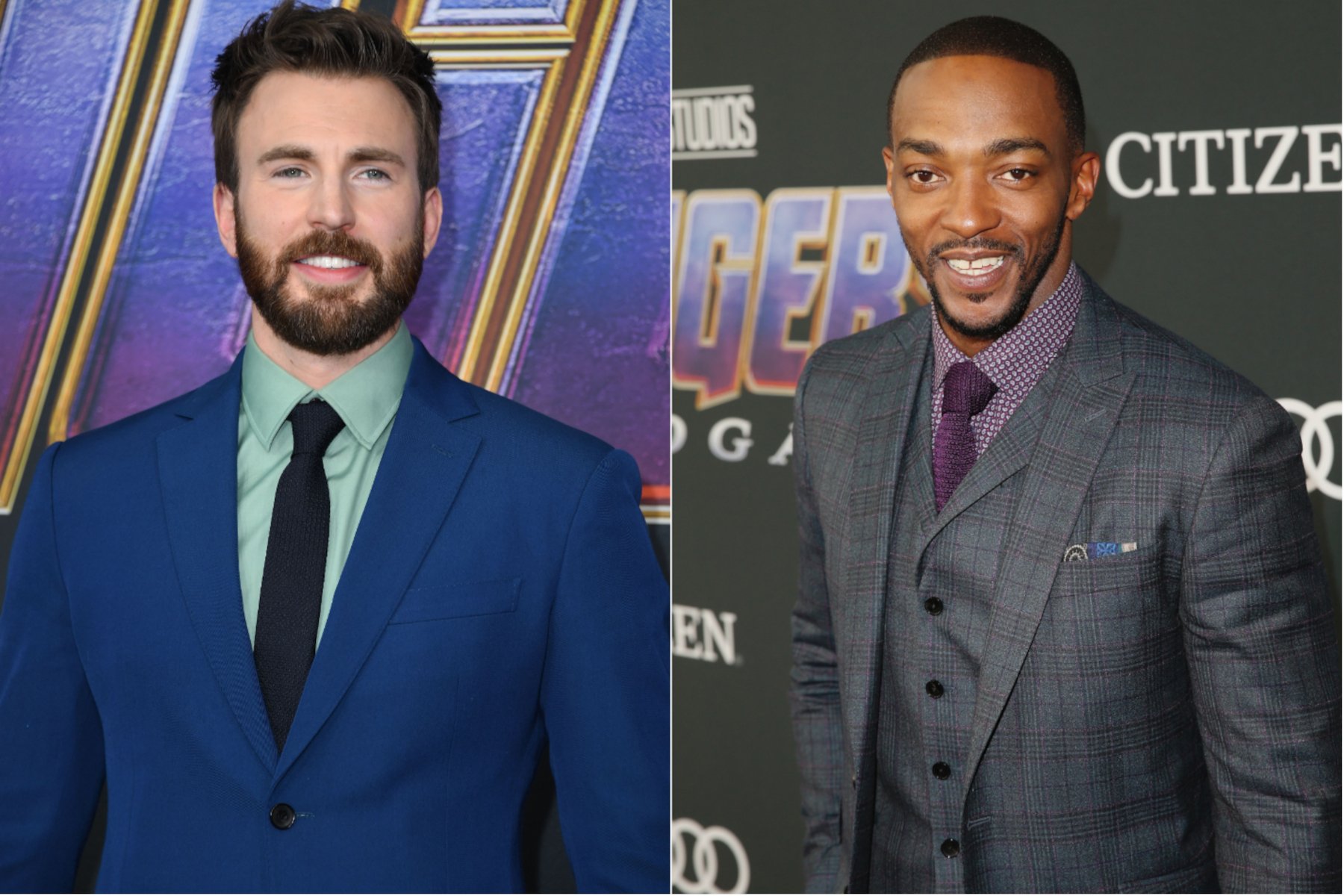 Chris Evans may miss playing Captain America in the MCU, but he's confident in Anthony Mackie's ability to carry the role forward.
"[There's] no one better to do it," Evans told Polowy. "I mean, he honestly does it justice. I'm so proud of him, and I can't wait to see what they do in the future."
Mackie captured Sam Wilson's journey to accepting the shield in The Falcon and the Winter Soldier. Fans will see the aftermath of that decision in Captain America 4. And Wilson already teased what kind of Captain America his hero will be. Sam's take on Captain America will prove different than Steve Rogers'.
Anthony Mackie says Sam Wilson will be 'a Captain America for everyone'
The Falcon and the Winter Soldier has already given fans a glimpse of how Anthony Mackie's Captain America will differ from Chris Evans'. And the actor spoke with Vogue about Sam Wilson's approach to the role, emphasizing how being a Black man in America changes the dynamic:
"The relationship between America and African American men is a very tumultuous, abusive relationship. It's something that needs to be rectified and healed. So the idea of [Sam] being Captain America recognizes all of the hardships and things that Black men and women have gone through in this country. Still, it's also about the future and what we can look forward to for our kids to experience in this country." 
He also suggested that Sam's Captain America will represent different values.
"I think Sam Wilson is more so about unifying and equality," Mackie explained. "A Captain America for everyone instead of Captain America for a specific few." 
We'll have to wait for Captain America 4 to see what else the future holds for Sam Wilson. In the meantime, fans can catch his latest journey in The Falcon and the Winter Soldier on Disney+.