Chris Evans Posts Adorable Social Distancing Photo With His Dog
In times of stress, fans can always count on Chris Evans to post cute photos of his dog, Dodger. On March 23, Evans posted a photo with Dodger on Twitter and referenced that the two of them are staying at home to keep everyone safe.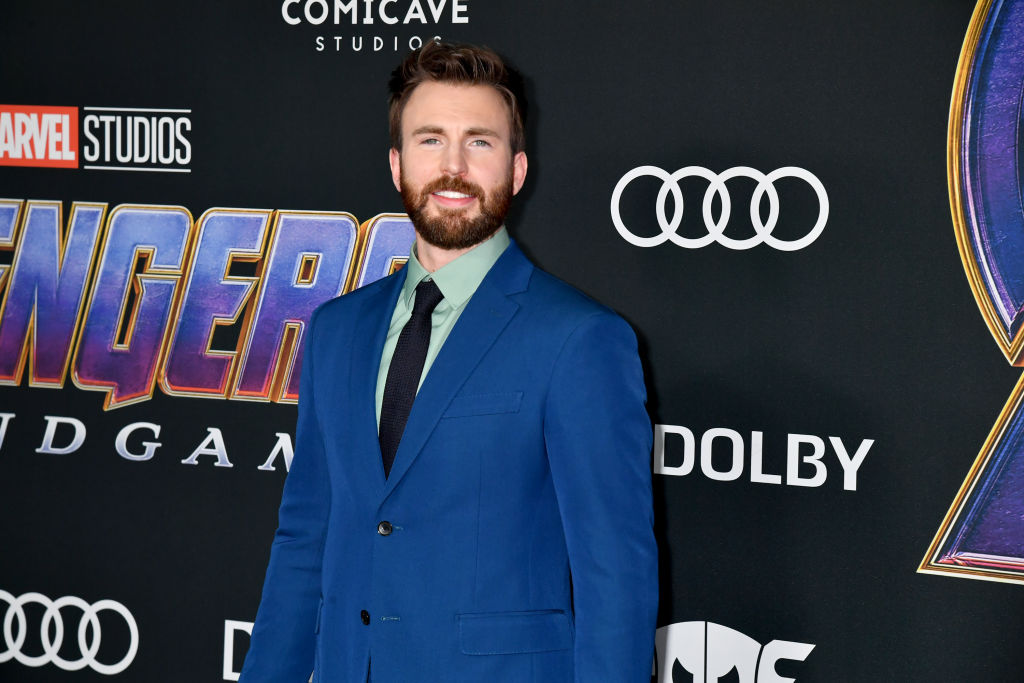 Dodger is well-known on Twitter
Evans frequently posts pictures of his dog on Twitter, and Dodger is clearly loved by all of Evans' Twitter followers. On Dec. 25, 2019, Evans tweeted photos of his dog wearing a white cable-knit sweater that resembled the one he wore in Knives Out.
After the actor tweeted, fans shared how the photos of Dodger made their day.
"Chris Evans dressing his dog in the Knives Out sweater is truly the best Christmas gift. Also…this dog is obviously a Very Good Boy," wrote a Twitter user.
"chris evans got a sweater for his dog to match his own iconic white sweater in knives out. my heart," one fan tweeted.
"CHRIS EVANS GOT HIS DOG HIS SWEATER FROM KNIVES OUT THIS IS THE GREATEST THING I'VE SEEN ALL YEAR," one fan wrote on Twitter.
Chris Evans posted a selfie with his dog
On March 23, Evans made the world a better place by sharing an adorable selfie of him with Dodger.
"Homebodies," said Evans in the tweet.
It's clear from fans' responses that the picture of Evans and Dodger cuddling instantly boosted people's moods as they practiced social distancing due to coronavirus (COVID-19).
"oh to be a dog quarantining in chris evans' arms," a Twitter user wrote.
One fan tweeted, "Chris Evans and his dog. The thrilling selfie saga continues!!!"
"Chris Evans and his relationship with his dog gives me life," a fan tweeted.
The actor is using his platform for good
In addition to posting a photo with Dodger, Evans has also been using his Twitter to help those affected by coronavirus. He's shared articles, donation links, and petitions to help others.
"This is wonderful. Thank you to all those who are donating equipment like PPE, N-95, surgical masks to the fearless heath care workers around the country. #staysafe http://bilh.org/donations," Evans tweeted.
In another tweet, Evans shared a petition to help nurses in the U.S.
"Our nurses & healthcare workers on the frontlines of #coronavirus do not have the masks & personal protective equipment they need. If we don't take care of them, they can't take care of us! Sign the petition at http://ProtectNurses.org! @CDCgov," he wrote on Twitter.
Chris Evans is starring in a new TV show
On March 25, Evans shared the trailer for a new TV show titled Defending Jacob. The drama miniseries is produced by Apple TV+ and is based on a novel by William Landay.
Evans stars in the series as Andy Barber, "a father dealing with the accusation that his son is a 14-year-old murderer."
Evans shared Apple TV's tweet of the show's trailer and wrote, "I know it's tough not leaving the house right now, so hopefully this helps a bit. A lot of wonderful people worked very hard on this project and I'm proud to be a part of it. Stay safe everyone!"