Chris Harrison Says 'The Bachelorette' Won't Air For Months, So Here's What to Expect Right Now
When The Bachelor Presents: Listen to Your Heart dropped on April 13, many fans wished ABC was airing Clare Crawley's season of The Bachelorette. Unfortunately, the 16th season shut down production in mid-March 2020 due to the coronavirus (COVID-19) pandemic. So when will the next season of The Bachelorette air its highly anticipated premiere? Prepare yourselves. Recently, host Chris Harrison shared it will take months, even after things get back to normal.
Clare Crawley's season of 'The Bachelorette' postpones production indefinitely
On March 13 — the same day The Bachelorette was scheduled to start filming — Warner Bros. Television Group halted production for over 70 series and pilots for at least three weeks. Harrison also addressed Crawley's season on Instagram.
"It was not only the right thing to do, it was the only thing to do," he said. "But that doesn't mean this decision wasn't hard to make, because this will affect a lot of people. To my friend Clare, you are still my bachelorette. Hopefully, we're still going to have the opportunity to help you find love and make this work."
Then in an interview with People on March 31, Harrison confirmed filming for The Bachelorette is indefinitely postponed.
"Until we can do this show and do it safely, we won't do it," he said. "Right now we are just on hold and it's being postponed. But we're all chomping at the bit to get back to it and to have Clare be our bachelorette."
When will 'The Bachelorette' Season 16 air?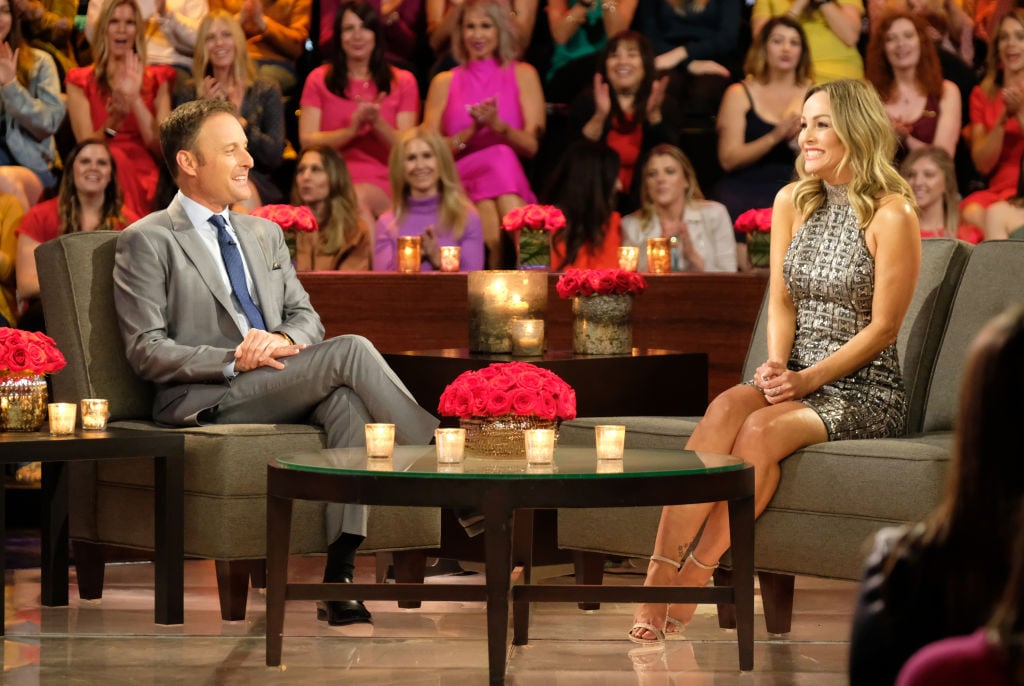 Clearly, the future of The Bachelor franchise is up in the air right now. But when speaking with Glamour in April 2020, Harrison reassured fans The Bachelorette will take priority when it's safe to return.
"Obviously the longer this goes, the tougher it's going to be, logistics-wise and calendar and all that,' Harrison said. "First and foremost, when we get back, we have to safely figure out how can we produce The Bachelorette."
But even so, it will take some time until Crawley's season is ready to air.
"When can we start shooting? It's not like there's going to be a day, say May 1, if the governor and president decide that we can all [resume work], and then boom, we have a television show," Harrison said. "That's not how it works. That just means we can go to work and start producing a television show."
He continued: "Months are going to go by before we can get something on the air, so we're trying to look at two things: One, how can we immediately service everybody and create content? And two, how quickly can we go back to The Bachelorette, BIP, The Bachelor and fit it all in?"
Meanwhile, Harrison hinted The Bachelor team is cooking up new ideas so the fandom will continue to be well fed as social distancing continues.
"We're looking at all kinds of creative ways," Harrison said. "Maybe it is a check-in or a reunion show, or maybe it's creating some other type of show about The Bachelor that we can get on the air immediately."
What to expect when 'The Bachelorette' returns
When it is safe enough for The Bachelorette production to resume, Harrison speculated the new season will reflect what's going on in real life and fans will see a change.
"Clearly the world is going to look very different when we all come out of quarantine," he told Glamour. "Work, our economy, our government, love, relationships, dating — it's all going to be different."
He continued: "But The Bachelor and The Bachelorette have always been really good about embracing pop culture—embracing culture in general—and really showing what's going on. That is going to be one of those things that we're going to have to embrace."
Then according to Variety, The Bachelorette production is looking into multiple filming locations if and when the reality series is given the green light to return. The publication reported a private resort is being discussed. However, it's unlikely Crawley's season will include international travel.
We're bummed Crawley's Bachelorette season won't air for some time. But we're willing to wait to ensure everyone's safety. And who knows? Maybe The Bachelor team will unveil something fun to keep us preoccupied. So stay tuned.
Read more: Why Kelley Flanagan Won't Be on 'The Bachelorette' or 'Bachelor in Paradise'