Chris Harrison Said Clare Crawley 'Probably' Looked up the Men of 'The Bachelorette' During Break
Chris Harrison talks about the postponement of 'The Bachelorette.' He shares his theory of Clare Crawley looking up the contestants.
The Bachelorette is one of many shows that are taking a break due to the coronavirus outbreak. This decision was made after the cast for Clare Crawley's season was already revealed. Chris Harrison talked about how all of this might affect the season including the possibility that Crawley looked up the contestants.
'The Bachelorette' has been postponed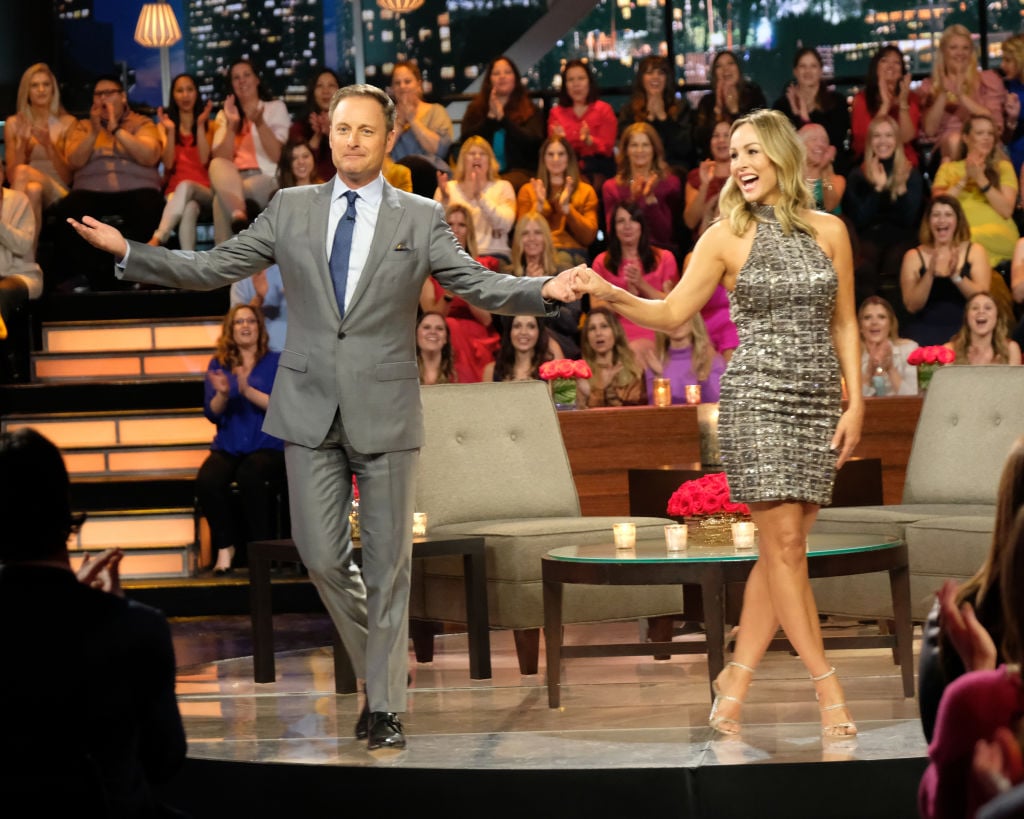 The production of The Bachelorette started, but it is now postponed due to coronavirus concerns. ABC exec Rob Mills was on The Ringer's Bachelor Party podcast to talk about how far filming went before the decision was made.
"Our first day was supposed to be Friday, the 13th. But at that point, we moved it to Sunday, the 15th," Mills said. "So Clare wasn't sitting at the mansion on Friday and told, 'OK wrap it up. Go home.' She was not standing on a wet driveway waiting for a limo to show up. So it's fine."
Mills still sounded optimistic about the season. "When we do this season, it's going to be awesome," Mills said. "You can't keep getting bad breaks and then not get a good break. I think she's going to get the best break. Like something is going to happen that this all happened for a reason. I think she's very much a big believer in that, too. Everything in its own time."
Clare Crawley is open to more men being cast for the season
The cast of the season was already revealed online. There was some fan backlash because majority of the men are younger with the average age being 29. Crawley is 38 years old.
She said she doesn't mind dating a younger man. But now she has hope that even more men can be cast for the season.
Crawley talked about the postponement on Instagram Live. "I'm not saying this personally — but I feel like since we have a break in the show right now, I don't think it's too late to submit people," she said. "So, submit them, why not? What's the worst that could happen?"
He said Crawley probably looked up the men
The cast for the season is now out there and time will tell how that'll affect the season. Harrison talked to People about filming being on hold due to the coronavirus outbreak.
"Until we can do this show and do it safely, we won't do it," he said. "Right now we are just on hold and it's being postponed. But we're all chomping at the bit to get back to it and to have Clare be our bachelorette."
He was asked if he thought Crawley looked up the contestants during the social-distancing break. "Oh, probably," answered the host. "Yeah. I'm sure the first thing I would've done, if I got my phone back, was check out the contestants."
Harrison gave an update on the reality star. "She's safe and she's doing what she's supposed to do, but that means she's sequestered at home and she lives by herself," he said. "Bad timing for Clare. It would have been great right after. She could have been quarantined with the man of her dreams, but now she just has to sit and think about being the bachelorette."
It's still unknown when filming will start. Hopefully, it'll be revealed whether Crawley did some research on the cast members.