Chris Hemsworth Reveals the Greatest Challenge of Playing Thor, Which Is Also 'Part of the Fun'
Of all the movies starring Chris Hemsworth, the Thor movies stand out most. He messed up his first audition, and Marvel never called him back, but Hemsworth nailed it when he had a chance to read for the part again. He went from almost quitting acting to starring in some of the biggest blockbusters of all time, but it didn't always come easy. He seemed destined for the role, but Hemsworth revealed the major challenge of playing Thor, including in Thor: Love and Thunder.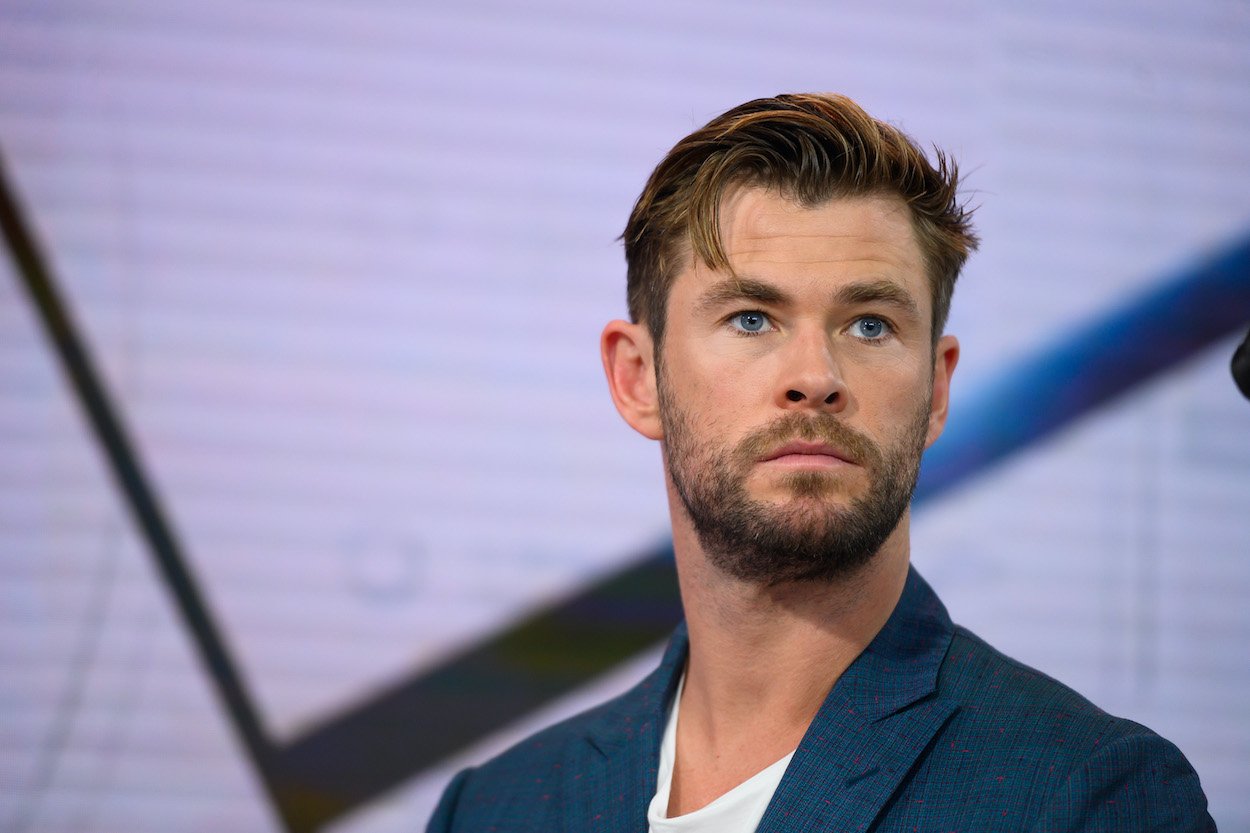 Chris Hemsworth will set a Marvel Cinematic Universe record with 'Thor: Love and Thunder'
Hemsworth's first movie was a blockbuster. He had a small but memorable role as George Kirk in the Star Trek reboot. Unfortunately for the Australian actor, that role didn't lead to an onslaught of Hollywood opportunities. Hemsworth was running out of money before he wielded Mjolnir in the first Thor movie.
That was in 2011. Eleven years later, Hemsworth sets an MCU record by starring in his fourth solo movie. Chris Evans, Robert Downey Jr., and Tom Holland only got three movies as Captain America, Iron Man, and Spider-Man, respectively.
Hemsworth has a wildly successful career thanks to the Thor movies, but it's not always easy. Spending more than a decade playing the character presents some major challenges, but the Aussie says that's part of the fun.
Keeping things fresh is part of Hemsworth's challenge of playing 'Thor'
He doesn't have a specific timeline, but Hemsworth knows when he'll stop playing Thor in the MCU — when the ideas become stale.
After four solo movies, four Avengers movies, and a couple of MCU cameos, keeping Thor fresh is part of Hemsworth's challenge and one he embraces, as he told Wired (via YouTube)
"I Love playing Thor. Played it for many, many years and would continue to do so if people wanted me to. The most challenging part of playing Thor is reinventing it each time and having it not be predictable for an audience and having it be something they [haven't] seen before. The goal is to continually try something new and keep it fresh. And that is a challenge, but part of the fun."

Chris Hemsworth on the challenges he faces with each new Thor movie
Thor: The Dark World had one of the best opening weekends of Hemsworth's career, but it wasn't a crowd-pleaser. On the heels of the first movie's success, its darker themes didn't sit well with some MCU fans. With some people calling the script boring, it was doomed before it began. Less than two-and-a-half years passed between Thor and The Dark World; it was nearly four years before Thor: Ragnarok arrived in 2017.
Taika Waititi directed the well-received Ragnarok and returns for Love and Thunder, an indication their friendship off the screen helped the duo find a fresh angle for the last two movies, which is a promising sign for the future of the Thor movies.
Hemsworth's future in the MCU and other future roles
As long as Marvel can keep future Thor movies fresh, fun, and interesting, it sounds like Hemsworth intends to keep starring. However, Hemsworth has no concrete plans to return to the MCU, meaning Love and Thunder could be his last go-round as Thor.
We'll have to wait and see if Hemsworth returns as Thor. Until then, he'll be busy with other projects.
He stars in Extraction 2, the follow-up to his 2020 Netflix film, which will stream later in 2022 (per IMDb). After that is George Miller's Furiosa, the prequel to Mad Max: Fury Road. Hemsworth is attached to a Hulk Hogan biopic, and if his physique is any indication, he'll star in the film.
Hopefully for fans, Chris Hemsworth will be up for another challenge after Thor: Love and Thunder. But if he isn't, at least we know he won't be disappearing from movie screens anytime soon.
For more on the entertainment world and exclusive interviews, subscribe to Showbiz Cheat Sheet's YouTube channel.
RELATED: The 5 Oscar Winners Starring With Chris Hemsworth in 'Thor: Love and Thunder', Ranked