Chris Hemsworth Will Never Part With Thor's Original Hammer And His Wife Might Be Jealous
Chris Hemsworth has a new movie to promote, and as he did last year, he's trying his hand without a hammer or axed, as in Men in Black International. Of course, Hemsworth well knows that the subject of Thor is never too far away, so they came up during a recent promotional appearance on Jimmy Kimmel Live. 
Much ado has been made of Thor's hammer Mjolnir and his axe Stormbreaker, and of who's allowed to hold them, whether it's Captain America or Jane Foster. Apparently, even Hemsworth has trouble with them.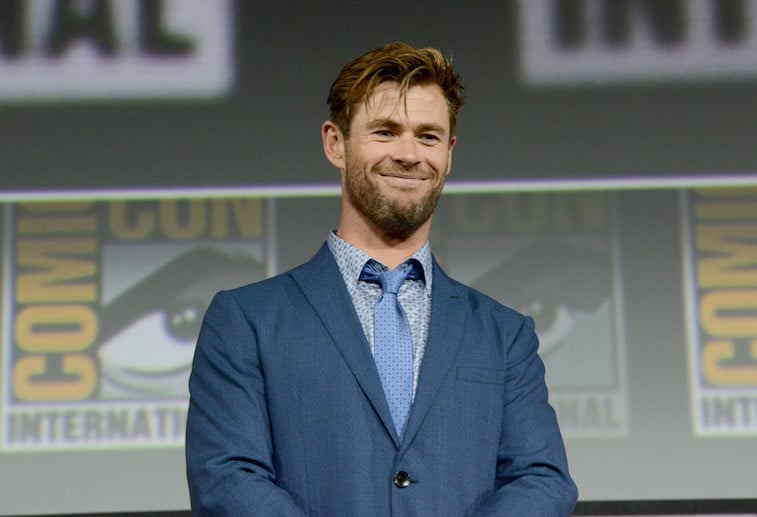 What did Hemsworth say on Jimmy Kimmel?
Kimmel recalled that the last time Hemsworth appeared on his show, when Kimmel and other talk shows could still have an audience, Hemsworth was talking about Thor's props.
But during the recent appearance, Hemsworth was speaking from Australia, where he's quarantined with his family. So Kimmel asked Hemsworth if that's where the props are. 
"This is the house where the hammers are (in Australia) Hemsworth said. "I've got two hammers here, actually."
And he had one of them at the ready, probably anticipating the question. It was the original Mjolnir from the first Thor movie in 2011. Much was made of the fact that none of the other Avengers could lift the hammer during a scene in Avengers: Age of Ultron, but the actual hammer prop does have some heft.
It's not hollow, like a toy hammer might be, but "it's got some weight to it," Hemsworth said. "My kids like to slowly, bit by bit, consider themselves worthy as they get older and stronger and able to pick it up." 
It's not just the kids whom Hemsworth has to contend with — it's his wife, Elsa Pataky, too. Hemsworth told Kimmel that he would put the hammer on the mantel or on display somewhere, and his wife will put it back in the cupboard. Kimmel responded, "If worse comes to worse, you can reach out your hand and it comes back to you."
How do people like Hemsworth's new movie?
Hemsworth appeared on Kimmel to promote his new movie Extraction, playing on Netflix. He plays the improbably named Tyler Rake, a mercenary who takes on a particularly dangerous extraction when he must rescue the kidnapped son of an imprisoned international crime lord. It's written by Joe Russo, one of the Russo brothers who directed four MCU movies, including the biggest of them all, Avengers: Endgame.
"It's adrenaline-driven, high-action … this resonated in a different way. It has a heartbeat at the center of it. It's sort of an action art film, if you can combine the two … the action on this is unlike anything I've ever seen," Hemsworth told Kimmel.
The movie has a fair 66 percent on Rotten Tomatoes, with a Critical consensus starting, "Spectacular stunt work and an electric performance from Chris Hemsworth can't save Extraction from being dragged down by its aimless violence."
We have to wait a bit longer for 'Thor: Love and Thunder'
While Hemsworth shows off his Thor props, it will be a little while longer before we see Hemsworth as Thor. The movie had originally been scheduled to come out in November 2021 until the pandemic prompted Disney and Marvel to push back their entire schedule.
Now the movie is coming out in February 2022, making that a busy year for Marvel, with Doctor Strange in the Multiverse of Madness, Black Panther 2, Captain Marvel 2 and an unnamed fifth film all crowding the theaters.
Ever since Natalie Portman lifted Mjolnir at Comic-Con last year, her MCU colleagues have also been getting in on the fun. Brie Larson posted an Instagram of herself holding it, probably figuring that Captain Marvel would be able to lift it easily, prompting Portman to report, "Hey, muscles, easy with my hammer."