Chris Hemsworth's Motivation To Create A Fitness App Wasn't Just Physical
Chris Hemsworth of the Marvel Cinematic Universe has expertly taken on the role of Thor since 2011. His portrayal of the superhero requires the actor to stay in top physical shape and work hard to preserve his chiseled physique.
The Avengers star recently launched a fitness app which is designed to benefit users in their daily exercise regimen, yet also pays attention to mindset and confidence level inspired by Hemsworth's own previous challenges with maintaining a strong sense of self.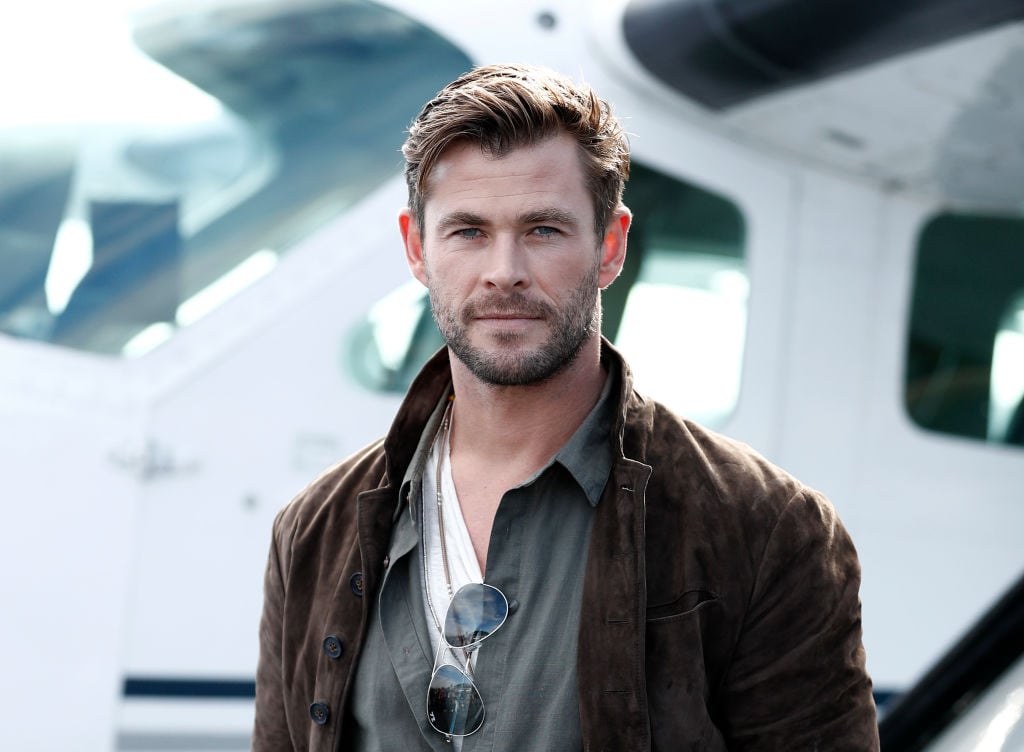 Confidence crisis
Though Hemsworth is now one of Hollywood's hottest stars, the actor once considered getting out of showbiz after a lack of offers following his turn in 2009's Star Trek. "I was about to quit," he told Men's Health in January 2019. "In that eight-month period, I got more and more anxious, to the point where I couldn't harness that energy. I was trying to convince myself I wasn't nervous before auditions rather than grabbing hold of it and going, 'Use it, raise up your awareness here, sharpen your focus.'"
The Thor actor revealed that changing his mindset was critical in getting career doors to open. "My mentality changed, which came from being at a point where I was like, 'I'm going to go back to Australia,'" he said. "I had one more audition where I was like… 'Think about reasons other than yourself.' That was for The Cabin in the Woods, and I got that job, and from there I got Red Dawn. And then I got Thor."
Hemsworth continued to find greater contentment and confidence by holding on to that outlook. "Someone said to take a bat-and-ball approach to auditions. So there's your audition, then boom, on to the next one," he shared. "You can't be thinking about that last one. That's where the fear comes when you're like, 'Oh God, everything's relying on this one single moment.' Which nothing is. No single moment ever defines your journey. There are so many complicated pieces of the puzzle. I've found it comforting letting go a bit."
Getting Centr-ed
When Hemsworth launched his fitness app Centr last February, he wanted to provide more than just a workout platform for users. "We all need support to achieve our goals," he states on his website. "Centr puts the world's best in the palm of your hand, to help you develop a healthier body, stronger mind, and a happier life."
According to Mashable, the app offers a workout section for home or the gym with new videos provided each week. Users can set goals and track progress while choosing their intensity level.
The app also places a mindfulness section as a priority, with guided meditations, exercises to build confidence, sleep visualizations, coping skills for stress.
"That was kind of the genesis of this whole Centr app—things I learned along the way from meeting people who are leading experts in their fields, in mindfulness, nutrition, and training," Hemsworth told Men's Health of creating the app. "For me to do a great job and not to implode from the anxiety, I've got to find that center."
With an all-encompassing format to cover both the body and the mind, Hemsworth's goal was to present an app that benefitted users both physically and mentally. "The whole thing was about not becoming stagnant. That's when your emotional and physical problems occur, I think," he said. "I wanted to create some-thing that embodied the three main elements of healthy living—the movement, the nutrition, and the mindfulness—and present it in a way that's entertaining, functional, and also accessible."
Not easy being Thor
While the Marvel actor is clearly dedicated to physical fitness, the demanding regimen can sometimes take its toll. "On certain days where I've had a few injuries, especially during Thor, I'm like,'This is starting to become a drag,'" Hemsworth admitted. "Then really over the last year or so, I changed up a lot of my training and nutrition program and it's the best I've ever felt."
Now at 36 years old, Hemsworth is starting to notice some physical changes from when he was in his 20s. "I used to be able to get up and sprint, and I've found that after lifting weights for such a long time and not getting in touch with your fast-twitch fibers, there's such a snappiness that your body had back then," he shared. "The dads' race at my kids' school last year: I hadn't sprinted in about five years, and then boom, you go and do a hundred-meter sprint at full pelt and my back was cranked for weeks."
Though the Avengers star is getting older, he places a priority on mind over matter. "I don't want to admit that there are things in my 20s that I can't do now," Hemsworth said. "I'm careful not to plant that in my psyche that I'm getting older and falling apart."
Check out Hemsworth's app here!