'Jersey Shore: Family Vacation': Chris Larangeira Was Mad At His and Angelina Pivarnick's Wedding
During Jersey Shore: Family Vacation's Season 3 finale, Angelina Pivarnick and her husband Chris Larangeira seemed to enjoy the infamous bridesmaid's speech. Unlike what the show depicted, Larangeira was upset about the speech made by Jenni "JWoww" Farley, Deena Cortese, and Nicole "Snooki" Polizzi. After the episode aired, Larangeira spoke out on social media about how he really felt in that moment.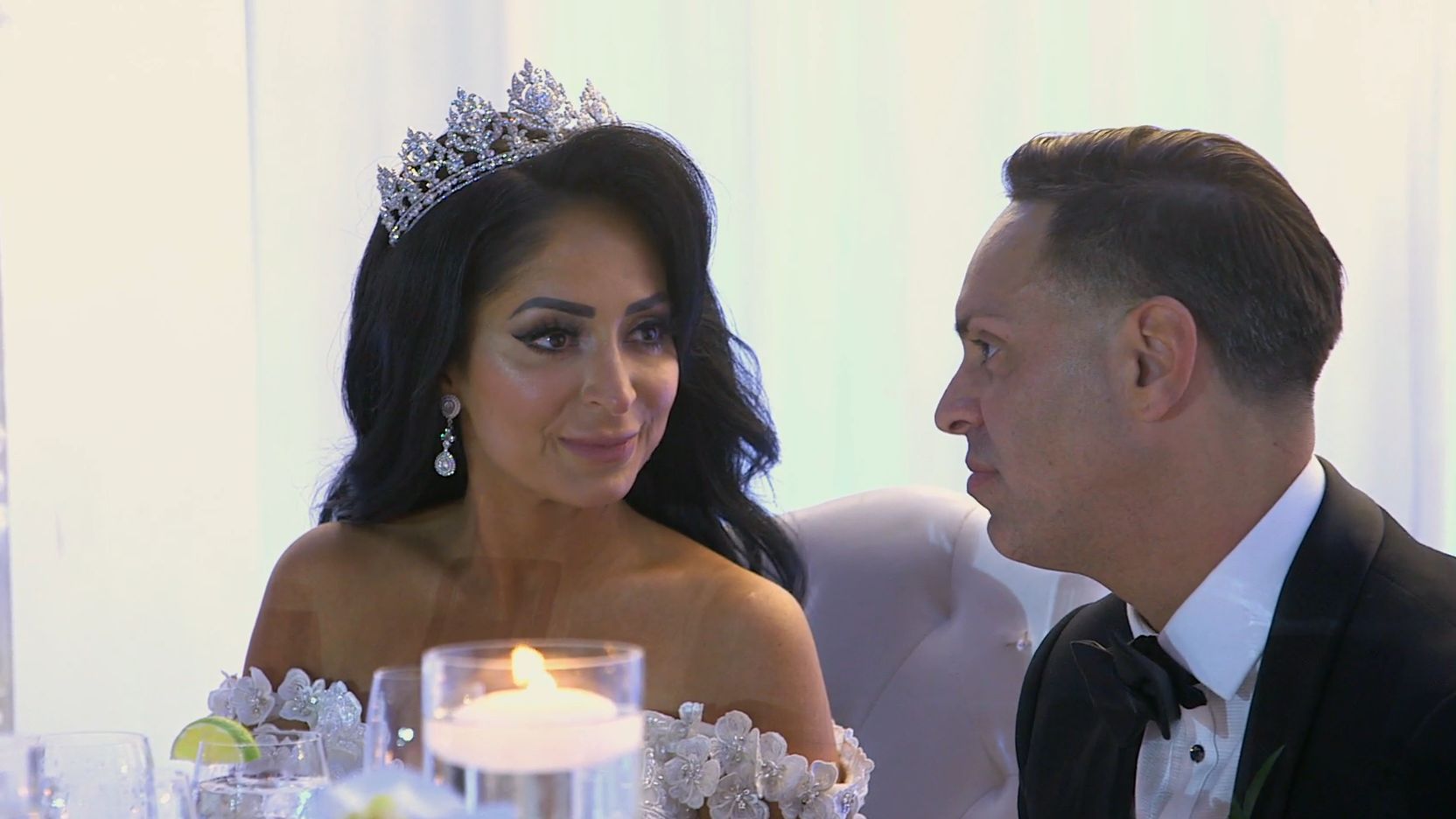 Some fans were convinced Angelina was pushing her husband to get mad 
The season finale finally gave viewers a glimpse at what happened during Pivarnick's wedding. She seemed to enjoy the speech as it was being given. Once it was over, Pivarnick got increasingly mad and humiliated. Some fans were confused when Pivarnick turned to her husband and repeatedly asked if he was mad. Larangeira advised Pivarnick to let it go and move on so that they could both enjoy the rest of their wedding. Instead, a frustrated Pivarnick asked to be away from cameras. 
Some fans thought Pivarnick was egging Larangeira on by asking him repeatedly if he was mad. When Pivarnick tweeted that her husband wasn't a liar, one fan commented: "If he's a straight shooter; when he told you he wasn't upset, was he [lying] or was he being a stranger shooter? I'm confused." Another confused fan tweeted: "But he said he wasn't mad so why did you change your mind and make it a thing? You were laughing before — did you sit on it a minute and think about the boos at your wedding and get p*ssed?"
Chris confirmed that he was upset on Angelina's Instagram Live 
After the episode, Pivarnick took to Instagram to explain what happened the night of her wedding. When she got visibly upset talking about the speech, her husband chimed in. "Yes, we joke around, we can take a joke, but not at someone's wedding," Larangeira interjected. "You don't do it then. We didn't know about the speech at all." 
He also addressed the fans who compared the roommates' speech to Larangeira's best man's. "The whole speech was edited. Don't you understand how TV works? They edit everything." According to Larangeira, his brother's speech was made to look worse. He promised to post the footage of the speech at a later time. "You can't tell someone how to feel, especially on their wedding day," he concluded. 
Chris also spoke out in Vinny's Instagram comments
Larangeira addressed his and Pivarnick's feelings in a comment on one of Vinny Guadagnino's posts (via Reddit), writing: "The speech was very hurtful to me and my wife. It was a very emotional day and even though me and Angelina joke around a lot, it was not the time or place for a speech like that." 
He explained how his family doesn't watch Jersey Shore: Family Vacation, calling what the roommates did a "classless act." Contrary to what the show aired, Larangeira said: "The place booed them off the stage. I see how the show is trying to make it not look as bad. Even editing my brother's speech and just showing a few jokes he made to make it look like 'See, even his brother was making fun of them on his speech' when it wasn't like that at all." 
He also justified Pivarnick's initial reaction to the speech. "She was laughing but you can tell it was an awkward laugh. She didn't know how to act because we were in shock," Larangeira added. "I see how the show is making it look like she went all bridezilla, but you can't tell someone how to feel. If something is going to hurt their feelings or not." 
At this time, it's unclear how Larangeira feels about the cast of Jersey Shore: Family Vacation.