Chris Pratt's 'Guardians of the Galaxy' Co-Stars Probably 'Hate' Him — Here's Why
With the third Guardians of the Galaxy movie still only on the script page for now, fans have taken to re-examining their favorite franchise.
With the third Guardians of the Galaxy movie still only on the script page for now, fans have taken to re-examining their favorite franchise, and they've lighted upon an amusing question about the cast hating Chris Pratt. 
No, this is not salacious gossip about Pratt's beliefs or about bad behavior on set. It's wondering just how much time Pratt has to spend in the makeup chair, if any at all. Turns out it is something of a bone of contention among the cast. 
How much makeup does the 'Guardians" cast have to endure?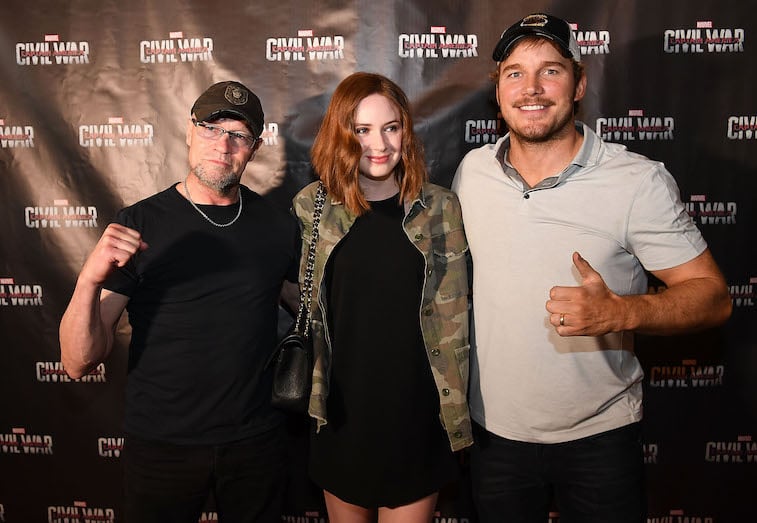 Since most of the Guardians are aliens of one sort or another, the actors have to endure unusually heavy makeup. It's not as simple as being painted green all over like Zoe Saldana is. The actors go through a process that confines them to a makeup chair for an uncomfortable length of time. 
According to Looper, Saldana's time on Volume 2 went down from five whole hours to a mere four hours. She said, "It sucks that you have to wake up at 2:30 in the morning and by the time we start shooting you feel like you've already lived half a day working really hard." Although she doesn't have it easy, her castmates have to endure similarly smothering sessions.
Saldana's sister, Karen Gillan, also spent some four to five hours in makeup, although it's surprising she doesn't' have to endure more, given she also has to wear Nebula's headpieces, including the ones that make her look bald. Many fans have shared time-lapse videos of Dave Bautista getting made up as Drax, with the makeup artists covering the actor from head to toe in gray. 
How much makeup Chris Pratt need?
On Reddit, a fan posted a group photo of the cast during the making of Vol. 2, and it shows the cast all in makeup, although Chris Pratt looks like, well … Chris Pratt. He isn't even in costume. This prompted one fan to ask, "Ever wonder how much Chris Pratt's co stars must hate him because 'makeup' for him takes two seconds and they have to sit through hours of it?"
Pratt actually answers that question in the Yahoo movies article:  "I'm not sure that they don't hate me," he said. "I show up on set and they've already been there for several hours… I'm wearing my robe and my slippers, and I'm like, 'Oh, hey guys. Been here long? That's crazy— I just got here.'
Of course, the actors who have it easiest of all are Bradley Cooper and Vin Diesel, who don't have to show up on set to provide the voices for Rocket and Groot, respectively. Some reports say that Diesel gets paid a ton of money just to say "I am Groot" and provide various grunts and growls. It's a raccoon or a tree's life. 
When will we next see Chris Pratt?
For his most recent movie, Pixar's Onward, Pratt had an idea of what Cooper and Diesel went through for Marvel when he provided the voice to the older brother of the main character, played by Pratt's MCU castmate, Tom Holland. So when we will actually see him on screen again? 
Given the way the pandemic has upended movie release schedules, that answer is a little uncertain, but IMDB says his next movie is the sci-fi thriller The Tomorrow Man, about a man drafted to fight in a future war where the fate of humanity relies on his ability to confront his past. It co-stars Betty Gilpin and Yvonne Strahovski. It's due out in July. 
Next up is the third Jurassic World movie, called Dominion. That movie brings back the stars of the first Jurassic Park, including Sam Neill and Laura Dern. It's due out in June of 2021. Then there's the ever-elusive Guardians of the Galaxy Vol. 3, which James Gunn will get to after he finishes production and press on The Suicide Squad.