Chris Rock Could Get Third Oscar Hosting Gig After Will Smith Slap
Six weeks after the Oscars, and Will Smith slapping Chris Rock could still have unintended consequences. Smith resigned from the Academy prior to receiving a 10 year ban from Academy events. The next development, however, would be positive. ABC says they might consider Rock to host the 2023 Oscars.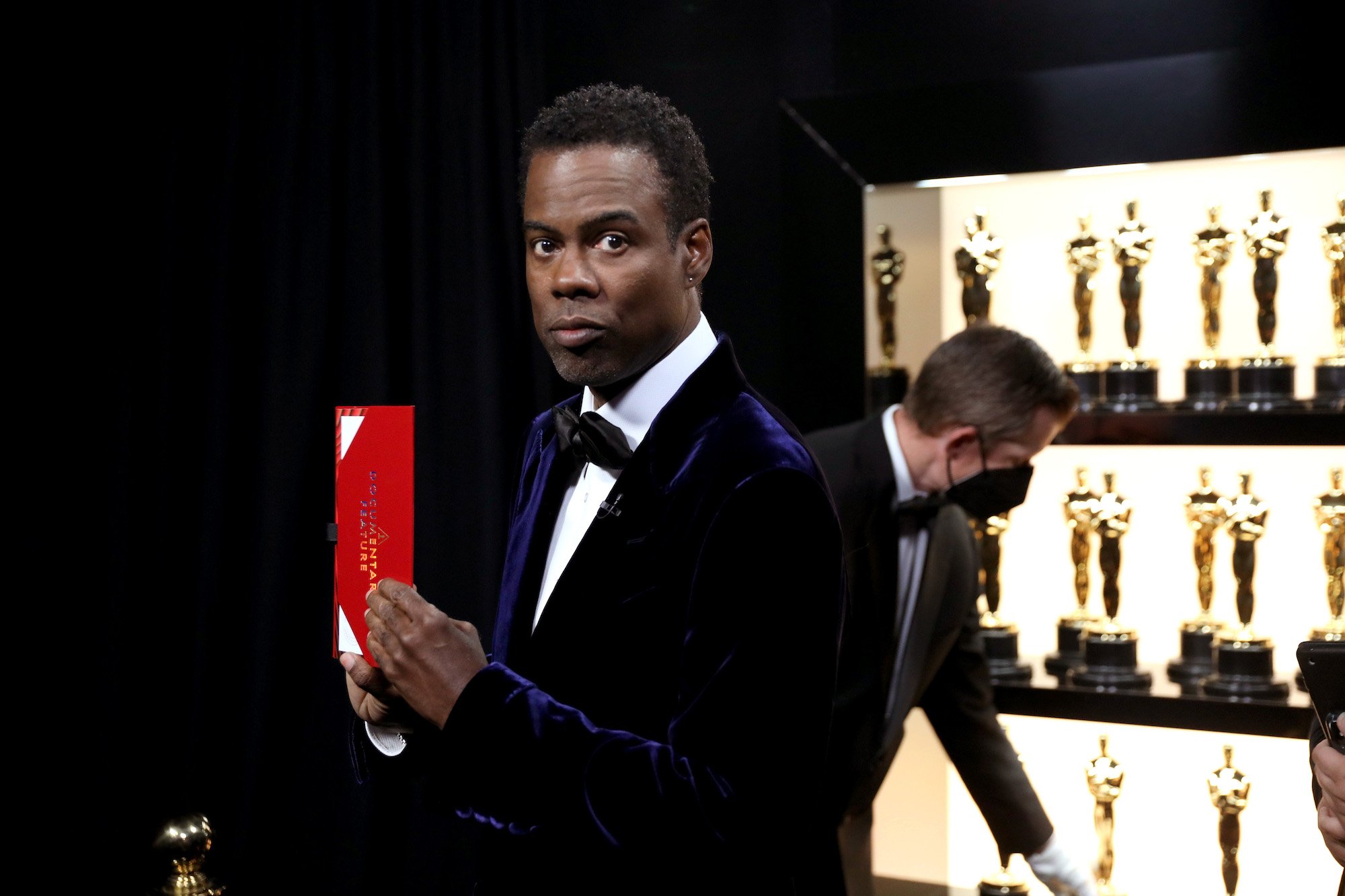 Deadline spoke with ABC President Craig Erwich on May 17. In debriefing the Oscars, Erwich told the trade he's open to Rock hosting next year. That would be the third time Rock would host the Oscars.
Chris Rock's first two Oscar hosting gigs
The Academy of Motion Picture Arts and Sciences first asked Rock to host the Oscars in 2005. Rock ruffled some feathers roasting the celebrities in attendance. He joked that Russell Crowe is the only actor who should star in a historical movie because he does the research, even if the movie is set three weeks ago.
The premise of Rock's monologue was that movies should wait for big stars. He joked that nobody knew who Jude Law was, prompting Sean Penn later in the evening to answer Rock's question, calling Law "one of our finest actors."
RELATED: Will Smith Met Oscars Leaders, Academy Board Members Not Happy
Over a decade later, Rock hosted the 2016 Oscars. That year was controversial because Black critics called out the lack of diversity in nominations. Some asked Rock to join their boycott, but Rock went forward with hosting. He joked in his monologue about having bigger Civil Rights issues to protest than Oscar nominations.
Jada Pinkett Smith was a target of Rock's that night, too. Vox quoted Rock's monologue, "Jada boycotting the Oscars is like me boycotting Rihanna's panties," Rock said. "I wasn't invited."
There's still room for improvement at the Oscars
Erwich acknowledged to Deadline that there was still room for improvement at the Oscars. Will Packer produced the 2022 show following a down year. 2021, the first Oscars during the pandemic, had limited films and a limited attendance. Erwich praised Packer's production while acknowledging there was still room to improve. Perhaps giving Rock the stage is one way. 
RELATED: Michael Bay Reveals He'd 'Absolutely 100 Percent' Work With Will Smith After Oscars Slap
"It was the biggest bounce back of any award show this season," Erwich told Deadline. "If you look at what they were trying to do, which is really bring entertainment back to the program, they had three amazing hosts, clips, and incredible musical performances. I thought it was a great way for the show to reclaim its place on the mantle. There's always things to learn and we'll endeavor to do even better next year."
Despite Will Smith, ABC considers it a success
Nothing Packer produced could have anticipated the moment that stole the show. Smith approached the stage to slap Rock, something that became possible with the new floor plan. Despite that incident stealing the night's thunder, Erwich considers the Oscars a success.
"My assessment of the Oscars was that it was really a successful year for the show," Erwich told Deadline. "Obviously there was a lot of controversy, which overshadowed a lot of the positive things about the show, but I was really happy with the program. Even before that very unfortunate moment, the show started off up year over year, and we came back in a big way."
RELATED: Chris Rock Calls out Will Smith, and It Has Nothing to Do With the Oscars Slap