Chris Stapleton Tried to Write a Song With His Wife On Their 1st Date, But 'We Just Ended Up Making Out'
Years before becoming a hit solo artist, Chris Stapleton was helping write top-ranked songs for well-known country and pop singers. Stapleton's 2015 album Traveller was a huge success and put him on the map as a country music performer. He now holds five Grammy Awards, seven ACM awards, and 10 CMA awards with his singer-songwriting career.
While it took years after moving to Nashville, TN, for the world to take notice of Stapleton's singing talents, his wife, Morgane Stapleton, always saw how special he was. As a fellow songwriter, Morgane was intrigued by Chris and jumped on the opportunity to write a song with him, which is also the experience that the couple considers their first date. While the two did not write a song that night, it was the first line of their lifetime together song.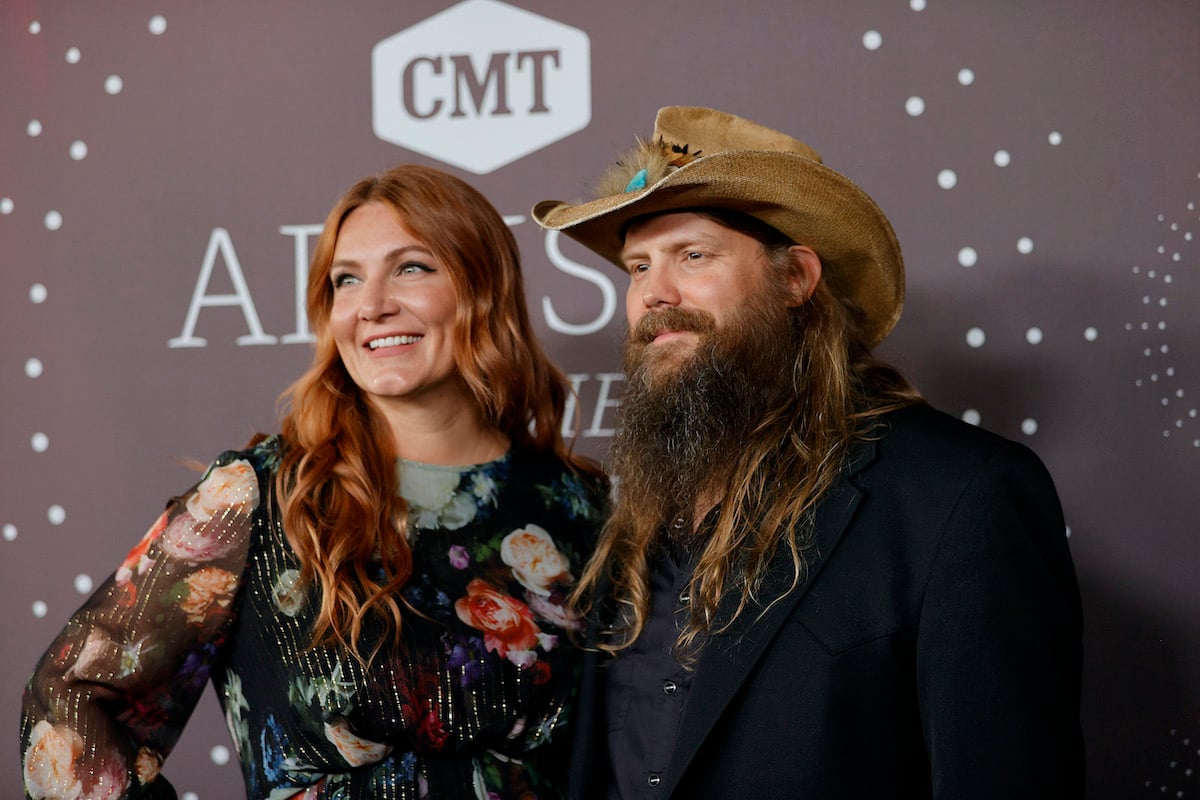 A shared passion allowed Chris and Morgane Stapleton to cross paths
As a Mecca for budding country music singers and songwriters, it's not uncommon for country music couples to start their relationship during their work in Nashville. A shared passion for country music is what allowed Chris and Morgane Stapleton to cross paths. The two were both trying to grow their songwriting careers in the early 2000s, and, as fate would have it, were working at adjacent publishing houses.
Since Morgane had a friend working with Chris, she often spent time in her friend's office waiting for Chris to walk by the office. She previously told AP News, "We'd hear the jingle of his keys as he walked down the hall, and we knew he was coming to play us whatever new song he had written." With that kind of support and "kind of stalking him" as she called it in a recent Paste Magazine interview, it was only a matter of time before the two hit it off. 
Taking a chance on love by trying to write a song together
Paste Magazine's interview with Chris and Morgane Stapleton started with the two recapping their first date in 2003. As Nashville songwriters, Chris thought the natural choice for a first date was to ask Morgane to join him to write a song at 6 PM on a Friday. With her infatuation with the "You Should Probably Leave" singer, she accepted. However, the night did not go as expected.
The two laughed as they recapped the date night and Morgane talked about how they tried to write a song but just ended up making out instead. They also went out to dinner, so it's what the happily married couple considers their first date. While they didn't get much writing done that night, it was clear that they shared sparks, and the rest is, as they say, history. The two continue to work together as the "Tennessee Whiskey" singer expands his solo career. 
Chris and Morgane Stapleton's love song continues
Four years after Chris and Morgane's first date, the songwriting couple tied the knot in 2007. From Morgane helping choose the songs for Stapleton's albums to singing backup on her husband's songs, the couple spends much of their time together.
In addition to their work in the music industry, Chris and Morgane live their best life while raising their five kids, two sons, twin boys, and a daughter. Besides rare Instagram posts or red carpet appearances, they keep their home life private and their children out of the public eye. While the two may have an occasional argument, after over a decade of marriage, it's certain that their love song will keep playing.