Chris Stapleton Said Wife Morgane 'Stalked' Him Before They Got Together
Chris Stapleton said in an interview that his wife Morgane 'stalked' him before the two got together — learn more about how the two met and fell in love.
Chris Stapleton became a country music icon after his debut album release in 2015. However, Stapleton and his wife, Morgane, had both been successful songwriters in Nashville long before his singing career really took off. Morgane Stapleton has written songs for Carrie Underwood, Kellie Pickler, LeAnn Rimes, and many other country music superstars. Morgane was also one of the core writers of Carrie Underwood's hit song, "Don't Forget to Remember Me." Read on to learn more about Chris and Morgane's relationship, how the couple first met, and what their lives look like now.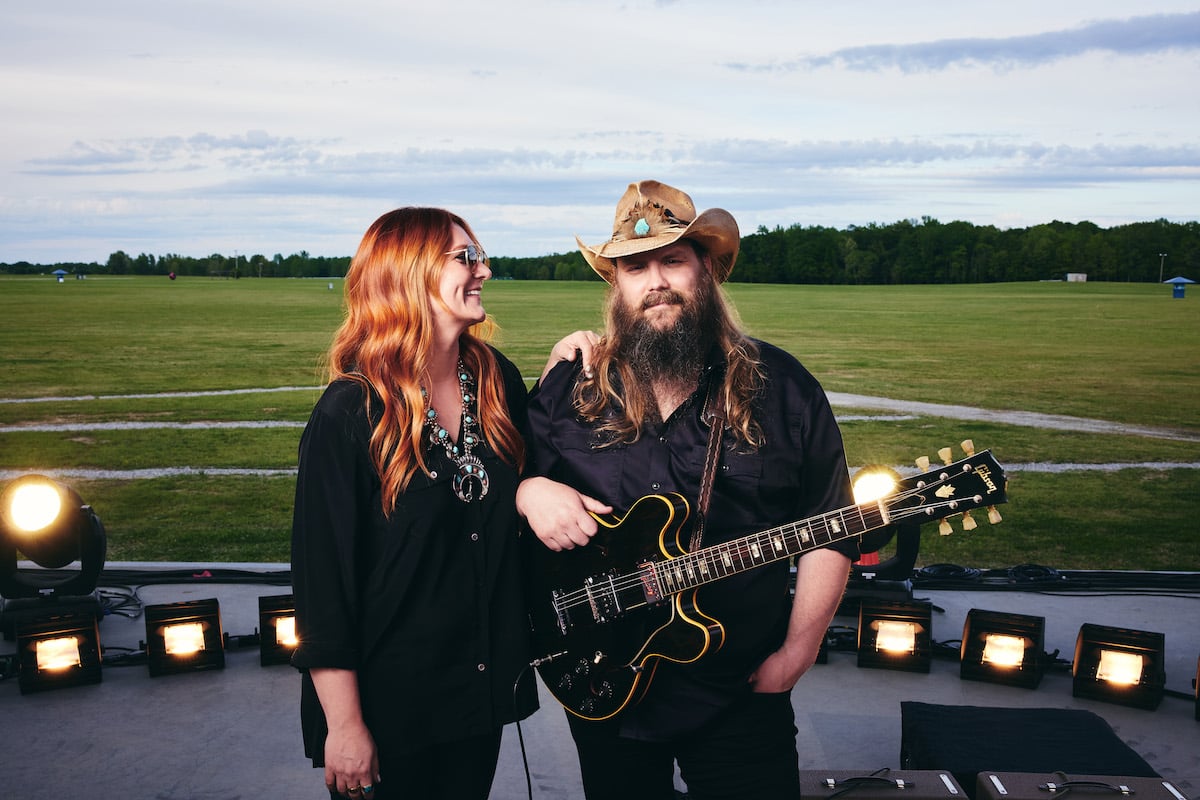 How did Chris Stapleton meet his wife?
During an interview with Paste Magazine, country music singer-songwriter Chris Stapleton revealed that he met his wife, Morgane, through mutual contacts the pair had at a Nashville publishing company. However, Stapleton likes to tease his wife by saying that they met because she used to "stalk" him in Nashville. While Stapleton is mostly joking about his wife stalking him in their early days of knowing each other, his wife also disclosed in the interview with Paste Magazine that she did "kind of stalk him." 
Morgane went on to tell the interviewer, "So, I kind of did stalk him a little bit. I was friends with his song plugger, and I would go hang out in her office like every day." The two aspiring musicians seemed to take a liking to each other right away. The two started hanging out at the song publisher's office all the time until Stapleton asked Morgane if she wanted to write a song with him at 6 o'clock on a Friday night. Morgane went on to say, "We tried to write his song, but I think we just ended up making out like most of the night." 
Stapleton married the woman who used to 'stalk' him 
The chemistry was always strong between Stapleton and Morgane and was certainly evident when the pair first met in 2003. Stapleton eventually went on to marry the woman who used to stalk him, officially tying the knot on October 27, 2007. Throughout their marriage, the pair have continued to write many songs together and watched Stapleton's career explode after the release of his 2015 album Traveller.
For their 14th wedding anniversary, Morgan took to her Instagram to celebrate. She shared a picture of herself and her husband with the caption, "14 years today. I don't remember much about life before you. Thank you for loving me. Thank you for hearing me. Thank you for teaching me. Thank you for respecting me. Thank you for giving me everything I cherish in this life. I love you more than I'll ever be able to put into words, but I'll spend the rest of my time here on earth trying. Happy anniversary my love!"
How many kids do Chris and Morgane Stapleton have?
Along with writing songs, collecting Grammys, and becoming country music icons, Stapleton and Morgane also found the time to start a family. Stapleton and his wife are quite private about their children and like to keep them out of the public eye as much as possible. However, the couple has shared a little bit about their growing family over the years.
Before rising to mega fame in the country music world, the Stapletons welcomed two children into the world, Waylon and Ada. In 2022, Stapleton shared with Country Fancast that his oldest two kids are 12 and 10, saying,
"The silver lining and the mixed blessing during the pandemic for me is I've gotten to spend more time being a dad and being with my children than I've ever gotten to do certainly as a touring musician. I have three children under the age of three, and I have two older ones that are 12 and 10." 
Along with Waylon and Ada, Stapleton and Morgane welcomed twin boys, Macon and Samuel, into the family in April 2018. They went on to welcome their fifth child and fourth son into the fold in May 2019. The pair have not publicly released their youngest son's name as of this publishing. 
With countless number one songs, a handful of Grammys, and five children between them, it seems like Morgane's decision to "stalk" Stapleton back in 2003 turned out to be a great decision for both her and her husband.