Who Is Chris Watson on 'The Bachelor: Listen to Your Heart'?
Who is Chris Watson from 'The Bachelor: Listen to Your Heart' cast in 2020, including his Instagram, age, and details on his romance with Bri Stauss.
When The Bachelor: Listen to Your Heart premiered on Monday, April 13, viewers welcomed over 20 cast members into the franchise. In one night, everyone discovered a handful of fan-favorite contestants and new music artists. But even so, not everyone received their moment in the spotlight, including Chris Watson. The 30-year-old soul singer wasn't exactly featured in the first episode. However, his blossoming romance with Bri Stauss brought him front and center. So who is Chris from The Bachelor: Listen to Your Heart? The music artist's Instagram feed proves the reality star is serious about his music.
Who is Chris Watson from 'The Bachelor: Listen to Your Heart'?
According to Chris' Bachelor profile, the Listen to Your Heart star is ready for the romance of a lifetime. 
"As a wedding singer, Chris is surrounded by love all the time," the bio reads. "Growing up in Tampa, Florida, to Caribbean parents, Chris was always encouraged to find love and follow his dreams … Chris is looking for a woman he can sing to and grow old with, and it doesn't hurt if she can hold a tune as well. After years of being the singer at a wedding, he is ready for his love story."
Now it seems the LA singer will get his shot at love. Chris hit it off with Bri during night one of The Bachelor: Listen to Your Heart. The couple seemingly paired off instantly. And when it came to the first rose ceremony, no one in the new Bachelor mansion was surprised when Bri chose Chris.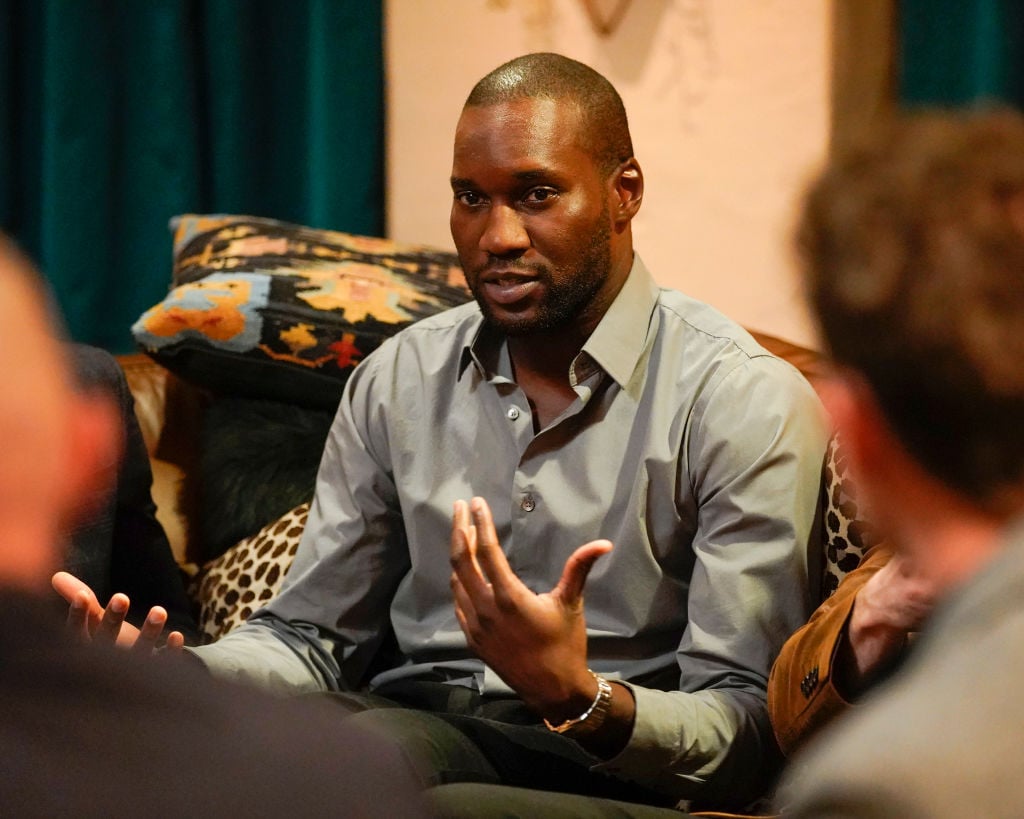 In the second week of the ABC reality series, Bri and Chris received a date card. They went to a guitar shop and opened up to one another. Bri revealed the details of her previous engagement. She also admitted she was falling in love with Chris. Then in return, Chris applauded his partner's strength and reciprocated her feelings.
"Thank you. You're so strong for sharing that," Chris said. "It's so scary to admit, but I think I'm falling for you, too." 
What is Chris Watson's Instagram handle?
Aside from his romance with Bri on Listen to Your Heart, Chris has a strong love for music. And according to his Bachelor profile, the reality star's passion for the art stems from the loss of his father.
"After losing his father, Chris has been motivated to pursue his passion of having a music career, no matter the cost," the bio reads. 
Now the music artist has plenty of projects to share with the world. For the past few years, Chris has released a few singles. But then on Jan. 24, he released an album called "Time Changes." 
Meanwhile, you can find Chris on Instagram under the handle @tellemwatson. The wedding singer frequently promotes his talents, from live performances to feel-good covers from his apartments. 
Recently, Chris has also been teasing his appearance on Listen to Your Heart on the social media platform. And ultimately, it seems the reality star is having a fun time with it. 
"Woo! I love how Monday is the best day of the week now," Chris wrote on April 20. "Any predictions for tonight? Will I finally leave the piano to find some food? Tune in tonight."
But even so, Chris hasn't mentioned Bri on his Instagram account, aside from a photo from the first week of performances. Now Bachelor Nation must wait and see how this romance turns out as Listen to Your Heart continues. So stay tuned.
Read more: Where Was 'The Bachelor: Listen to Your Heart' Filmed? Fans Already Miss the Original Mansion