'Chrisley Knows Best': Savannah Chrisley Says She's 'Grateful' For Everything That's Happened With Her Family: 'Oddly Enough'
A jury convicted reality tv stars Todd and Julie Chrisley of financial crimes, and the couple is awaiting sentencing for a conspiracy to defraud banks of millions of dollars. In the meantime, their daughter, Savannah Chrisley, wrote to fans on Instagram about how her life has changed throughout the legal proceedings and personal trials.
Why did she say she is "grateful" in a strange way for the plights of her family, "oddly enough"? And what accusation did her older sister make against their dad and brother that she thinks is "extremely sad"? Read on to learn more.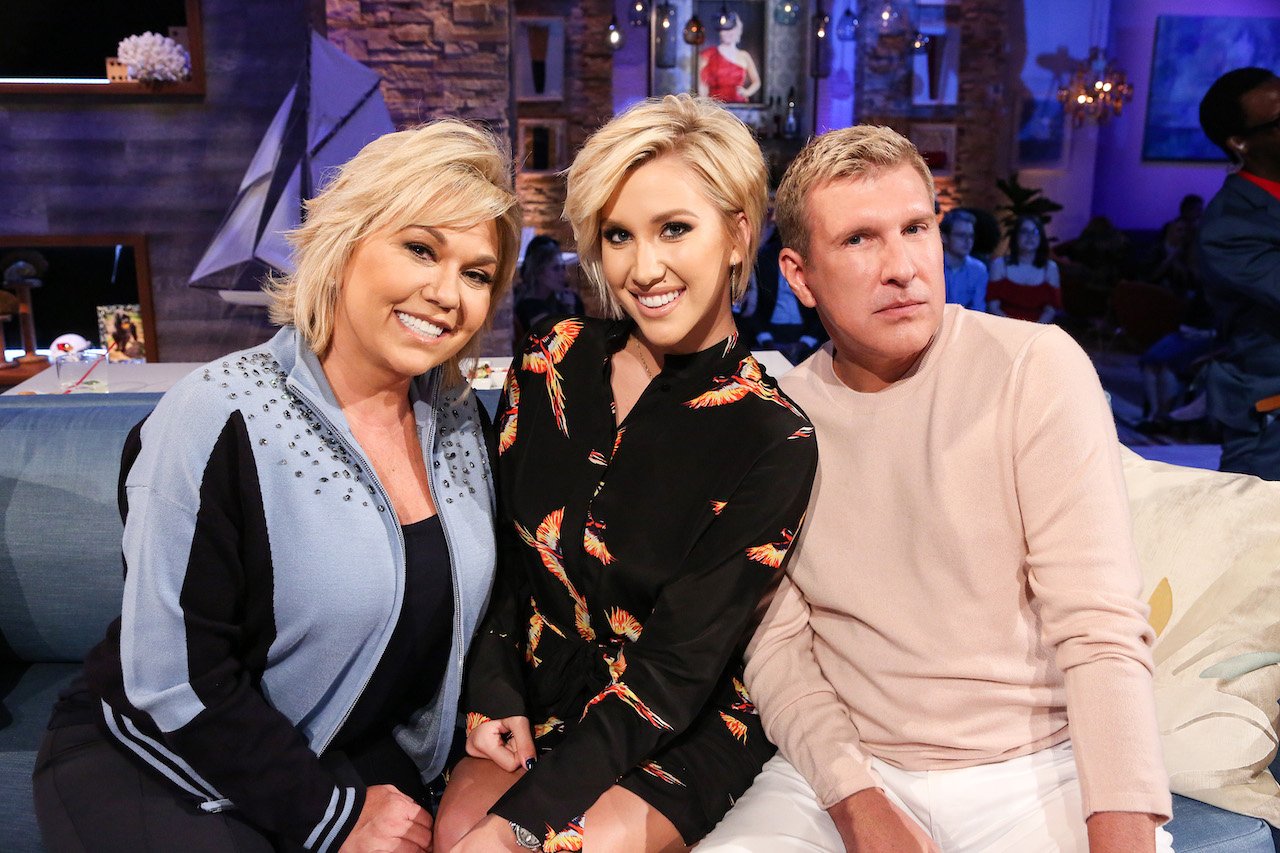 A jury convicted Todd Chrisley and Julie Chrisley of multiple tax crimes
According to the Department of Justice, Todd Chrisley and Julie Chrisley engaged in a conspiracy to defraud Atlanta banks out of more than $30 million by taking out personal loans (per CNN.) They were convicted on that charge and multiple tax crimes along with their accountant.
The DOJ argued evidence suggested they submitted false bank statements and other financial records to secure money used on extravagant purchases. That was before the family became famous reality tv stars on the USA network.
But upon the success of their show — Chrisley Knows Best — they allegedly conspired to avoid paying their delinquent taxes. A special agent in charge of FBI Atlanta said the verdict "proves once again that financial crimes do not pay."
The Chrisleys are scheduled for sentencing on Oct. 6, 2022.
Savannah Chrisley is 'grateful' for the plights of her family
Savannah Chrisley, 24, turned to Instagram to share some feelings with her fans. She said she is "grateful in a weird way," adding that gratitude comes "oddly enough."
But the makeup guru is thankful that she's been forced to slow down and declared, "I know that there is a God who out of nothing, does everything!"
According to her, her life is now separated into "Pre Storm" and "Post Storm" periods. "Pre Storm was FAST paced and full of things that just don't matter," she noted.
"Post Storm" life for her is more meaningful. "… More quiet time, more God time, more me time and family time," she shared.
In an earlier Instagram post, Savannah confessed there was a time she was feeling so low and disappointed that she felt "let down by God."
But she concluded, "… I do believe that He will use every hardship and adversity we go through to strengthen us and prepare us for an even greater purpose."
And for that, she's thankful.
Savannah Chrisley doesn't seem grateful for the actions of 1 family member
While Savannah is standing by her parents, her older sister, Lindsie, takes a different side. She claimed that their father, Todd, and their brother, Chase Chrisley, threatened to release a sex tape of her.
According to Lindsie, they were harassing her to try and coerce her into lying. So, she filed a police report in Georgia, as reported by Entertainment Tonight.
Savannah said the tape wasn't real and that hunger for fame drove her sister to lie. But Lindsie's partner in the alleged video, Bachelorette runner-up Robby Hayes, also alleged they were recorded being intimate without their knowledge using a security camera.
Still, Savannah concluded, "It's extremely sad that my dad has a child of his that's trying to make his life so miserable because she wasn't on the show and didn't get the attention that she wanted."
RELATED: 'Chrisley Knows Best' Stars Julie and Todd Chrisley Face 30 Years in Prison, Sentencing Set for October