Chrissy Teigen Says She and Meghan Markle Have Been in Touch Recently
Meghan, Duchess of Sussex, may not be on social media anymore, but that doesn't mean she isn't paying attention to what's going on. The currently pregnant duchess has been back in her hometown of California for roughly a year now, and already she's showing people how kind and warm she is.
The former Suits actor has continued with her charity work, spoken up for Black Lives Matter, and defended herself against lies and slander. Now, Chrissy Teigen has revealed that she and Meghan have also been in touch. She explained that Meghan reached out when she needed it most.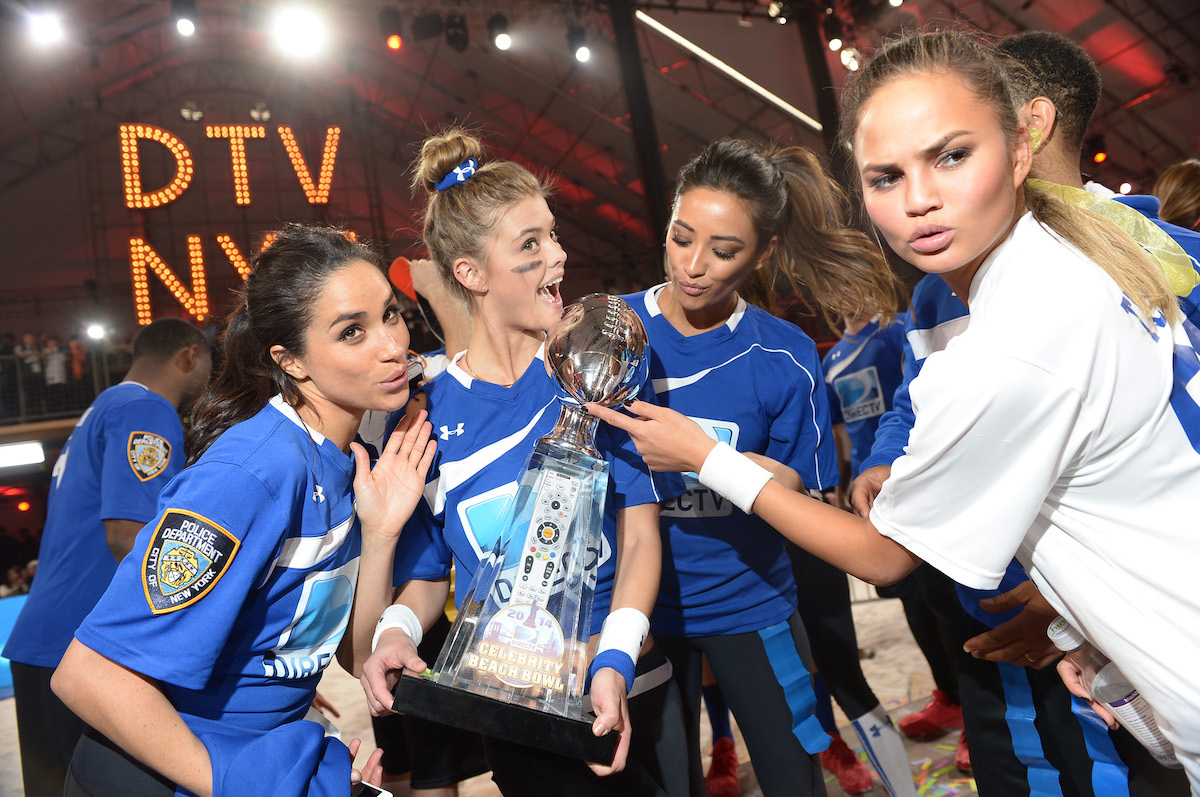 Chrissy Tegien and Meghan Markle worked together on 'Deal or No Deal'
Teigen and Meghan's friendship did not just blossom out of thin air. Before Teigen had a cooking empire and long before Meghan was a duchess, the pair worked together on the game show Deal or No Deal.
Though their time overlapped, they did not know each other very well. "I was on Deal or No Deal with her and she was lovely," the model explained. "Now everyone asks me what she was like and I say, 'Sorry, no dirt.' She's gorgeous."
Since then, Teigen has praised Meghan's cookbook, Together: Our Community Cookbook, while also defending her against bullying, even from her own father.
RELATED: Chrissy Teigen Revealed Her True Feelings About Meghan Markle From Their Time on 'Deal or No Deal'
Chrissy Teigen has defended Meghan Markle against bullying
Since she began dating Prince Harry in 2016, Meghan has endured racist and sexist attacks against her character. Those only worsened following her marriage to the prince in 2018 and throughout her pregnancy with her son, Archie Harrison.
Before her interview with Oprah Winfrey aired, Buckingham Palace announced an investigation into baseless bullying claims against the duchess. Amid everything, Meghan has held her head high, denouncing the lies and revealing the British royal family's close ties with the British tabloids.
Countless people, including her former co-workers and celebrities like Gabrielle Union and Beyoncé, have come to the duchess' defense. Though they did not know each other well during their Deal or No Deal days, Teigen has been one of Meghan's most vocal defendants, especially amid her current pregnancy
"This Meghan Markle shit is hitting too close to home for me," she tweeted. "These people won't stop until she miscarries. F—ing stop it."
Meghan Markle reached out to Chrissy Teigen after her pregnancy loss in 2020
In Nov. 2020, Markle revealed she'd had a miscarriage in July 2020 in a stunning Op-Ed she wrote for the New York Times. She discussed the horrible incident while also speaking out about the importance of talking honestly about pregnancy loss and reaching out to one another.
The Duchess of Sussex then extended herself to Tegein, whose son, Jack, was stillborn in late 2020. "She's been so kind to me ever since we connected," the Cravings by Chrissy chef revealed on Watch What Happens Live! Aftershow. "She had written me about baby Jack … but yeah, she is really wonderful and so kind – just as kind as everyone says she is."
Teigen explained that she was horrified by the vitriol Meghan continues to endure since she's truly such a wonderful person.
"That's why you look at everything, and you're like, 'My God, what is absolutely wrong with people that they have to make this person out to be so malicious or so crazy?'" she added. "When it's just as simple as them being as kind as everyone says they are."
We're glad these women were able to reconnect. Hopefully, they will be able to stay in touch now that Meghan is based in California. Teigen said of her friend, "I think she's been very honest [and] open. I think her truth has been her truth since the very beginning."