Chrissy Teigen Reveals What Kim Kardashian Can Do That She Can't
Chrissy Teigen and Kim Kardashian have been friends since they first met back in 2010, and they have a lot in common. They are both famous and frequently in the public eye.
Both women are busy moms and married to celebrities. Even though they have a good friendship and share so much in common, they have very different views about the Trump administration.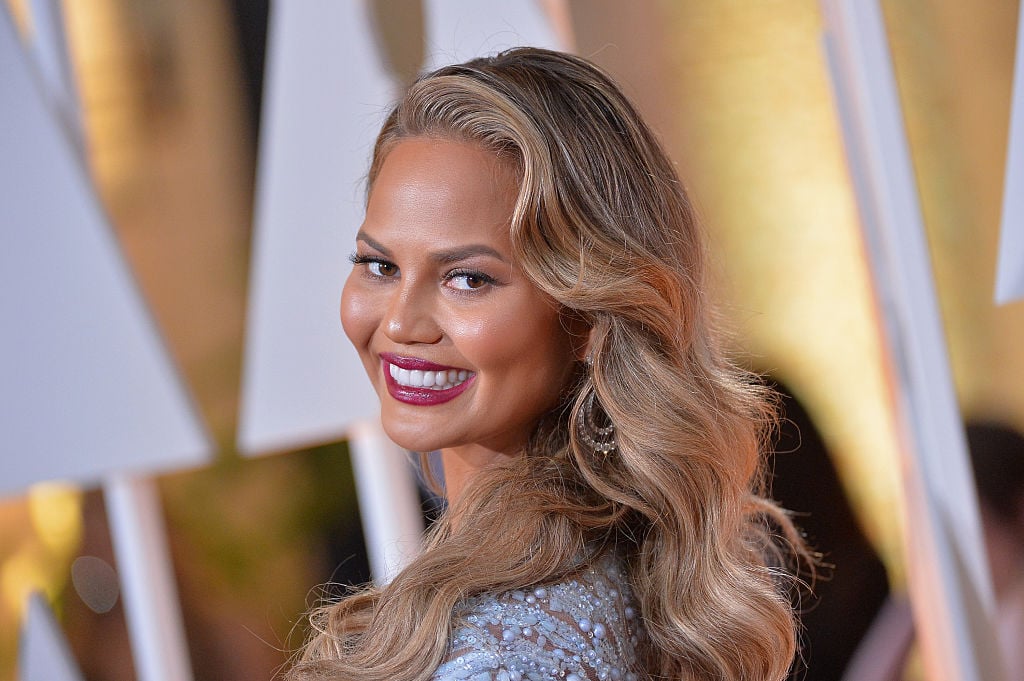 Kardashian seems to have a positive relationship with the Trump administration. Meanwhile, Teigen has declared that she is in favor of Elizabeth Warren for the upcoming presidential election.
What is it that Kim Kardashian can do that Chrissy Teigen can't?
President Trump blocked Teigen on Twitter back in July of 2017. Even though Trump has blocked Teigen on Twitter, that hasn't stopped him from insulting her and calling her a "filthy mouthed wife."
Clearly, Teigen and Trump have a tumultuous relationship. Even though Trump and Teigen both support prison reform, they don't get along. In a recent interview with Vanity Fair, Teigen revealed there is something that Kardashian can do that she isn't able to do.
Kardashian traveled to the White House and had a meeting with President Trump about prison reform. Teigen expressed her opinion in Vanity Fair about the meeting; "To be able to go in there and put whatever you hate about him aside to do this greater good for this person?"
Though Teigen and Trump do not see eye-to-eye, she can understand why Kardashian met with the president regarding an important cause. Teigen continued," I don't know if I could physically muster that smile and handshake."
Teigen admitted that she couldn't meet the president and happily shake his hand like Kardashian.
What is Kim Kardashian's relationship with the Trump administration?
Kardashian and Ivanka Trump's history began years ago. Though Kardashian has never directly stated that she is friends with Ivanka Trump, they did grow up in New York City at the same time and shared mutual friends, including their friendship with Paris Hilton.
In 2017, Kardashian learned of the incarceration of Alice Marie Johnson. Johnson faced a life sentence in prison for a non-violent, drug-related crime, and it was her first offense.
Kardashian reached out to Ivanka Trump, who put her in touch with Jared Kushner. Kardashian hired lawyers to work on Johnson's case. Kushner and Kardashian met with President Trump to discuss Johnson's incarceration and prison reform. Kardashian's hard work paid off when Johnson was granted clemency and freed from her prison sentence.
Kardashian's husband, Kanye West, had an intriguing conversation with President Trump at the White House. They discussed President Trump's 2020 campaign, the crime rate in Chicago, personal appearance, amendments, and more.
Near the end of the meeting, West spoke about President Trump and said, "No, I'm standing in that spot. I love this guy right here. Let me give this guy a hug right here." West and Trump appear to have a good relationship with each other.
What does John Legend have to say about Kim Kardashian's role in prison reform?
Legend Told Vanity Fair that Kardashian's meeting with Trump was "a cheap win." However, Legend seemed to agree with his wife about the positive outcome of the meeting.
In his interview with Vanity Fair, Legend elaborated on his opinion of the conference. He said: "But the people being granted clemency are real people with families. So even if the clemency is won through his celebrity-whore tendencies, it's still helpful for that family and that person. At the same time, he's locking kids in cages and he's a terrible human being…."
Legend is a prison reform advocate and seems to understand that Kardashian did what she could do to support prison reform.