Chrissy Teigen Swears by This 2-Minute No-Bake Dessert That Includes This Favorite Cereal
Supermodel Chrissy Teigen keeps her millions of followers entertained on her social media platforms posting about everything from politics to family fun. Teigen is also known to be a cooking enthusiast, writing several cookbooks and launching her Cravings website in November.
The Lip Sync Battle co-host is very generous with her culinary hacks and previously shared this simple dessert recipe that is apparently a big crowd pleaser.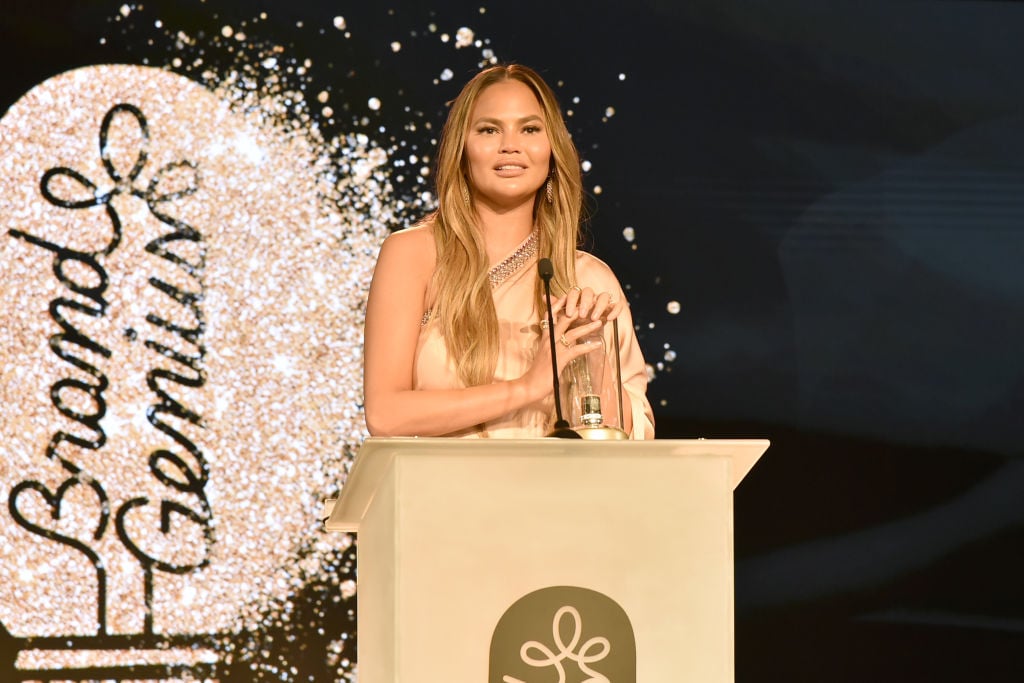 Chrissy's 'Cravings'
Announcing the premiere of her website on Twitter, Teigen implored her followers to check out her newest labor of love. "We did it we did it it's up!!! CRAVINGSBYCHRISSYTEIGEN.COM is up! (Please clap)," she wrote on Twitter in November.
Teigen recorded a personal message about her new site which included her family. "I've been wanting to do a real website where it was a true community of people that love Cravings, love the cookbooks, love the cookware, just a place where you could see everything that is our family," she said in her announcement video along with husband John Legend and two children, Luna and Miles, according to People. "We wanted to share everything in one little spot for you guys."
The supermodel's fan base immediately sought out Teigen's latest creation, which got so much traffic that the site crashed. She was apparently off to a solid start.
They're grrreeat!
Teigen is known to use non-traditional ingredients when she cooks, and desserts are no different. While she is not big on baking, Teigen provides a recipe for a sweet treat that takes literally two minutes and utilizes this beloved cereal.
Never letting anything go to waste, Teigen uses some leftover add-ins from her famous French Toast Casserole With Salted Frosted Flakes recipe to make this convenient dessert that delivers a 'wow' factor.
"Take a cup of Frosted Flakes, toss them in melted butter—not to get crazy soggy, just enough to coat them—and sprinkle it with salt, and you get this crazy delicious, salty-sweet topping," Teigen advises, according to Delish. "We put it on top of coconut ice cream, and it's so good."
Keeping it simple
Now with two young children in tow, Teigen takes a much more relaxed approach to life, which includes her time in the kitchen. "In my first cookbook (2016's "Cravings: Recipes for All the Food You Want to Eat"), I can't believe I said I wanted you to do everything yourself. 'Fry your own wontons!'" Teigen recalled, according to Good Housekeeping. "Two kids later, I apologize."
In her 2018 follow-up book "Cravings: Hungry for More: A Cookbook," Teigen chose a more accessible approach with a focus on having fun. "Two kids in, you can't eat the way you used to. I changed, so the book had to change," she told Women's Health in 2018. "With the first book, I wanted to get people out of the headspace of a 15-minute meal with less than five ingredients. Now I identify more with the people who don't have time for that s***…You can take risks and still use the flavors that you love, and most of the time, it's gonna turn out pretty well."
The social media maven now focuses on living in the moment and enjoying what each day brings. "My new motto these days is to go with the flow: It actually teaches you to be a better person and not be so neurotic about time and schedules," Teigen said. "Whatever is going to work to make a great day, go with it. I'm very much a person who likes to be present."