Chrissy Teigen's 'Epic' Pizza Dip Is Perfect for Game Day
If you're looking for fun, hearty dishes to add to your Super Bowl menu, look no further. Chrissy Teigen has a pizza dip recipe that would be perfect for any game-day lineup.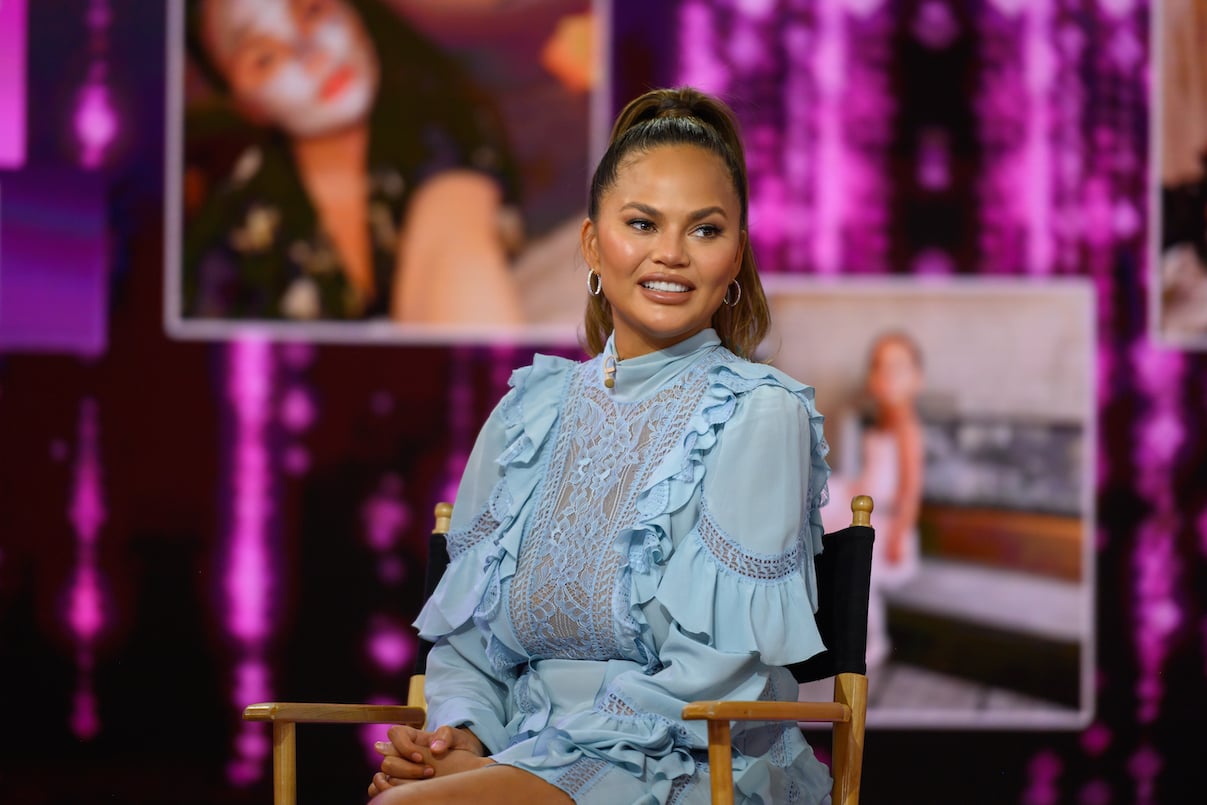 Chrissy Teigen wrote two best-selling cookbooks
Teigen isn't just a supermodel and a TV personality. She's also a successful author whose cookbooks — Cravings: Recipes for All the Food You Want to Eat and Cravings: Hungry for More —  became New York Times bestsellers. 
The mom of two often shares delicious recipes on her website, Cravings by Chrissy Teigen. From appetizers to main courses and desserts, the site categorizes all her recipes for an easy search. Home chefs can also ask Teigen questions about her recipes after creating an account on the site. 
Her Pizza Dip recipe is perfect for game day
Before the 2020 Super Bowl, Teigen shared the recipe for her Pizza Dip on the Cravings by Chrissy Teigen website. And in a tweet, she encouraged fans to add the recipe to their game day menu.
"Imagine if you took a piping-hot delivery pepperoni pizza and slid it off its crust into a skillet, kept it warm and gooey, then served it with crunchy garlicky bread toasts," the recipe description reads. "That's basically what this pizza dip is, and it's epic."
"Piping-hot Pizza Dip Slice of pizza served with crunchy garlicky bread toast," the Cravings Twitter account posted. "Everything you love about your favorite delivery pizza combined in one skillet (a pan works too) Party popperAdd this to the Super Bowl snack roster now, trust us!"
Chrissy Teigen's Pizza Dip is pretty easy to make
Teigen's Pizza Dip recipe calls for the usual pizza ingredients, including pizza sauce and shredded mozzarella. The prep should only take about 10 minutes. And the dish, which serves 8,  should be complete in under 30 mins. 
Here's what you'll need:
1 (10-inch) French baguette, cut on the diagonal into ¼-inch slices
¼ cup olive oil
Two teaspoons garlic powder
1 (24-ounce) jar of your favorite pizza sauce
16 ounces (2 cups) shredded mozzarella (or whatever cheese you have on hand)
4 ounces thinly sliced pepperoni, cut into thin strips
2 teaspoons Italian seasoning
Fresh shredded basil for garnish
With all the ingredients handy, follow these instructions:
Preheat your oven to 400°F. Set two racks in the middle and lower thirds of the oven. Spread the French baguette slices in a single layer on a large baking sheet. Drizzle them with olive oil, sprinkle with garlic powder, and set them aside.
Preheat a 10 or 12-inch cast-iron skillet over medium heat for 2 to 3 minutes until very hot. Layer the pizza sauce, mozzarella cheese, and pepperoni in the skillet. Sprinkle it with Italian seasoning and then bake until the sauce bubbles and the cheese melts, approximately 10 to 12 minutes.
During the last 5 minutes of baking, slide the bread into the oven and toast until golden. Garnish the pizza dip with the basil and serve with the toasted baguette slices.