Chrissy Teigen's Menu For Super Bowl 55 Includes 1 of John Legend's Specialties
If you are looking for some new snacks to serve on Super Bowl Sunday, Chrissy Teigen has got you covered. No matter if you're watching the game itself or just the commercials, Teigen's delicious Super Bowl snack menu will be a big hit.
From yummy dips to spicy wings, these seven recipes have something for everyone.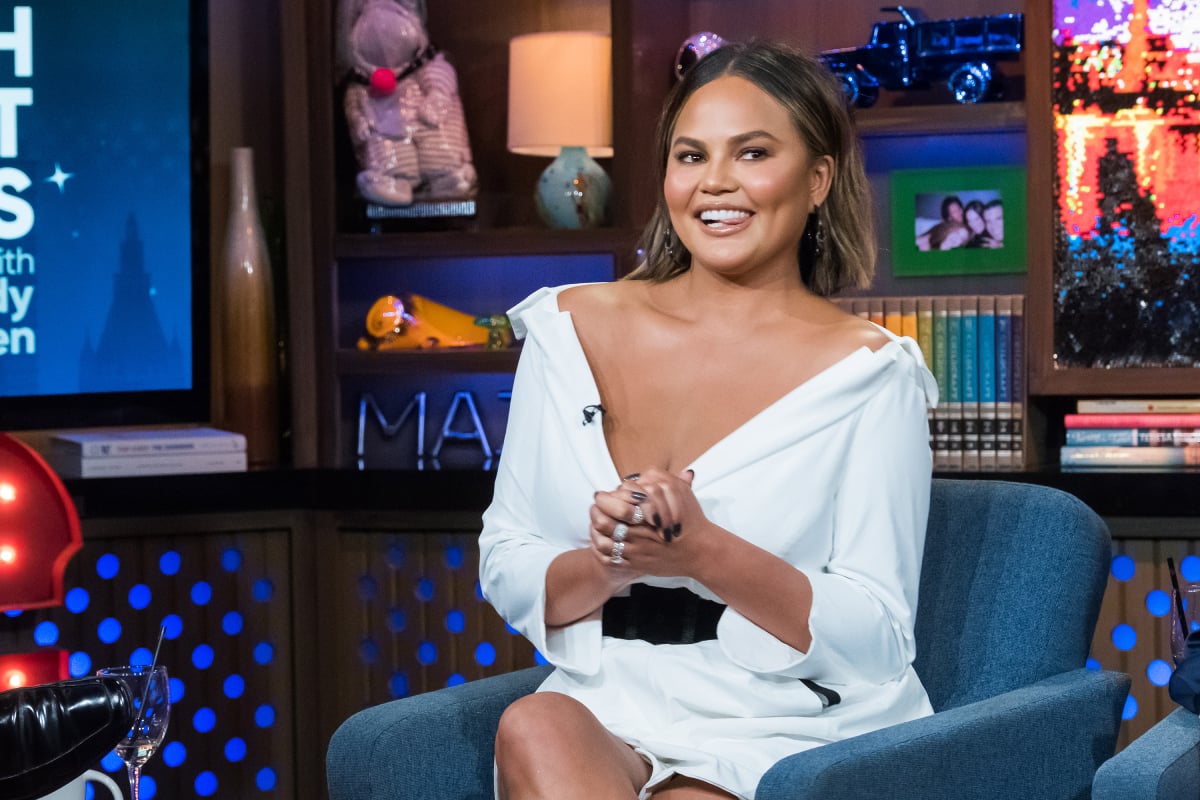 Chrissy Teigen's game-day dip takes guacamole to the next level
The first Super Bowl recipe from Teigen's Cravings blog is for Cheesy Guacamole Dip. There's no reason to settle for plain old guac when you have the option of adding shredded cheddar cheese.
This recipe calls for large Hass avocados, roma tomatoes, grated cheddar cheese, jalapeño pepper, minced garlic, diced onion, fresh cilantro, and lime juice. To season, you'll need ground cumin and kosher salt.
Everything Bagel Pigs In A Blanket
Every game-day spread needs mini hot dogs wrapped in flaky pastry dough. But with Teigen's Everything Bagel Pigs in A Blanket, you get all that plus homemade everything bagel seasoning.
Simply pop open a can of Pillsbury crescent rolls and spread some Dijon mustard across the dough. Then, add in some cocktail weenies, roll them up, and top them off with everything seasoning.
Teigen's seasoning recipe includes poppy seeds, white sesame seeds, black sesame seeds, minced onion, minced garlic, and sea salt.
John Legend's Chili and Frito Pie Bar
Teigen's husband — Grammy-winning musician John Legend — also contributes to her Super Bowl menu with his Chili and Frito Pie Bar. His recipe for chili can be made in just an hour, and that is good on its own. But, it's even better with a simple twist.
Stuff the chili into a bag of Fritos corn chips, then top it with pickled jalapeños and cheese that helps everything melt together. You can also add things like sour cream, scallions, and cheesy guacamole to the pie bar for those who want more toppings.
RELATED: Chrissy Teigen Has 3 Simple Ways to Take Instant Ramen to the Next Level
Chrissy Teigen's Pizza Dip is epic
Instead of ordering pizza for the big game, try Teigen's recipe for epic Pizza Dip with garlic bread. The former model describes this dish as hot cheesy pizza that's been slid off the crust and into a skillet.
This dip is easy to make and easy to customize. Her recipe calls for your favorite pizza sauce, shredded mozzarella, pepperoni, basil, Italian seasoning, garlic powder, and olive oil.
Baked 'Fried' Pickles with Chipotle Ranch
Teigen's recipe for Baked 'Fried' Pickles with Chipotle Ranch is super deceiving but in a good way. These pickles are so good that no one will believe they aren't fried. You can either bake them in the oven or make them in an air fryer. And, they're ready in just 45 minutes.
The chipotle ranch and crushed chip coating on the pickles gives them added crunch and an extra flavor kick. The yummy pickle combined with the smoky, herb dip will make this snack disappear quickly.
King's Hawaiian Mini Cubano Sandwiches
You can't go wrong with a recipe that starts with Hawaiian bread. And Teigen's recipe for King's Hawaiian Mini Cubano Sandwiches is no exception. A Cuban sandwich is usually pretty big and it always features ham, cheese, and pickles. What it doesn't always have is the sweet Hawaiian bread. Until now.
Teigen's recipe turns a Cuban sandwich into a yummy slider pressed together with all of the ingredients you'd expect. Plus, a little added butter and sweetness with the pillowy rolls.
Chrissy Teigen's Spiced Honey Chicken Wings feature Chinese five-spice powder
Chicken wings are a game-day staple. But you can kick up your wing game this year with Teigen's Spiced Honey Chicken Wings. The wings are sauced with Chinese mustard for some heat, honey for sweetness, fish sauce for that rich umami flavor, and Chinese five-spice powder for notes of cinnamon and star anise.
Super Bowl LV airs Sunday, February 7, on CBS.