Chrissy Teigen's Oreo Stuffed Chocolate Chip Cookies are the Comfort Food We Need Right Now
Calling all sugar lovers! Chrissy Teigen has a decadent dessert recipe that's easy and super indulgent.
Social media maven Chrissy Teigen is keeping her over 28 million Instagram followers posted (pardon the pun) on how she's keeping busy during the current quarantine. Sometimes joining in for live streaming concerts with husband John Legend or creating some new dishes with daughter Luna and son Miles in the kitchen, the former supermodel is helping to keep fans entertained while self-isolating.
With her uber popular Cravings website as a staple for home cooks, Teigen is bringing out some recipes 'from the vault' including one that will satisfy anyone with a hint of a sweet tooth.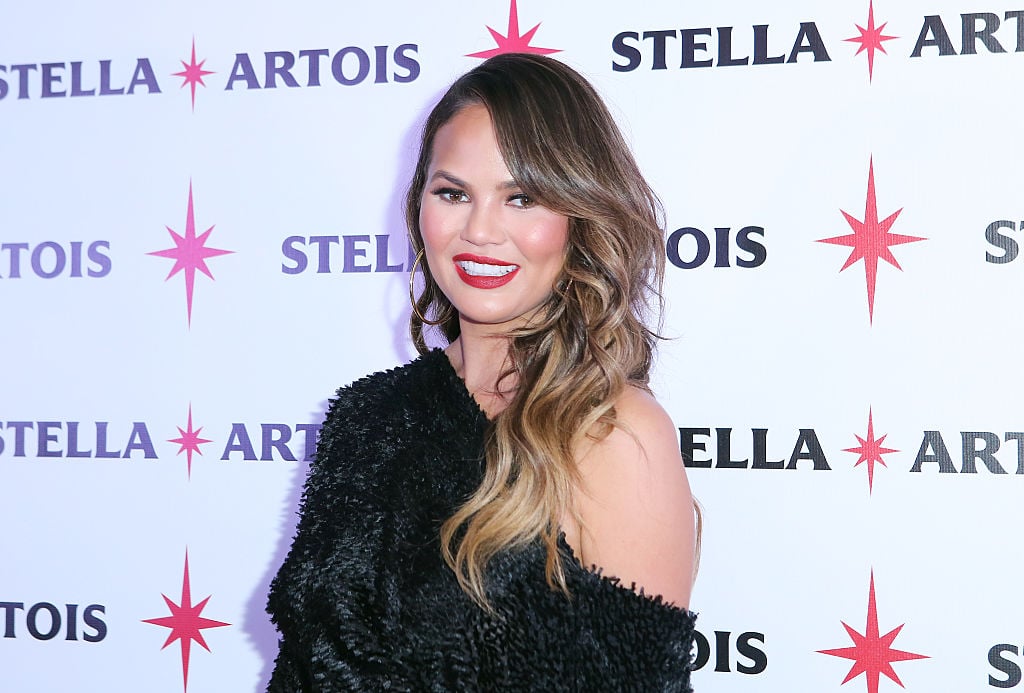 Teigen's throwback recipes
The cookbook author reached out to her Cravings subscribers to encourage them to follow the current guidelines on social distancing and offer suggestions on how they can help others and stay busy. Also wanting to share some of her tried-and-true recipes, Teigen forwarded some favorites that could be made with little effort.
"Rather than posting  the most recent content from the Cravings site, I thought I'd share my easiest recipes (with the fewest ingredients) to make at home," Teigen wrote to her Cravings followers. "If you didn't get a chance to check it out back in the day, I thought it might be fun to share some old posts from time to time – we'll call it 'From The Vault' (add echo sound effects here)."
Delighting sugar addicts with a decadent dessert, Teigen posted a recipe that is sure to please even skeptical confection aficionados. "This week we're bringing back Oreo-Stuffed Chocolate Chip Cookies that are so unbelievably chocolatey and gooey and creamy and buttery," she wrote, "in other words, a guaranteed foolproof dessert that everyone will love."
Easy instructions
Teigen outlines the required ingredients for the recipe which consist of items most people would find in their pantry on an everyday basis:
2 ¼ cups all-purpose flour
1 teaspoon baking soda
½ teaspoon salt
1 cup (2 sticks) unsalted butter, softened
¾ cup brown sugar
½ cup granulated sugar
2 large eggs, room temperature
1 teaspoon vanilla extract
1 cup (6 ounces) chocolate chips
15 Oreo cookies
The mom of two provides specifics on how to create the indulgent sweet treats which even the most amateur baker will be able to handle:
Preheat oven to 350 °F degrees. Line two baking sheets with parchment paper (if you decide to chill your cookie dough, do this step later, when you are ready to bake the cookies).
In a large bowl sift together the flour, baking soda and salt. In a stand mixer fitted with the paddle attachment, beat butter and sugars for 3 minutes. Beat in eggs, one at a time, beating well after each addition. Beat in vanilla extract. Add the dry ingredients and beat on low speed just until combined, or mix by hand with a wooden spoon. Don't overmix – mix just until combined. Fold in chocolate chips.
Chill the dough in the refrigerator for at least 30 minutes. This will help your cookies stay thick and spread less while baking.
Using a 1.5-tablespoon ice-cream scoop (or use a heaping tablespoon instead), take one scoop of cookie dough and place on top of an Oreo cookie. Take another scoop of dough and place on bottom of the Oreo. Press the edges of both sides until sealed together and cover the Oreo cookie.
Place cookies on prepared baking sheets and bake cookies for about 9-12 minutes, just until they begin to brown at the edges. Let cool 10 minutes, then transfer to a wire rack to cool completely.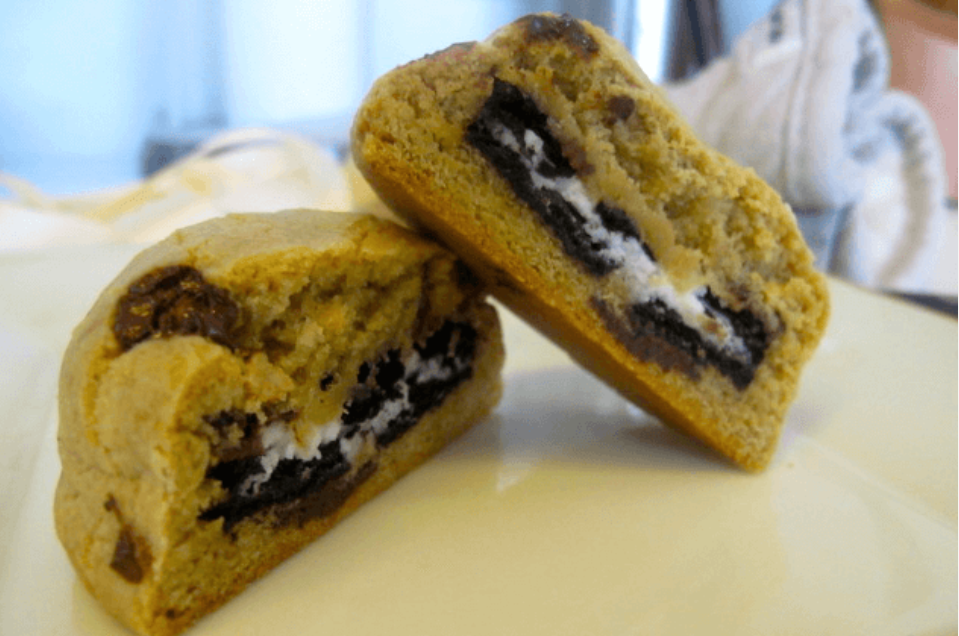 A simpler option
When Teigen first shared the recipe in 2012, fans apparently went nuts for the cookie-in-a-cookie idea. "When I posted this picture on twitter, I had no clue you guys would light up in a fury over it… I now know your kryptonite," she wrote, admitting she wasn't a huge fan of sweets. "As someone who never had a sweet tooth, I've never understood the sweet freaks, just as I'm sure sweet freaks don't quite understand my childhood love of licking on sticks of butter."
For those wanting to forego the homemade dough process, Teigen offers a solution.  "Keep it easy on yourself and buy the some pre-made chocolate chip cookie dough. Although, homemade is pretty darn easy," she advised, admitting she would go pre-made when making them again. "I had WAY too much to do to make em from scratch with such readily available options of cookie dough all over the place!"
Fans of Teigen are sure to stay tuned for more of her enticing yet easy-to-make creations!