Chrissy Teigen's Public Apology to Beyoncé Proves Even Stars Still Get Starstruck
Beyoncé is called Queen Bee for a reason, and it's not just because of her dazzling career as a pop megastar. When she enters a room or walks onto a red carpet she is a presence that cannot be ignored, and no one is even quite sure how she does it.
She just has that special something about her, so much so that even other celebrities get starstruck just by here mere existence. 
Chrissy Teigen clammed up at Beyoncé and Jay-Z's Oscar Party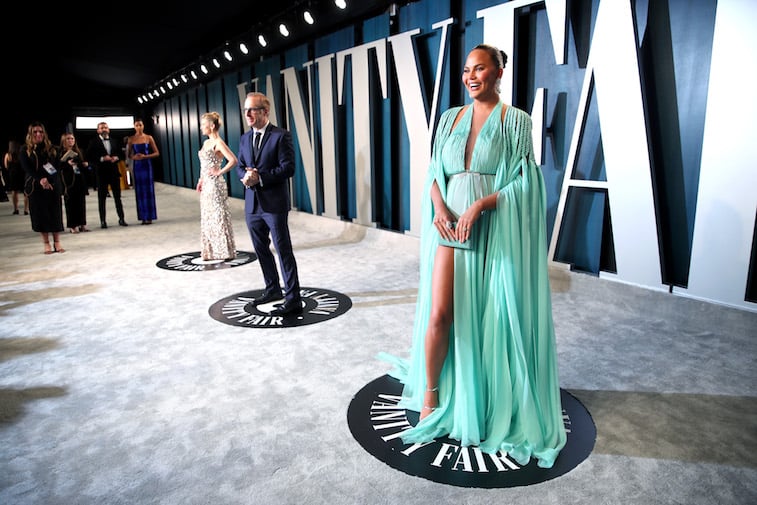 Chrissy Teigen, model, author, and wife of John Legend (one of America's sweetest celebrity couples) had a little apology to offer Queen Bey on Instagram recently.
The night of the Oscars went well for Teigen and Legend. They enjoyed the Vanity Fair after-party and then Teigen had a dress change before heading over to Beyoncé and Jay-Z's party.
After the party, Teigen used the photo of her new dress to also extend an apology to Beyoncé for not talking during the gathering writing: "I am truly so nervous to say something stupid but we love you and thank you so much!!!"
This wasn't Teigen's first time meeting Beyoncé. After the 2018 Grammys ended, this odd interaction occurred:
"On our way out, I was like, 'We have to say something, right?' And I took both her hands — I don't do this for anybody, it was very weird — and John's like, 'What the hell are you doing?' And I took her hands and I got down on my knees and I was like, 'Sorry to bother you, my Queen.' Like, who says that? It was like, m'lady. Like, what do you — who am I?"
No wonder Teigen was afraid to talk to her again.
Other celebrities get frazzled by Beyoncé's shine
Chrissy Teigen isn't the only one who gets starstruck by Beyoncé, in fact, there are probably dozens of cases of other celebrities reacting in a similar fashion. As Teigen put it: "She just emits this aura that's spectacular."
Emilia Clarke of Game of Thrones fame unexpectedly met Beyoncé at a party in 2019. She was flustered even recounting the events in her interview on The Graham Norton Show. The meeting with Bey didn't go as she had hoped: "[I was] too many drinks in, started crying, it didn't go well. I mean, literally, eyes welling up like, 'I can't handle this, it's too intense.'"
Singer and actress Zendaya had a strong reaction of her own to share. She told Extra: "Let me tell you something, I never get starstruck… but that woman walked into my… and I…" she falls over on the couch to emphasize her point, "I passed out."
She went on to say she couldn't even make eye contact and was "being so weird."
Does Beyoncé ever get starstruck?
Beyoncé wasn't always the Queen, and there are some reports that she herself got starstruck before she reached the stardom she enjoys today, though she doesn't directly admit it herself.
Long ago in Houston, Beyoncé met the late singer Selena in the Galleria Mall. In an old MTV interview, she shyly recalled: "I didn't say much to Selena because I wasn't a celebrity. I just saw her and said hello and kept it moving."
Vogue magazine shared a flashback clip of Beyoncé interviewing the late singer Aaliyah on the red carpet with the headline: "Beyoncé, Once a Mere Mortal, Shares a Star-Struck Moment With Aaliyah."
Just last year, Oprah Magazine published a piece claiming Beyoncé was starstruck by Meghan Markle, according to a body language expert. The piece also claims that in footage of the meeting you can hear Beyoncé call Markle, "my princess."
Maybe Teigen wasn't so awkward after all.