Christina Ricci Has 8 Tattoos—Here's What They Mean
Christina Ricci grew up in the public eye, appearing in her first major film when she was only 10 years old. As she matured, she changed in many ways, taking on increasingly dark roles and growing as an actor. She's also added a collection of tattoos. Although she doesn't talk about her ink very much, the artwork speaks for itself.
Christina Ricci was a young star
The Famous People reports that Ricci was 10 when she landed her first big movie role. She played one of Cher's daughters in the 1990 movie Mermaids, along with Winona Ryder. Many people remember her as a child actor for her role as Wednesday in the 1991 movie The Addams Family. 
Her portrayal of the unsmiling little girl in a spooky family set the tone for many of the parts she would play. As she grew, she opted for many dark roles. When she was 17, she left her child acting days behind in the movie The Ice Storm, in which she played a sexually forward teen. 
She went on to make a name for herself in gritty roles, such as her part in the 2003 movie Monster. She played Selby, the girlfriend of serial killer Aileen, played by Charlize Theron. 
In the years since, she has continued to act in movies, as well as appearing on Broadway. She also moved into TV roles, such as her 2006 guest appearance in Grey's Anatomy. Although she's tackled light roles, including her voice-over work in the movie The Smurfs 2, she also continues to take on darker roles, like her turn as the murderer in Lizzie Borden Took an Ax.
Her collection of tattoos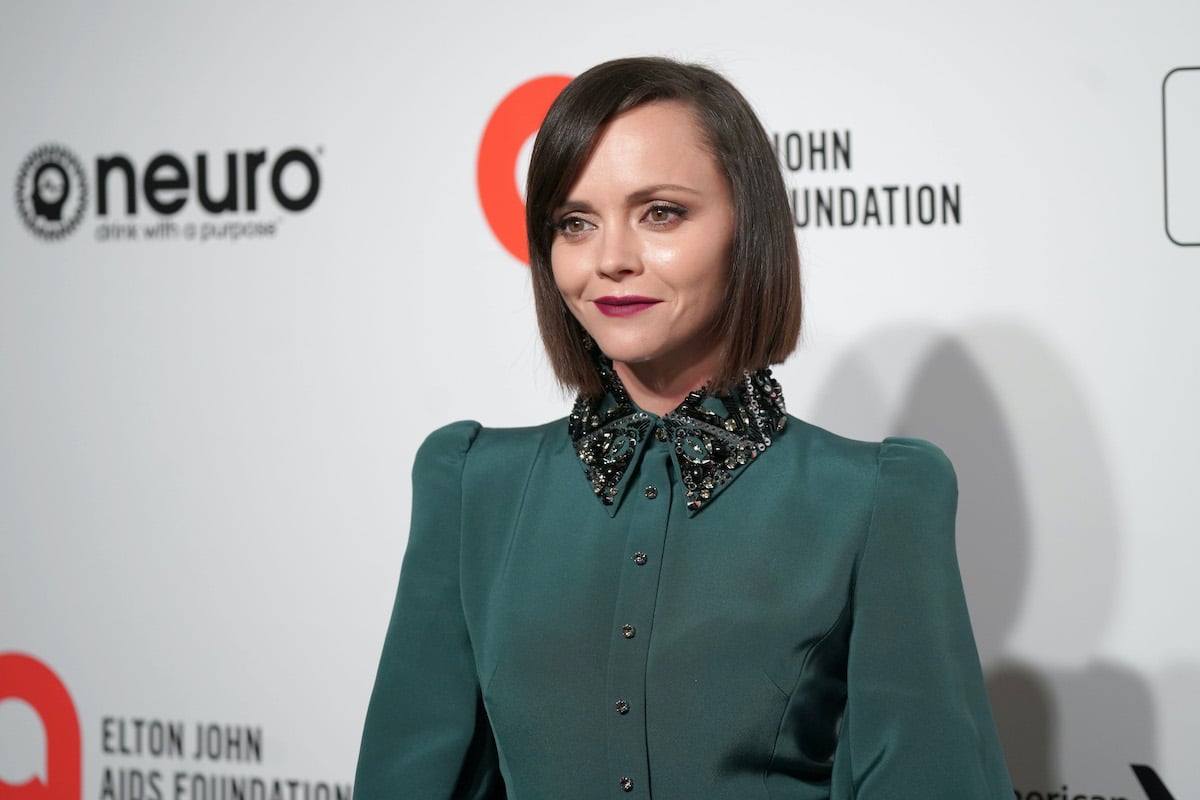 Along the way, Ricci has collected more than just acting credentials. She's also added at least eight tattoos. She doesn't talk about her ink very much, so it's not clear why she chose some of them, but here's what Pop Sugar reports about her tattoos and what they mean.
Aslan Located on her right shoulder, this outline of a lion represents the character from the C.S. Lewis book The Lion, the Witch, and the Wardrobe. Ricci explained that the tattoo represents freedom. "It was a symbol of my hellish childhood," she said. "I struggled through my oppressive teenage years, and when I turned 18, I escaped. Like Aslan, I was finally free."
Sparrow Ricci has a small tattoo of a sparrow on her right breast. She hasn't explained this choice, but the bird is often considered to be a symbol of joy and freedom.
Mermaid Ricci's left ankle sports the image of a mermaid. This is possibly a reference to the 1990 movie that started her on the path to fame.
"Jack" On her right thigh, Ricci has the name "Jack" written in script. This is in memory of a dog she loved that died many years ago.
Praying hands This spiritual-themed tattoo is on her left hip. She hasn't shared the inspiration for this ink.
Sweet peas Ricci's lower back has a bouquet of sweet peas. The flowers are generally thought to symbolize kindness and friendship.
Fairy On her right wrist, Ricci has a tattoo of a fairy, which may be a feminist message.
"Move or Bleed" These words are written on her rib cage, a notoriously painful area to get a tattoo. The phrase is a reminder to keep striving to meet the challenges ahead.
Is she ready for a new tattoo?
The past year has been a big one for Ricci. After a tumultuous divorce, she married Mark Hampton. US Magazine reports that the happy couple recently welcomed a baby, Cleopatra Ricci Hampton. She has a role in the hit Showtime series Yellowjackets. Perhaps all the joy in her life means it's time for a new tattoo?
Ricci hasn't given any hints that she's considering new ink. Fans will just have to wait and see.