How Many Christmas Songs Has Ariana Grande Released?
Singer Ariana Grande is known for her No. 1 hit songs like "Positions" and "Thanks U, Next." But she's also shown her fans that she appreciates a good theme when it comes to her music. Grande's proven her affinity for holidays, especially Christmas, during her career. Discover her famous Yuletide songs from years past.
Ariana Grande's first Christmas song is from 'Victorious'
Grande began her career on Broadway. But she first earned notoriety as an actor on the hit Nickelodeon sitcom Victorious. Grande portrayed Cat Valentine, one of several talented students attending the fictional Hollywood Arts High School. (She later played the character in a spinoff series, Sam & Cat.)
Because the students at Hollywood Arts — and the actors who portrayed them — were gifted musically, they occasionally broke out into song. In the 2011 holiday special A Christmas Tori. In the episode, Grande (along with co-stars Victoria Justice and Liz Gillies) performs "It's Not Christmas Without You," later released on the album Merry Nickmas.
Her first holiday EP, 'Christmas Kisses', debuted in 2013
Following her debut album, Yours Truly — which featured her hit collaboration with Mac Miller, "The Way" — Grande released a Christmas EP. "I'm releasing new music for Christmas," she tweeted in November 2013. "New song every week as a countdown to the holidays starting Nov19. Beyond excited to share them w/ U!
The record features a cover of the Wham song "Last Christmas," a cover of "Santa Baby" with Gillies, and two original songs: "Love Is Everything" and "Snow in California." And it was a full Victorious effort — thought Grande didn't write either song new, her co-star Leon Thomas III (who played Andre) co-wrote both.
Grande released 'Santa Tell Me' and 'Christmas & Chill'
Grande released her second studio album, My Everything, in August 2014. Then, in November, she dropped another Christmas tune, "Santa Tell Me," her first holiday song with a writer credit. In 2015, Grande put out a remix album and her second EP, Christmas & Chill, featuring six new, original songs.
Though she's given her fans plenty in the years since — such as her Grammy-winning album, Sweetener — Grande confessed in 2019 that Christmas & Chill is her "favorite body of work." "thank u new listeners of christmas n chill and hello everyone that is just now discovering it," she tweeted. "i'm so happy."
Grande's latest holiday offering is 'Oh Santa!'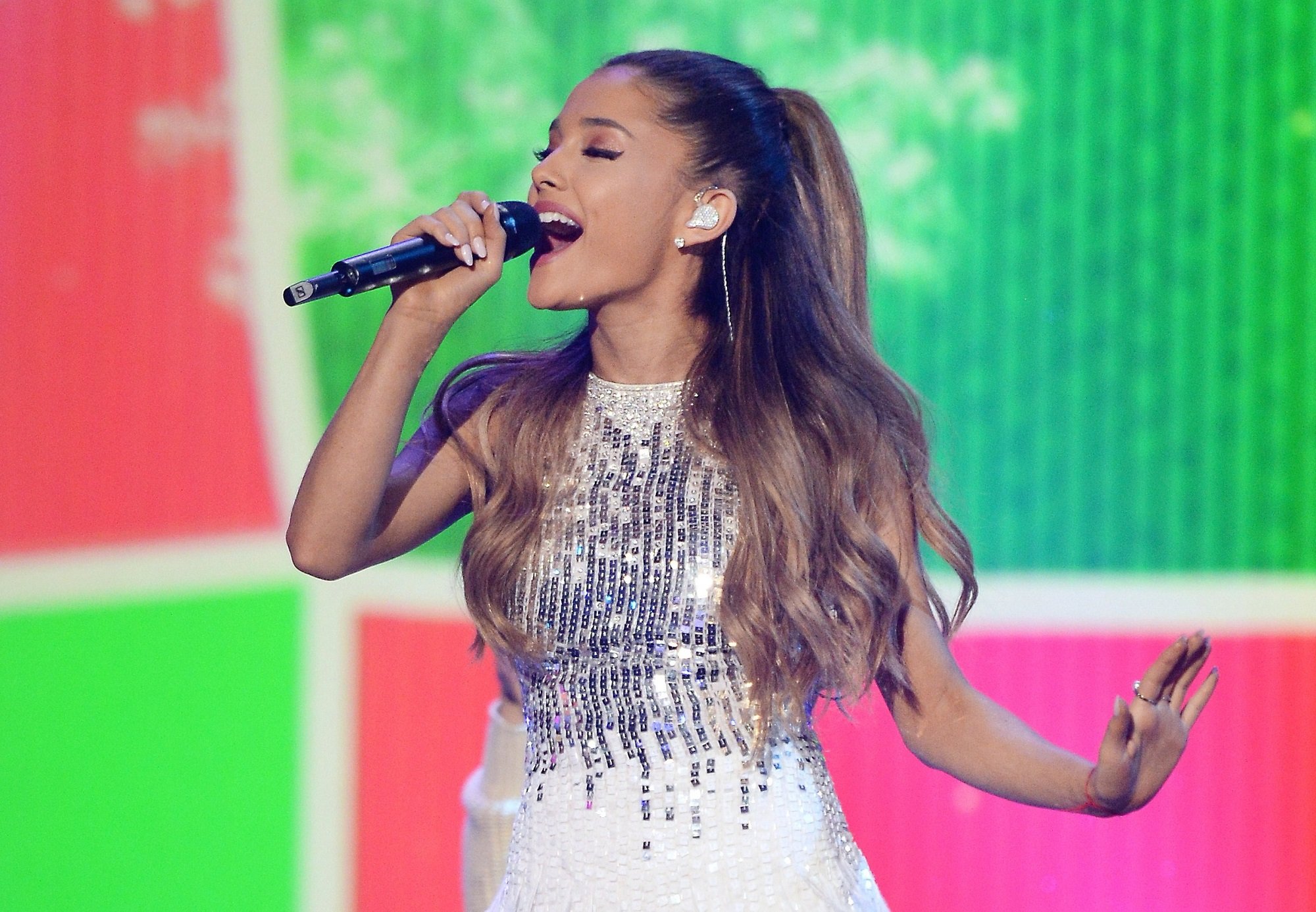 Now, five years after Grande's last holiday tune, a new one is coming. In October 2020, Mariah Carey shared a photo of three chairs on a set, reading "AG," "MC," and "JH." Fans deduced that the first set of initials stands for Ariana Grande. Carey tweeted the photo with a Christmas tree, indicating it was part of her upcoming holiday special.
Weeks later, Grande confirmed this. "#MariahsMagicalChristmas coming to @appletv on december 4th (no i'm not okay nor will i ever recover)," the singer tweeted. "love u forever @mariahcarey." In the special, Grande, Carey, and Jennifer Hudson will sing a new original song, "Oh Santa."