Christopher Lee Was a Badass WWII Veteran Who Taught 'The Lord of the Rings' Director Peter Jackson About Being Stabbed
Actor Christopher Lee brought his WWII war experience to the 'Lord of the Rings' set.
The job of an actor is, obviously, to act, so we don't expect them to have real-life experience in the daring roles they portray. There's a thriving stunt double community specifically because many actors don't have the same physical skills and risk-taking personas as their on-screen characters.
Still, plenty of actors take their craft very seriously, and that includes learning incredible skills in order to convincingly pull them off on the set. 
Every once in a while, though, celebrities are able to pull from real-life experiences and bring that into their work. That was the case for Christopher Lee, a WWII veteran who brought grizzly realism into his work and helped the creative endeavors of none other than Peter Jackson. 
Christopher Lee had a long and action-packed acting career 
Sir Christopher Frank Carandini Lee was born in 1922 in London, England. After spending some time at Wellington College, he enlisted in the Royal Air Force in 1941, making him an active service member during World War II.
As Britannica reports, Lee's efforts to get into acting after his service ended were originally complicated by his hulking frame. At 6'5″, he didn't fit into what many casting directors had in mind.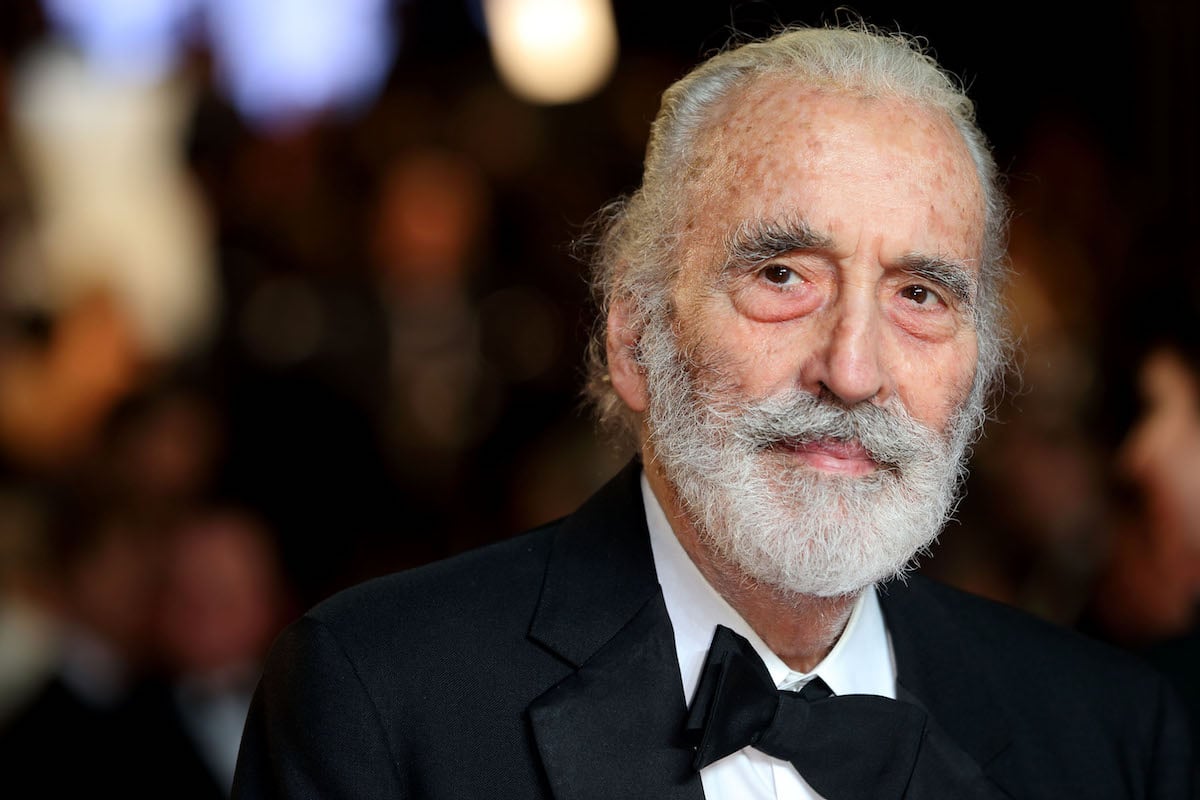 He got his break into the business in 1946 with a role in the TV show Kaleidoscope. He followed that up with a part in 1948's Corridor of Mirrors. It wasn't until his 1957 portrayal of Frankenstein's monster that he really got notice. 
What followed was nothing short of a remarkable career. For decades, Lee played hundreds of parts, working his way up from unnamed roles into the leading man. He became known for horror (having famously portrayed Dracula) and mystery.
Christopher Lee had late-in-life roles in two of the biggest film franchises
Lee had already been an accomplished actor for decades by the time he got to take on parts in two of the industry's most successful and far-reaching franchises.
In 2001, he was cast as Saruman in The Lord of the Rings: Fellowship of the Ring. The very next year, he was cast as Count Dooku in Star Wars: Episode II — Attack of the Clones. He would get to reprise both parts in sequels and as the voice for video game characters. 
Voice work — including narration — would become a big part of Lee's final projects, and he also received roles reserved for elderly figures of honor late into his life. He remained active in the acting world right up until his 2015 death at the age of 93. 
Christopher Lee pulled from real-life experience
Lee certainly led a decorated and eventful life before he made his foray into acting.
As Forces.net reports, his bravery on the battlefield earned him accolades from multiple countries: "Although his service records remain classified and Lee himself was reluctant to discuss anything about his service, after his retirement he'd been individually decorated for battlefield bravery by the Czech, Yugoslav, British, and Polish governments."
While he may have not shared many details about his time in combat, he did pull from his experiences to enrich his craft. During the filming on the set of Lord of the Rings, Lee pulled from his own experiences to correct Peter Jackson's plan for his character, as the Los Angeles Times reports.
Saruman — who Lee portrayed — was to be stabbed in the back, and as Jackson instructed Lee on how to handle the scene, Lee cut in, "Have you any idea what kind of noise happens when somebody's stabbed in the back? Because I do."