'Chucky': Episode 5 Reveals How Charles Lee Ray Met Tiffany Valentine
'Chucky' episode 5 not only brings back movie franchise character Tiffany Valentine (Jennifer Tilly) but explains how she met Charles Lee Ray. In a flashback, Lee Ray and Tiffany fall in love over murder.
Throughout Don Mancini's Chucky series, fans have gotten an inside look into the serial killer Charles Lee Ray (Brad Dourif). The infamous Chicago murderer was allusive when he was first introduced in Child's Play. Over the horror franchise, fans knew he had a long relationship with Tiffany Valentine (Jennifer Tilly) before Chucky. She would then become a central character in Bride of Chucky. Chucky episode 5 revealed how the maniacal couple initially met and started their love story.
Episode 5 not only brought back a franchise character but reignited the dysfunctional yet deep-rooted love between Lee Ray and Tiffany. The Chucky episode gives fans small details, and easter eggs about the two characters horror fans came to love.
[Spoiler alert: This article contains spoilers about Chucky.]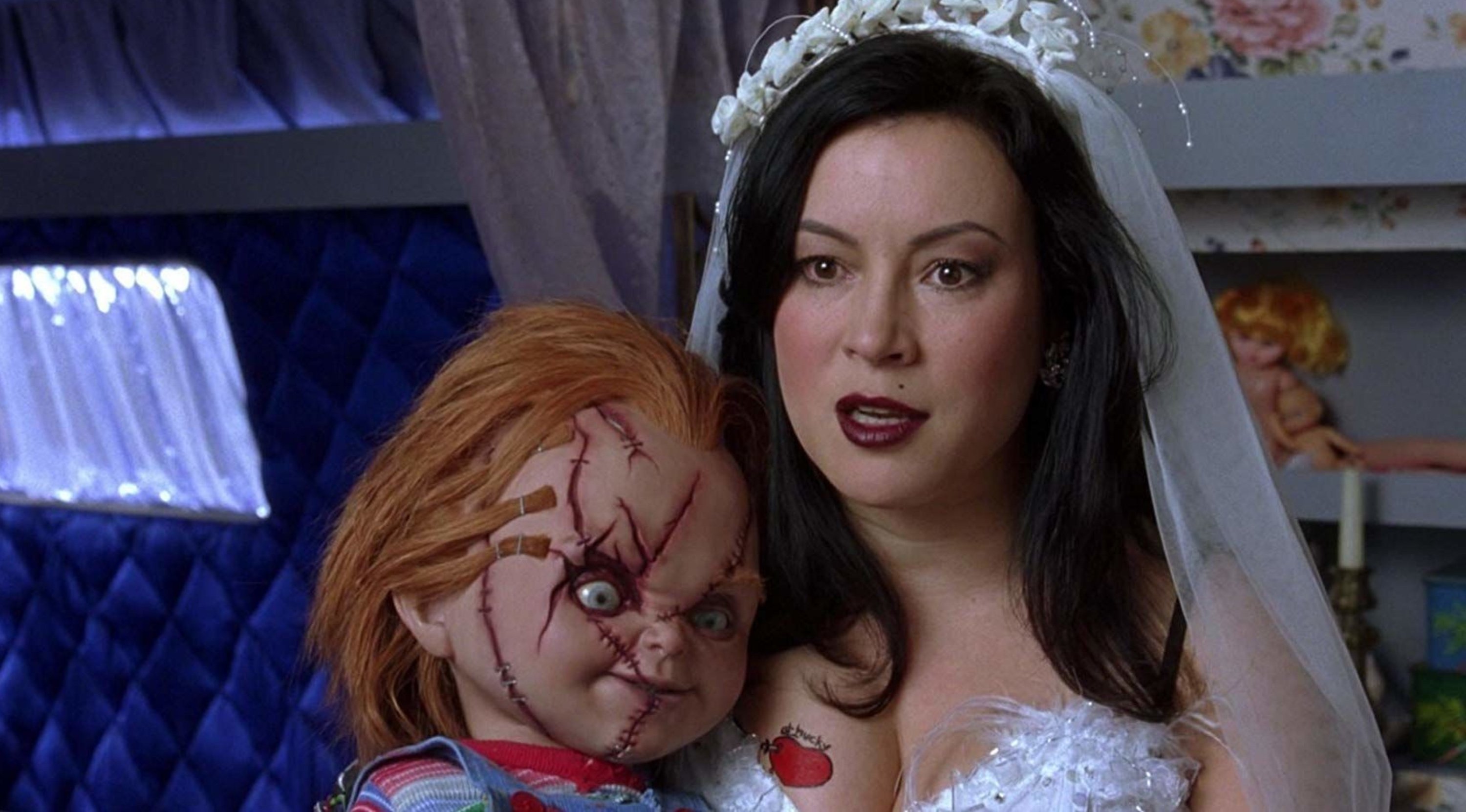 Charles Lee Ray unknowingly finds his partner-in-crime in 'Chucky' episode 5
Chucky episode 5 has a flashback to Charles Lee Ray already into adulthood. From the events in episode 4 and episode 3, fans are aware that Lee Ray was always meant to be a killer. Lee Ray is at a club in the flashback and watches a young blonde woman seduce another man. When she is rejected, he approaches her and promises her he is not like any other man she has met.
The flashback continues later on in the episode. Lee Ray and the young woman see a promising target at the club. Lee Ray says, "Hey Red, what's new?" The scene cuts to the three of them in a motel room. The two women engage in foreplay while Lee Ray watches. Lee Ray gets up, holding a knife, and pushes away the blonde woman in a drastic turn.
He is ready to kill his supposed victim until she stares him dead in the eyes and smiles. She eggs him on and tells him to kill her. In a trance by the woman, Lee Ray instead mercilessly stabs the blonde and hands the knife off to the red-head to join in. The woman introduces herself as Tiffany and suggests Lee Ray should be called "Chucky." In return, Lee Ray says Tiffany should really be a blonde.
Tiffany Valentine made her debut in 'Bride of Chucky'
Fans need to go through the extensive and turbulent story of Tiffany Valentine and Chucky in the Child's Play franchise. According to SyFy, "Long-standing Chucky fans certainly know the saga of Tiffany, as she's left quite a bloody imprint on the franchise. From girlfriend to bride to mother, she's been through quite a ride — always with knife in hand."
Tiffany first appeared in 1998 in Bride of Chucky. Fans learned she was the longtime girlfriend of Charles Lee Ray before he became the Chucky doll. She spent years looking for the doll to resurrect his soul. In the movie, the couple has a bad fight, and Chucky kills Tiffany and transports her soul into her own doll.
Bride of Chucky also gave birth to Lee Ray and Tiffany's first son Glen (Billy Boyd). The Chucky series is yet to address what happened to Glen. Tiffany returns in Seed of Chucky and goes after the real-life Jennifer Tilly to use her body for the ritual. Tiffany does not have a big presence for the rest of the franchise until the finale of Cult of Chucky.
'Chucky' episode 5 brings back Tiffany Valentine after the events of 'Cult of Chucky'
Episode 5 of the series had fans in shock as it reintroduced Nica Pierce (Fiona Dourif) and Tiffany. Their scene is related to the final events in Cult of Chucky. Chucky transfers part of his soul into Nica. The movie ends with Nica leaving the asylum and driving off with Tiffany. The series continues their story as they find their way back to Hackensack, New Jersey, to wreak havoc.
In an interview with TV Line, Tilly explains what she has in store for fans as Jennifer Valentine in Chucky. "In the last few episodes, you're going to see lots of emoting from Miss Tilly. I'm gonna give little Fiona a run for her money in the crying department!" said Tilly. But Mancini rejected Tilly's offer to shoot a nude scene for the series.
According to Tilly, Chucky's next episodes will be intense. "The s–t hits the fan. It becomes absolutely bonkers. It's not a little mischief, it's havoc and mayhem. It's spectacular!" exclaims Tilly.