'Chucky' TV Series Includes a First for the 'Child's Play' Franchise
After seven horror movies, is there anything Chucky hasn't done before? Well, there's a whole TV series now full of more Chucky. And the first season is only eight episodes, so there's plenty of room for more child's play courtesy of the killer doll. Franchise creator Don Mancini shared some of the firsts the TV series has for the franchise.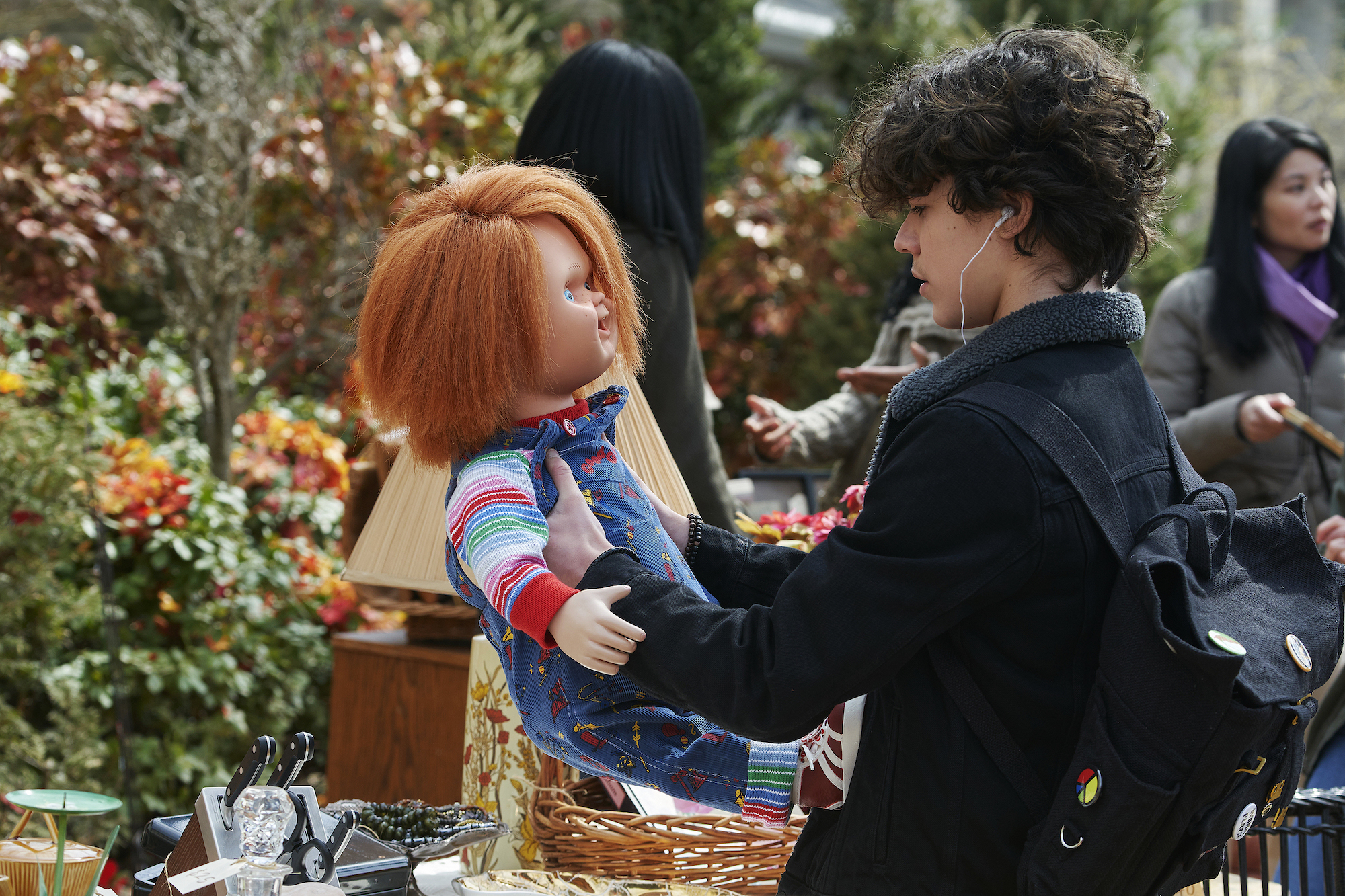 Syfy and USA presented a Chucky panel to the Television Critics Association on Sept. 13 with Mancini and the cast. Mancini explained how the series gave him a chance to do something he'd always wanted to do in the Child's Play franchise. Chucky premieres Oct. 12 at 10 p.m. on Syfy and USA and airs every Tuesday.
Chucky stalks Halloween for the very first time 
Chucky has had October releases before. Bride of Chucky came out in theaters in October 1998 while Curse and Cult of Chucky hit video in September 2013 and October 2017 respectively. Still, none of the movies took place around Halloween. The Chucky TV series sees Chucky get away with roaming the streets with other masked kids. 
"With regard to the look of the show, it's very important to me and I try to have a different overriding, governing aesthetic for each film," Mancini said. "And now for this season of the TV show, one of the things I was really excited about with the show was presenting Chucky at Halloween, because we'd never done that before, and fans have gotten a glimpse of that in the trailers that they've seen."
Halloween suits 'Chucky' well
In the Syfy and USA series, Jake Wheeler (Zackary Arthur) rescues a vintage Good Guy doll from a yard sale. Unfortunately for him, his family and classmates, it's the infamous Chucky. Chucky plots revenge on Jake's father (Devon Sawa) and mean kids at school. Halloween provides a perfect stalking ground.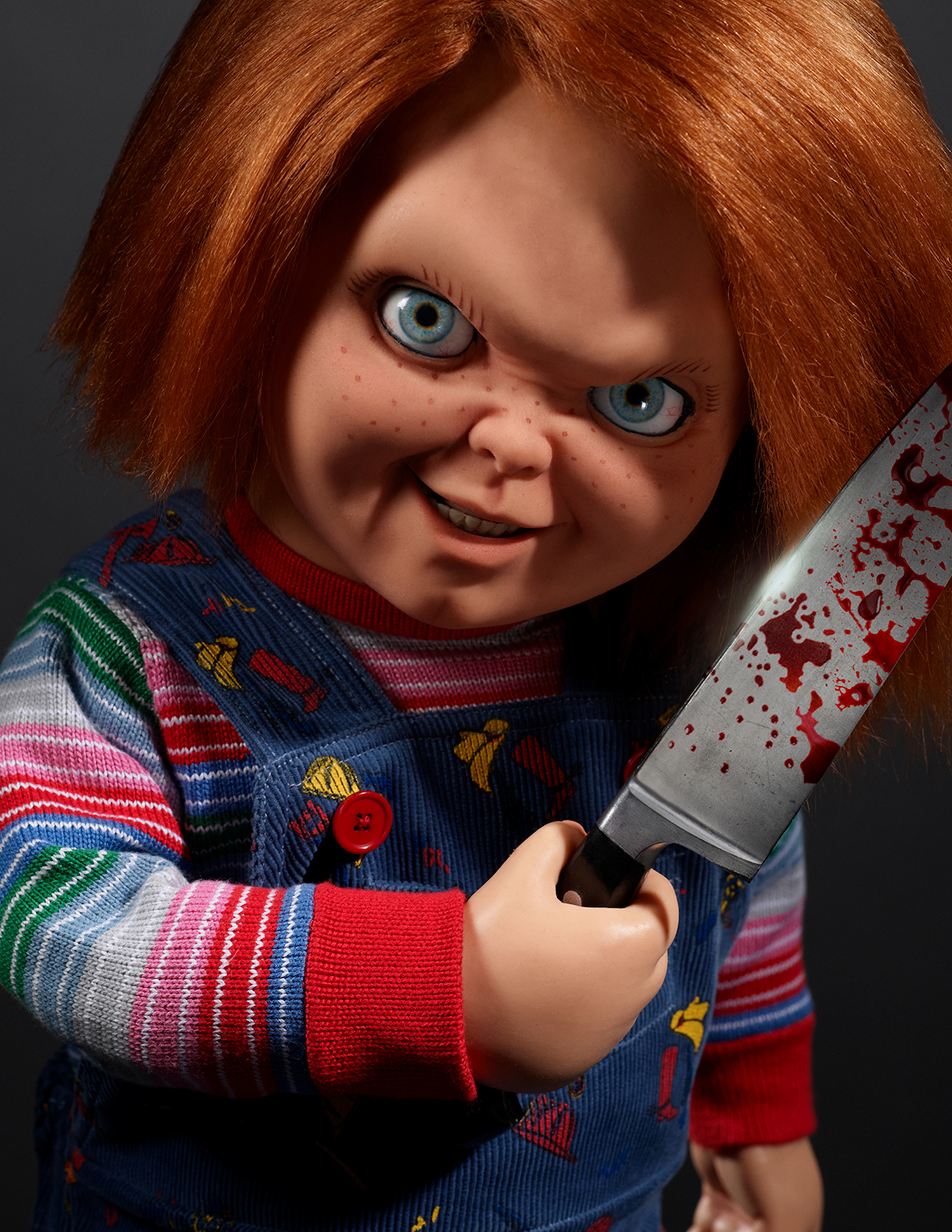 "I really wanted to affect a sort of luxurious and glamorous autumn look with fall foliage, and that became the central aesthetic principle, was glamorous autumn," Mancini said. "And there were certain challenges facing the show because we shot it during the spring and summer. So, one of the things the art department had at our disposal was basically truckloads of artificial but very real-looking, actually better than real-looking autumn leaves, which we just spread around the ground like butter whenever we were outside."
Don Mancini evoked horror masters 
Mancini's own franchise is now one of the greats in horror tradition along with Halloween, Nightmare on Elm Street and Friday the 13th. However, it wasn't John Carpenter's October 31st franchise that inspired Mancini.
Chucky filmed in Toronto, doubling for an idyllic small town as Canada often does on Hollywood productions. Mancini said they filmed some establishing shots of their locations in the fall to match the footage they faked. 
"So, between that and some really beautiful drone footage that we were able to get last fall, actual drone footage from the air that we got last fall in the environs where we shot the show outside Toronto, it looks like a Halloween horror movie as directed by Dario Argento or Brian De Palma," Mancini said. "At least, that was our goal. You'll tell us if we succeeded."
The human cast was impressed, too. Jennifer Tilly, who reprises her role as Tiffany in the series, said the series improved upon previous films. She's stuck with the franchise through its modestly budgeted offerings.
"We have an amazing production designer and cinematographer," Tilly said. "I think it's different from like Cult of Chucky, which was very sterile because it took place in an insane asylum in the middle of winter. And I think the colors are so saturated. The cinematography and the set design are so beautiful on this film that it's just a pleasure to watch. It looks really expensive because it is. When I had showed up on the set, because I don't show up until halfway through, I was like, 'Oh, my gosh. We have so much money.'"