'Chucky': Zackary Arthur Says the Series 'Has a Lot of Exposition' With Chucky's Storyline
'Chucky' actor Zackary Arthur thinks Chucky has a more developed storyline compared to the original franchise. The young actor explains the series fleshes out each main characters' stories to sympathize with them.
The main character of Don Mancini's Chucky horror TV series is misunderstood teenager Jake Wheeler. Actor Zackary Arthur plays the character in Chucky. In the series, Jake picks up Chucky at a yard sale and originally plans to use it for an art installation. Unknown to Jake, the Good Guy doll is actually serial killer Charles Lee Ray. Arthur recently explained the reason why the horror character is still relevant even after a long movie franchise.
Chucky takes the famed horror character's story on a different route. In this TV rendition, Chucky (Brad Dourif) trains Jake as his hopeful protege. The series would also delve deep into how Lee Ray came to be a killer and what sets him apart from killers like Jason or Freddy Kreuger.
[Spoiler alert: This article contains mild spoilers about Chucky.]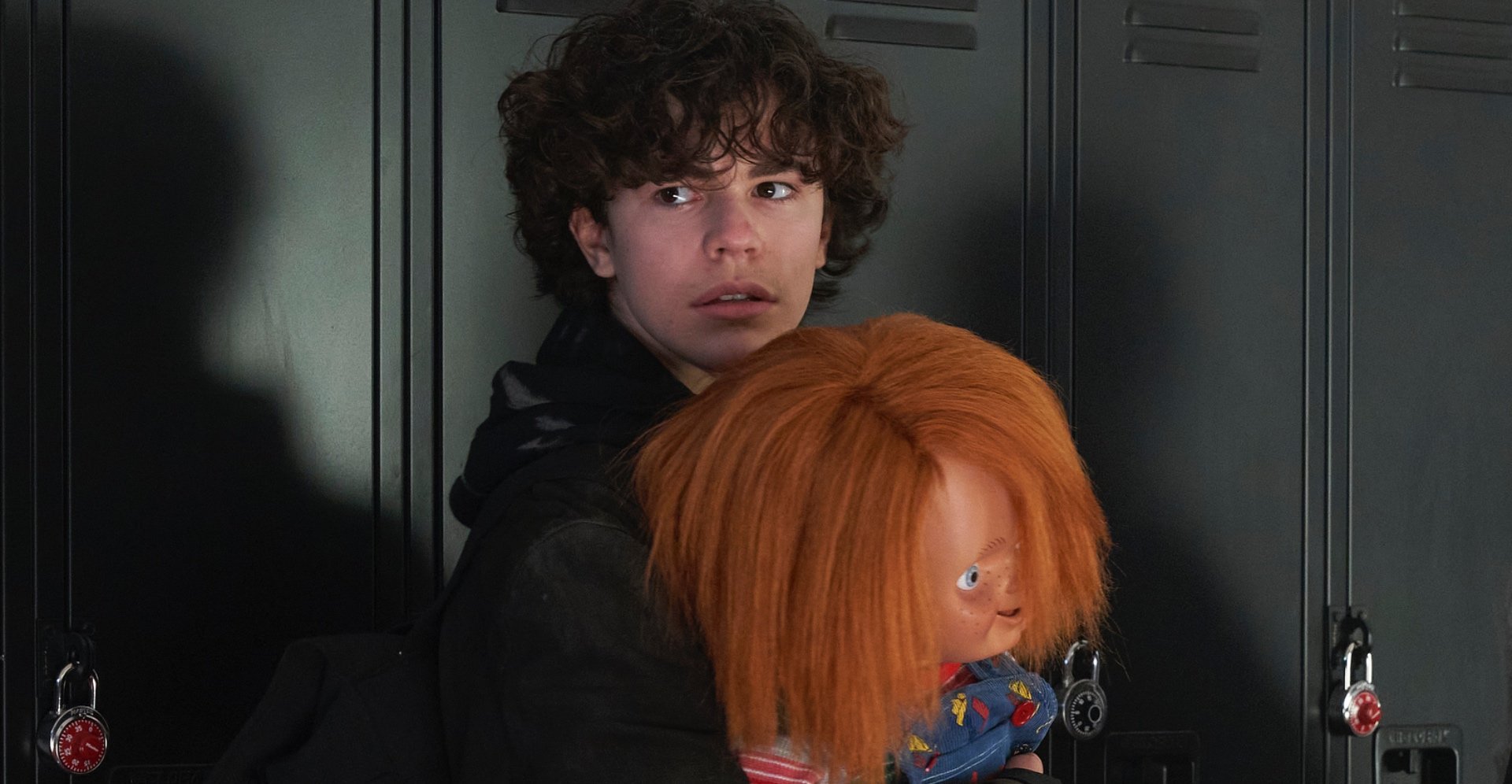 Zackary Arthur says 'Chucky' is not all about gore
In an interview with Collider, Arthur explains to fans of the Chucky character and franchise that the TV series takes on a different outlook than other horror stories. While characters like Freddy Kreuger and Michael Myers only focus on blood, death, and spraying human body parts, Chucky has elaborated more on the main character's stories, arcs and thoughts.
"Chucky is not a typical killer. He's funny about it, and he's smart about it. Some movies are just kill, kill, kill, and there's nothing else going on. This story has a lot of exposition," said Arthur. One of Chucky's first kills in the series was calculated and carried out to look like a simple accident. Part of the reason Chucky kills Jake's father is that he thought he was a real jerk.
As the series progresses, Chucky does not go on a murderous rampage through town. Instead, he taps into Jake's brewing anger at the people around him to his advantage. Chucky uses Jake's lowest points to try and fuel his anger enough to want to kill. The horror character never had an issue killing in the movie franchise. But every movie installment had a bigger picture, like his gender-fluid son Glen or his girlfriend turned killer doll.
'Chucky' finally gives a backstory to Charles Lee Ray that fans will be excited about
The Chucky TV series takes place after Child's Play 2 and throughout the franchise, Charle Lee Ray's life story was never revealed. For the first time in Chucky's story, Mancini reveals that Lee Ray was born to a ruthless killer. Even Arthur expressed, "I bet people are gonna be really excited about that." The TV show answered one of the many questions fans hoped it would.
Dissecting Lee Ray's childhood adds to Arthur's explanation that the series has more exposition than the movie franchise ever did. Chucky was always an elusive character that fans never knew the origin of. Most fans knew how Lee Ray transferred his soul into the Good Boy doll. Chucky episode 3 put Lee Ray's first kill and encounter with a serial killer out there for the world to finally see.
Zackary Arthur explains Don Mancini gave the main characters story arcs to get invested in
Chucky is not the only main character in the Chucky TV series. Arthur explains Mancini developed story arcs for each character that unravel independently but interweave into the bigger storyline. "As well as seeing how Jake deals with being bullied, you also get to see why the bullies became bullies, and that makes it so people can actually sympathize with the bullies too. Most of the time, people who are like that, it's because of something, and this show hits all of those points," said Arthur.
In the series, Jake is a member of the L.G.T.B.Q. community and is ridiculed by his father and the people around him for his sexuality. Along with his sexuality, Jake is bullied by Lexy Taylor (Alyvia Alyn Lind). Lexy is the ultimate bully who thinks she is untouchable as the daughter of the town's mayor. She also happens to be dating Jake's cousin.
As the series progresses, the main character's stories start to evolve, and their inner troubles and fears come to light. As Jake's and the characters' stories change, so does Chucky's.