Cincinnati Bengals QB, Joe Burrow, Is Superstitious Just Like His Teammate Ja'Marr Chase
Ja'Marr Chase and Joe Burrow, former college classmates and now NFL teammates, are headed to the Super Bowl. They are following superstitions to hopefully influence the outcome.
The Cincinnati Bengals will face the Los Angeles Rams in their first Super Bowl appearance in decades. Star quarterback Joe Burrow, and breakout wide receiver Ja'Marr Chase, weren't even born when the team last made it to the big game. It doesn't matter to them, though. Both are doing their part to ensure a win at the end of the fourth quarter. Each appears to be leaning into some superstitions to ensure nothing goes wrong. One of the two won't admit it's a superstition, though. 
Joe Burrow wears one sock inside-out 
Burrow's meteoric rise in the NFL could be thanks to his socks. Fans of the quarterback have noticed that his sock game is a bit strange. Instead of wearing both socks right side out, Burrow is always spotted wearing one sock inside out. It doesn't seem to matter if he's sporting athletic socks or a dress pair, either. 
Bengals fans have long assumed it's a superstition, but Burrow insists he's not superstitious. He told Aditi Kinkhabwala, a reporter for NFL Media, that he doesn't consider himself superstitious, but the inside-out sock is just something he's "always done." He doesn't seem interested in tempting fate by turning that sock right side out, though. 
Ja'Marr Chase is more forthcoming about his superstitious nature 
Burrow might want to deny his superstitious nature, but his top receiver owns it. Ja'Marr Chase, the AP Offensive Rookie of the Year, was spotted with a bunch of his teammates after practice in California this week. In a video posted to TikTok and Twitter, Chase is seen making sure his teammates didn't "split the pole." Chase responded to the video, insisting that his teammates walk right when they walk with him. 
Splitting the pole refers to splitting up from the people you are walking with when you encounter an obstacle instead of falling in line. Splitting the pole is considered bad luck because you are allowing something to come between you and your group. A simple saying is said to reverse the curse. Chase isn't taking any chance, though. Instead of relying on reversal tactics, he just ensured his entire team filed through the obstacle in their way together. 
Burrow and Chase are hoping every little bit counts 
Superstitious or not, Burrow and Chase are both likely hoping every little bit counts. The duo, both of whom played for Louisiana State University before being drafted into the NFL, will have a chance to bring home the first Super Bowl win for the Cincinnati Bengals. If a pair of socks or careful walking might help to get that done, who's to say it's wrong.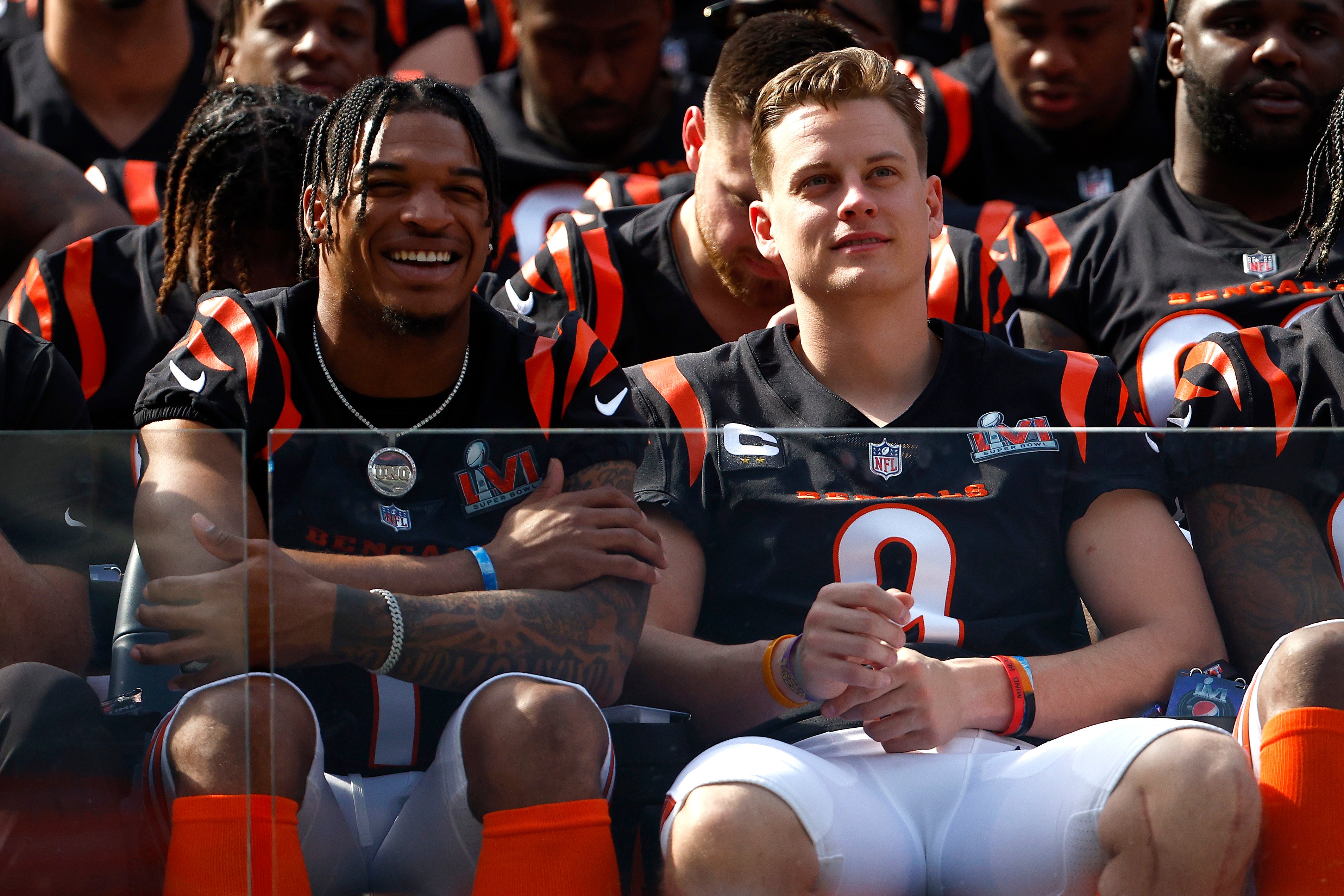 The Bengals have only made it into two Super Bowls in their franchise history. They appeared in the big game twice in the 1980s. They lost both to the San Francisco 49ers. The 49ers, led by Jimmy Garoppolo, almost faced off against the Bengals for the third time this year. They fell to the Los Angeles Rams in the NFC Championship game by a field goal.