Clark Gregg Has (Almost) Been in the MCU Longer Than Any Other Actor
The Marvel Cinematic Universe has the greatest cast of characters in film history. They are masters at casting, and they've chosen incredible actors that bring these characters to life in an explosive way.
Clark Gregg is one of these talented actors. Fans know him as Agent Phil Coulson, the guy who helped Nick Fury start rounding up the heroes who would eventually become The Avengers. Clark Gregg has been with the MCU for a very long time, from the first film to a popular TV series that just ended after seven seasons.
Who is Clark Gregg?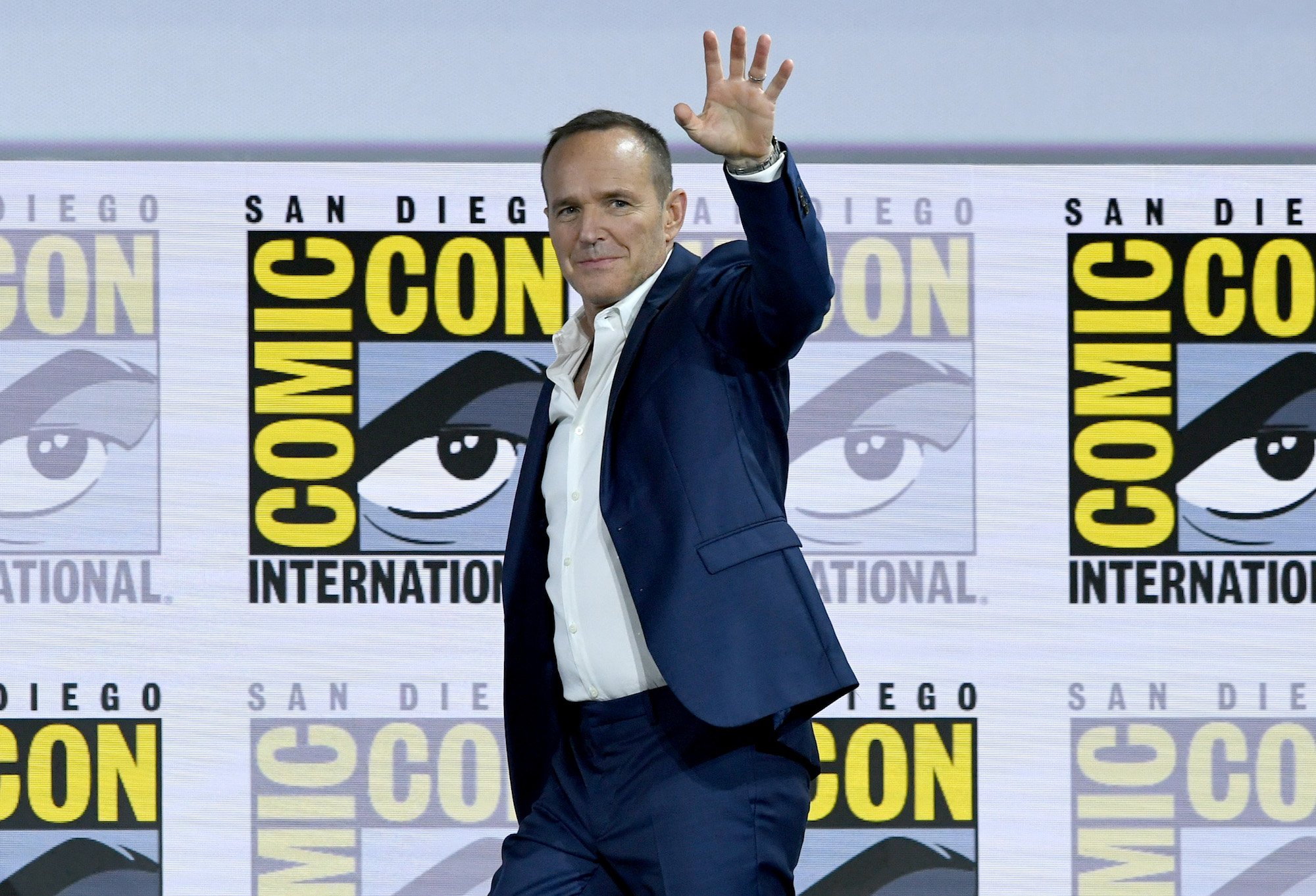 Clark Gregg is best known for his MCU role as Agent Phil Coulson. The actor was born in Boston, and had an interesting collection of jobs before he turned to acting. He was a bar back (an assistant bartender), a security guard at an art museum, and a parking valet.
He was married to actress Jennifer Grey for 19 years, but the couple recently announced that they have split up. They have one child together. 
Although Gregg began his acting career in the late 80s, he got his big break when he became a part of the MCU in Iron Man in 2008. Now he is instantly recognized as Agent Coulson, former head of S.H.I.E.L.D. His character has been through the wringer in the MCU. Fans of the MCU movies know that Agent Coulson was killed by Loki during the attack on the Helicarrier.
That wasn't the end of Coulson, though, who was later resurrected by Nick Fury. Fury used technology from Project T.A.H.I.T.I. to bring Coulson back to life and alter his memories. That was just the beginning for the S.H.I.E.L.D. agent, however.
On the TV series Agents of SHIELD, Coulson has died many additional times, in one way or another. Wow. This guy is a superhero in his own right. 
What did Clark Gregg do before he was Coulson in the MCU?
Before becoming known across the world as Agent Coulson, Gregg had roles in numerous TV shows and films. He guest starred in popular shows like Will and Grace, Sex and the City, and The West Wing.
In addition to acting, Gregg is also a screenwriter and director. He wrote the screenplay for the chilling thriller, What Lies Beneath, which starred Michelle Pfeiffer and Harrison Ford.
He also wrote and directed Choke, a dark comedy about a man who fakes choking in restaurants and then swindles his saviors into paying for his mother's hospital bills. The 2013 film Trust Me, about a Hollywood agent, is another one of the talented screenwriter's projects. 
He's been in the MCU longer than any other actor (almost)
RELATED: Marvel's 'Spider-Man 3' Could Bring a 'Suicide Squad' Star Into the MCU
Related post url: 
Gregg's long run on Agents of SHIELD. has officially made him one of the actors that have been in the MCU for the longest span of time. He's not the only one, however — two other characters are alive and well as of the latest MCU film, Spider-Man: Far From Home. 
Both Happy Hogan and Nick Fury, played by Jon Favreau and Samuel L. Jackson, have been around since Iron Man in 2008 (Fury didn't show up until the post-credits scene, but it still counts!). If both characters are in the next Spider-Man film–which looks pretty certain based on the events of the last film–they will surpass Gregg's run in the MCU. 
Nick Fury also happens to be one of the characters we've seen in the most MCU films (even if some of his appearances were only for a few seconds). There is one other person who ties with Fury, and that's only because he didn't make it to Far From Home. That's the man that started it all–sarcastic billionaire genius, Tony Stark. The MCU would be nothing without Robert Downey Jr.'s brilliant portrayal of Iron Man.
We won't get into it too much, as the wound is still fresh from his departure. We just thought it was worth mentioning.