'Claws' Season 3 Finale: Desna's Empire Erupted Into Flames
Unfortunately, another season of Claws has to come to an end with more murder, more drama, and more perfect manicures. The ladies finally got rid of the crazy Lovestones and Desna is seemingly the next person in line to own the casino, over former manager Joe. However, an arrest, break up, and fire that no one saw coming may end her plans.
In the Claws Season 3 finale, Joe chose "the woman he pays bills with" over "the woman he kills with," devasting Polly. Also, Desna tried to continue running more casinos with The Professor by promising him Ann's brother once he becomes governor.
Additionally, Roller got arrested for Clint's murder, causing Desna to consider skipping town with her beau. What else happened? Keep reading to find out!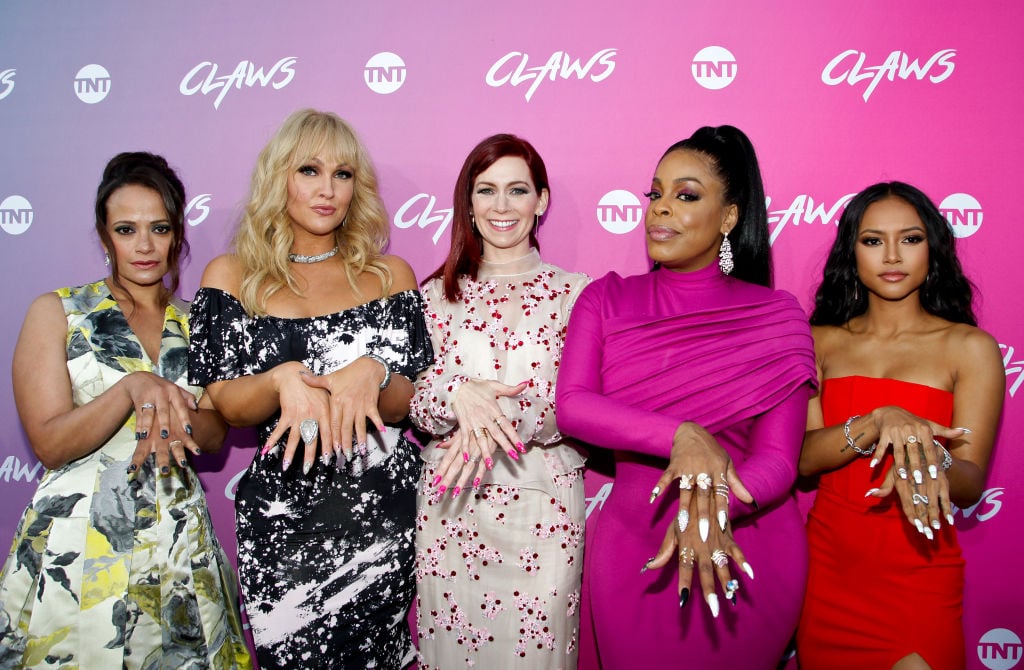 Roller gets arrested for felony murder
The police barged in Desna's salon and arrested Roller for the killing his cousin, Clint. Even though it didn't take long to bail her boyfriend out, he claimed the police had a lot of evidence including both of their hairs on the body.
Horrified at the thought of going to jail, Desna suggested she and Roller flee the country after her birthday party. When the couple arrived, they tried to put on a front like everything wasn't falling apart. She spoke to Dean and wanted to ask him to leave the country with them. However, her frantic state confused her brother, and he only desired to find Virginia.
When she called Dean back, she hugged him as if she would never see him again. However, when Dean found Virginia, she upset him by telling him she wanted space. After Desna made a loving speech for his best friends, Jenn forced Uncle Daddy to tell Roller the truth about Toby.
As a result, Roller immediately punched him in the face and began choking him until Bryce separated them. After they left, Roller decided to turn himself in and completely take the charge, because he didn't want to run forever. Therefore, Desna made Uncle Daddy find Toby and handle him as a last-ditch effort to keep Roller out of jail.
The mob boss found his boy toy and held a gun to his head, but couldn't pull the trigger and let Toby go. Uncle Daddy then lied to Desna and claimed he couldn't find him, but wanted to help Desna get Roller out of jail. So, the Husser family and Desna's girls stopped the transportation bus carrying inmates on the way to the prison and took Roller into hiding.
Even though Desna was supposed to go with her boyfriend, she decided to stay for Dean.
Desna forced Ann to get her brother involved
During a mandatory private meeting with The Professor, he told Desna he had planned on opening more casinos but had to kill the governor. Because Desna wants in on the other casinos, she promised that Ann's brother, the projected new governor, would fill the void.
She then saw Ann at the salon, and told her the situation and that her brother, Henry, must meet with The Professor. Still grieving the loss of her wife, Ann didn't want to get someone else close to her involved, so she went to the cops.
However, The Professor has the police in his back pocket, so he heard about Ann talking and told Desna to make her stop. In another attempt to convince Ann to get Henry to meet with The Professor, Desna met up with Ann at the Shrimp Shack.
She explained to Ann that if she doesn't get her brother involved, The Professor will kill all of them, so she obliged. At Desna's birthday party, Ann told Desna that Henry agreed to meet with The Professor and then spent the rest of the night breaking Desna's party favors until Joe came up to her.
They both bonded over having bosses who don't appreciate all the work they do for them, so the unlikely pair came up with a plan. The following day, The Professor came to the casino to meet Henry as planned, however, Ann and Joe took his phone, locked him in the room, evacuated the building (with the exception of The Professor), and set the entire place on fire.
When Desna saw her dreams up in flames, Ann said she had to do it because Desna changed and became too power-hungry.