'Claws': When Does Season 4 Premiere?
It's been over a year since we last saw our favorite Floridian manicurists in action. The last time we checked in on them, they were working with the Triads at the casino before Quiet Ann got fed up and blew it up, literally. The fourth and final season has been delayed due to the COVID-19 pandemic, but filming is scheduled to wrap up soon. When does season 4 of Claws premiere?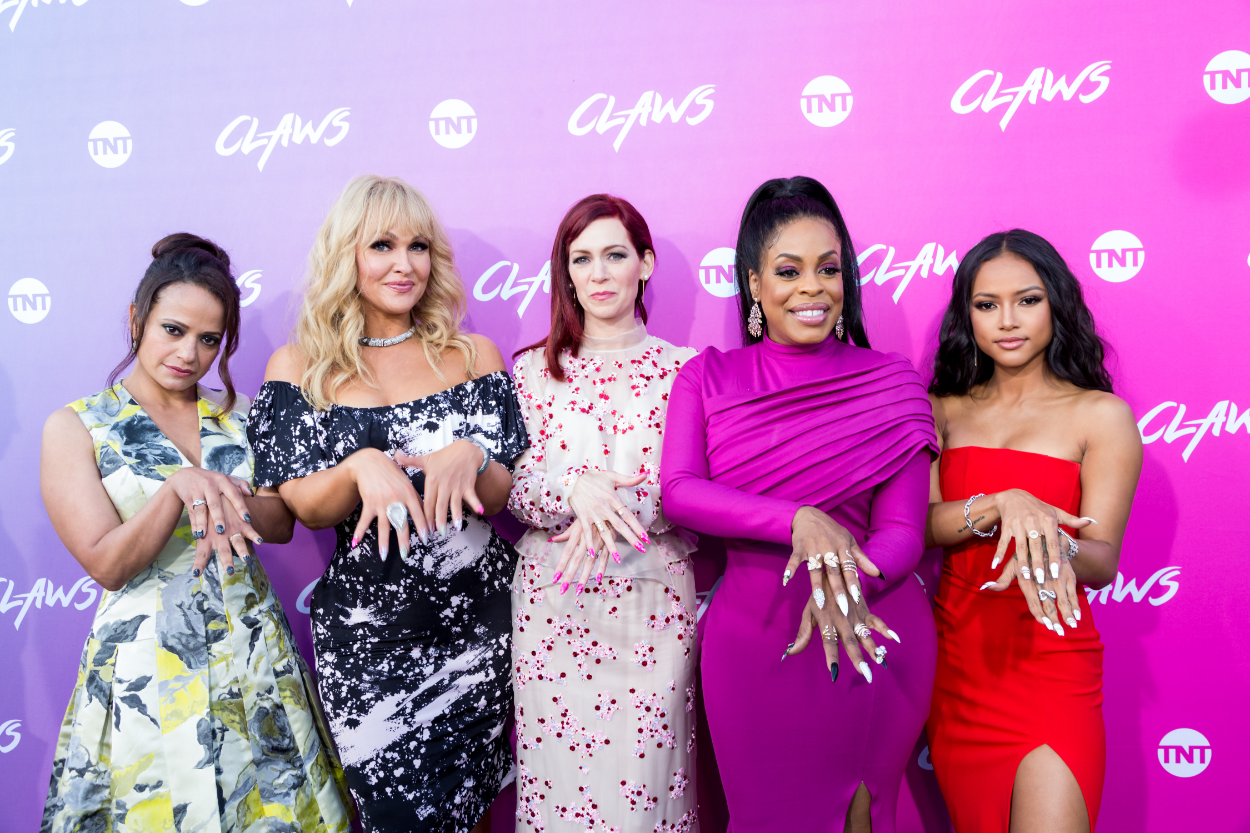 How did 'Claws' season 3 end for Polly and Virginia?
After Uncle Daddy's (Dean Norris) young lover Toby (Evan Daigle) attempted to shoot Desna (Niecy Nash), her right-hand woman Polly (Carrie Preston) escaped from the voluntary hospital she entered after having a mental breakdown.
She and the ladies began working at the casino, and Polly found herself falling for their enemy, the manager Joe (Juan Riedinger). The two enjoyed a bizarre relationship where they initially pulled cons together before murdering the governor.
Once Polly realized Joe had a wife, she asked him to choose. Of course, he picked his family, leaving the former con-artist devastated and running back to her ex-boyfriend, Dr. Ken (Jason Antoon).
Following her gunshot recovery, Virginia (Karrueche Tran) became pregnant by her boyfriend and Desna's autistic brother, Dean (Harold Perrineau). However, they decided not to follow through with the pregnancy.
Nonetheless, the couple stayed together and became engaged until Dean started ignoring Virginia to play mahjong at the casino. Following a short-lived fling with fellow manicurist Jennifer's (Jenn Lyon) oldest child's father, Virginia asked Dean for space.
The casino set on fire by the end of 'Claws' season 3
Bryce (Kevin Rankin), Jennifer's husband, attempted to stay away from illegal activities by becoming a motivational speaker. He convinced Uncle Daddy to repurpose the pill pharmacy as a rehab center and nearly got his self-help book published before realizing the publisher was racist. 
The introverted salon's lookout Quiet Ann (Judy Reyes) got her brother, who's running for governor, involved in the casino's dirty dealings. Although she had good intentions, it backfired, resulting in the murder of her wife and mother of an unborn child, a detective named Arlene (Suleka Mathew).
Feeling betrayed by Desna, who initially lied about the killing of her wife and asked to get her brother involved again, Quiet Ann teamed up with an unlikely friend, Joe, and the two set the casino on fire with only The Professor (Nelson Lee), Arlene's killer, inside.
Finally, Desna decided not to skip town with her boyfriend Roller (Jack Kesy) as planned because she felt she couldn't leave her brother behind. However, the nail salon owner will have to figure out her next steps following the casino fire.
'Claws' season 4 premieres June 2021
Following three successful seasons, TNT announced it renewed the dark comedy for a fourth and final season in Oct. 2019. The crew began filming in New Orleans in March 2020 but had to cease production due to the growing COVID-19 pandemic.
They resumed filming a few months later, but positive COVID-19 tests in early November halted production for 14 days. Regardless, filming is scheduled to end in Dec. 2020. Following the 14-day closure, TNT announced the fourth and final season of Claws would premiere on Monday, June 6, 2021.