Coachella 2022: 100,000 People Attended Harry Styles' First Headlining Performance
100,000 Coachella attendees checked out Harry Styles first headlining set on Friday night. Styles brought out Shania Twain to duet on two of the country stars biggest hits.
Coachella is officially back. After a two-year hiatus, the festival returned to the desert with large numbers. Harry Styles headlined Friday, April 15, for 100,000 attendees. His first time headlining, Styles brought out country star Shania Twain to the delight of a packed crowd. Coachella estimates 120,000 were in attendance Friday evening, with 20,000 attending performances at smaller stages.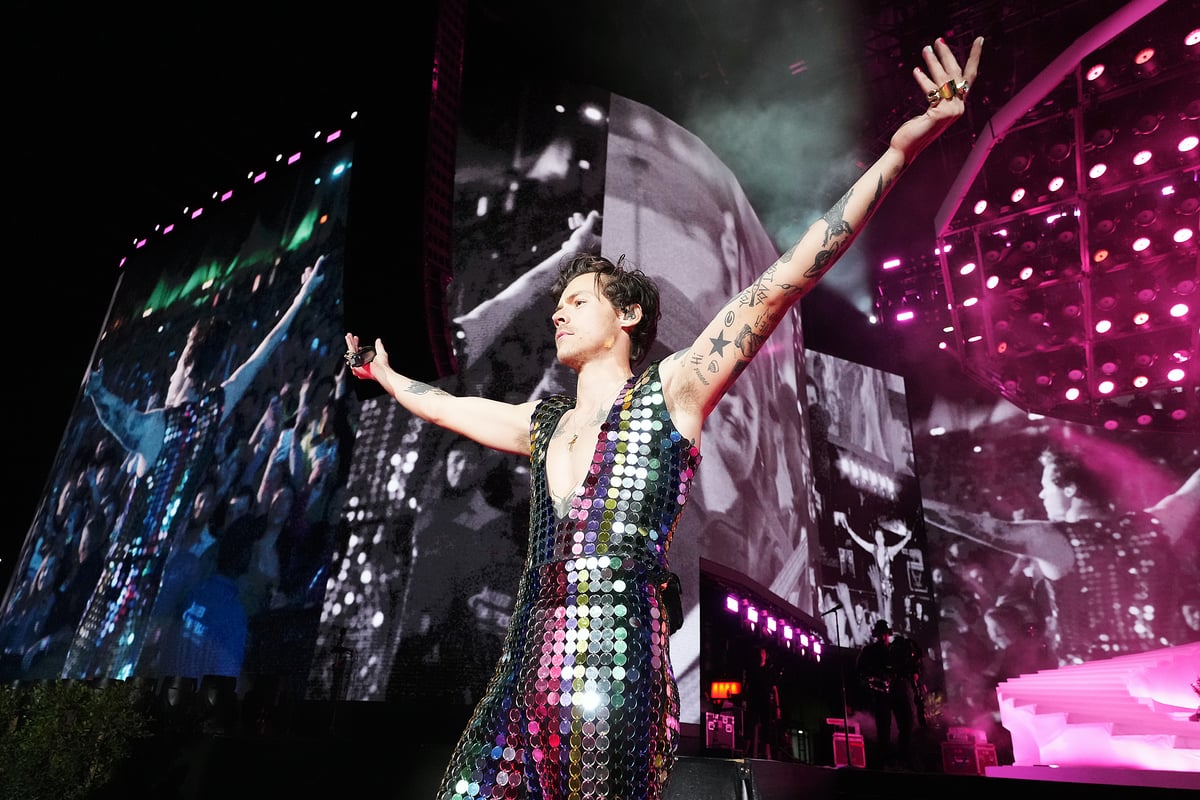 Harry Styles performs new music on the Coachella stage
2022 is shaping up to be a massive year for Harry Styles. The former One Direction singer recently broke streaming records with his song "As it Was." The first single off Styles' upcoming album Harry's House was a crowd favorite during his first of two headlining Coachella sets. Styles also debuted two unreleased songs for the 100,000 Coachella attendees.
Before unveiling a new track from Harry's House called "Boyfriends," Variety reported Styles said, "Who in the audience has ever had a boyfriend? Who in the audience has never had a boyfriend? To boyfriends everywhere, f*** you."
The song sounded like an acoustic guitar-tinged relationship tearjerker. "Boyfriends," tells the relatable story of an on-again-off-again relationship. Styles also debuted an unreleased song titled "Late Night Talking." 
A fantastic jumpsuit and Shania Twain added to Styles setlist
Styles wore a deep v-neck jumpsuit adorned with rainbow sequins for his first headlining set at Coachella. The perfectly tailored disco ball ensemble was custom designed by Gucci creative director Alessandro Michele. It resembles Styles' red jumpsuit in the "As it Was" music video. 
Styles performed a total of 18 songs during his 90-minute set, including "Watermelon Sugar," "Golden," and "Canyon Moon." He even sang the song that skyrocketed him to fame with boy group One Direction in 2011, "What Makes You Beautiful." 
The British star surprised fans when he brought out country singer Shania Twain for a few songs. She appeared in a similar-looking sequined outfit to duet with Styles on her hits "Man! I Feel Like a Woman!" and "You're Still the One." Before going into "You're Still the One," Twain shared her excitement about sharing the stage with Styles. 
"I'm a bit starstruck; what can I say? No, really, I'm a fan of you, of course. I realize that when I was writing this song, you were just a little kid. It's kind of a dream and very surreal to be sitting here right now to sing this song with you."
Harry Styles Coachella Setlist –  April 15, 2022 
As It Was
Adore You
Golden
Carolina
Woman
Boyfriends
Cherry
Lights Up
She
Canyon Moon
Treat People With Kindness
What Makes You Beautiful
Man! I Feel Like a Woman!
You're Still the One
Late Night Talking
Watermelon Sugar
Kiwi
Sign of the Times
Coachella returned to the dessert after a two-year hiatus
The Coachella Valley Music and Arts Festival was forced to take a hiatus after 2019 due to coronavirus (COVID-19). The festival runs over the course of two weekends, April 15-17 2022 and April 22-24 2022. This year's headliners are Harry Styles, Billie Eilish, The Weeknd, and Swedish House Mafia. 
The lineup had a last-minute change when Kanye 'Ye' West pulled out with less than two weeks' notice. He was slated to perform both Sunday evenings as the headliner. The Weeknd and Swedish House Mafia stepped in to fill the slot. 
A source told Variety 120,000 attendees on Friday night is almost the 125,000 capacity for the Indio, CA festival. These numbers are great considering the event took a two-year hiatus, and people can stream many of the performances for free.
To check out Coachella weekend two, you can watch up to three live streams on their official YouTube channel. Check out our watch from home guide here.