Coachella 2022: Billie Eilish Ends Performance With 'Sorry I'm Not Beyoncé'
Billie Eilish headlined the Coachella Valley Music and Arts Festival on Saturday night. The 20-year-old made history as the youngest Coachella headliner ever. She performed for around 90 minutes and brought out several special guests. However, Eilish made a few comments alluding to the thought that she shouldn't be headlining. Perhaps the most surprising was when she ended her performance by saying, "Sorry I'm not Beyoncé."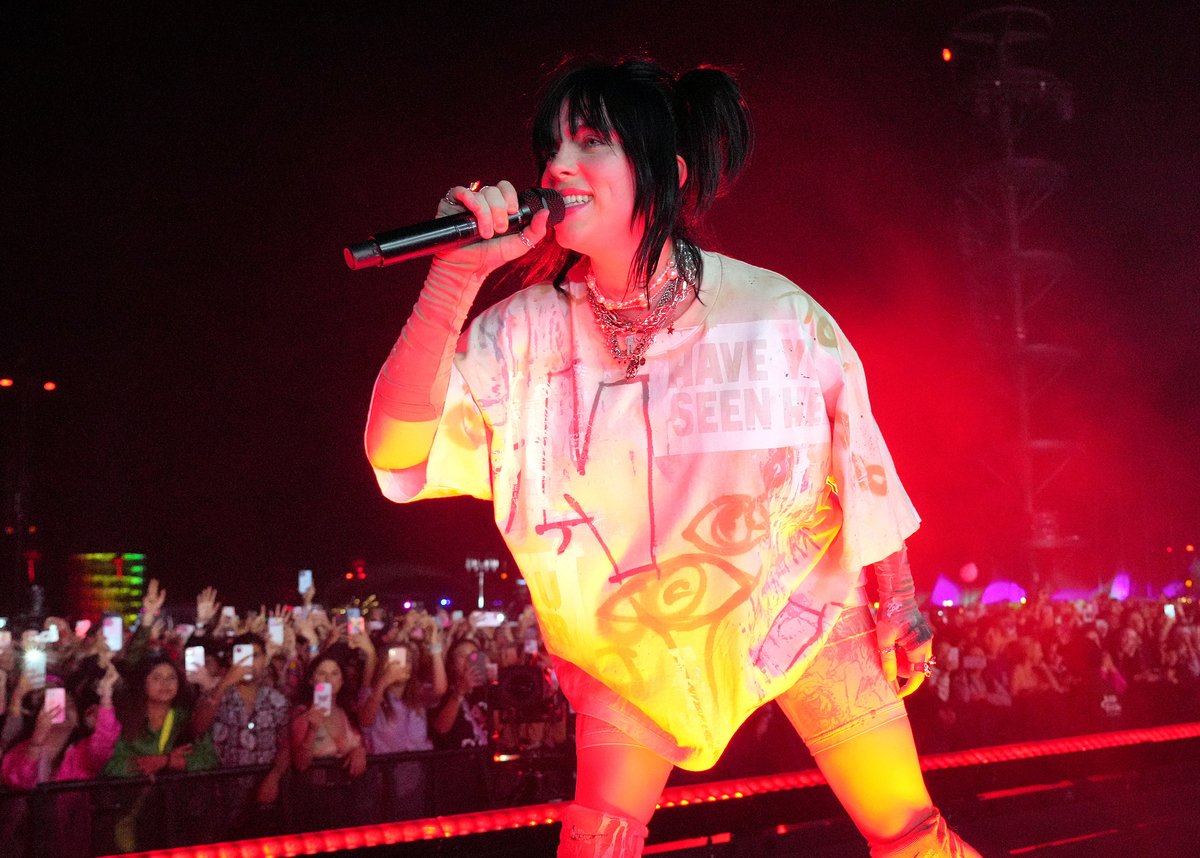 Billie Eilish says, 'I should not be headlining' 
On Saturday, April 16, singer Billie Eilish was the final act to take the main stage at Coachella. Eilish is coming off an Academy Award win for her song, "No Time to Die." She's broken countless records in her impressive young career, including being the only woman to sweep all four major categories at the Grammy Awards — a feat not even Beyoncé has accomplished.
But unlike divas before her, Eilish may not be ready to fully embrace her superstardom. On Saturday night, halfway through her Coachella set, she addressed the crowd. Yahoo Entertainment reports Eilish said, "I should not be headlining this s***!" She continued, "But I'm so f***ing grateful that I'm here and that you guys are all here. This is such a dream come true. I feel crazy."
When her set ended an hour later, she said, "Thank you, Coachella! I'm sorry I'm not Beyoncé," adding, "I love you, goodnight."
Khalid, Finneas, Pos, and Damon Albarn joined Eilish on the Coachella stage
While Eilish can undoubtedly hold her own on stage for 90 minutes, Coachella has become famous for headliners bringing out special guests. The night before her, co-headliner Harry Styles brought out Shania Twain for a duet of "Man! I Feel Like a Woman!" 
For her set, Eilish brought out Khalid to sing their 2018 duet, "Lovely." To no one's surprise, she also brought her brother Finneas out to perform a couple of songs during an acoustic set. The most exciting guest was Damon Albarn, the lead singer of Blur and Gorillaz. He made headlines recently for comparing Eilish to Taylor Swift. 
According to USA Today, Albarn said, ​​"A really interesting songwriter is Billie Eilish and her brother. I'm more attracted to that than to Taylor Swift. It's just darker – less endlessly upbeat. Way more minor and odd. I think she's exceptional." 
The two gave a powerful performance of Eilish's introspective song "Getting Older." They also sang The Gorillaz hit "Feel Good Inc" with De La Soul's Pos. 
Eilish brings positive energy to the desert, 'I want you to just imagine that there's no bad in the world and there's only good.'
Although she may have been hard on herself, Eilish wanted the Coachella audience to be happy. According to CNN, she said, "I want us all to feel loose and good and comfortable in our skin, and like, free, and happy." She later said, "I want you to just imagine that there's no bad in the world and there's only good."
Eilish may not be Beyoncé, but the crowd didn't seem to be asking for an apology on Saturday night. The 20-year-old has built a loyal following of fans. Just as Beyoncé did in 2018, she was able to captivate the audience and draw them into her world.
The "Happier Than Ever" singer will return to the desert of Indio, California, on Saturday, April 23, to finish her headlining spot at Coachella. Later this summer, she will become the youngest headliner ever at the historic Glastonbury Festival in the United Kingdom.