'Cobra Kai': 5 Predictions and Theories for Season 5
'Cobra Kai' Season 5 is on its way, and many fans already have theories on the drama that will surely ensue in the Valley next.
The battle between Cobra Kai, Miyagi-Do, and Eagle Fang Karate is far from over. Netflix has already renewed Cobra Kai for season 5 — and the season has already wrapped filming. That means the new batch of episodes will be here faster than fans can say, "Hai!" While everyone waits for release date news on Cobra Kai Season 5, here are some theories and predictions about what's to come.
[Spoiler alert: The following story contains spoilers for Cobra Kai Season 4.]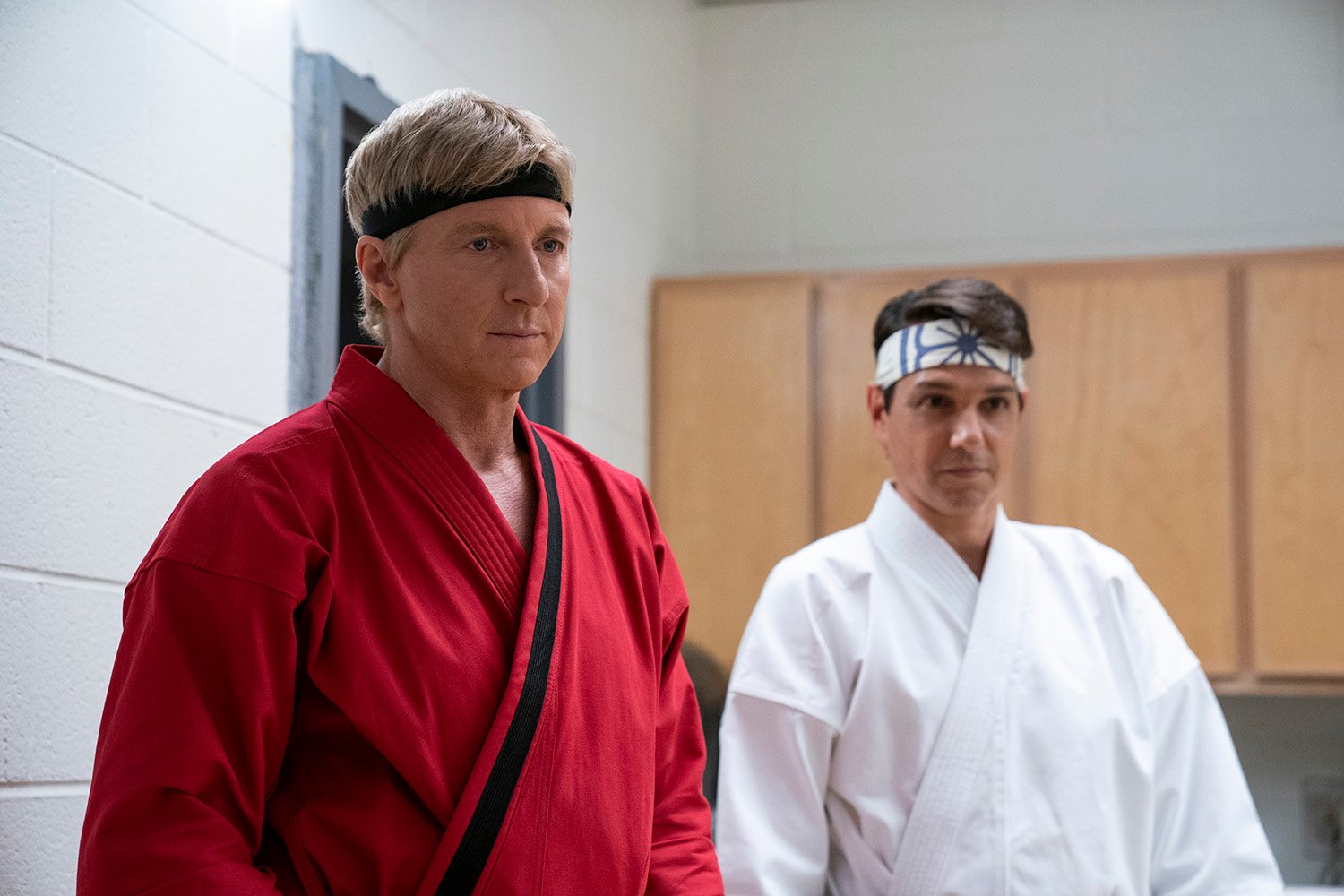 'The Next Karate Kid' protagonist Julie Pierce joins the fight
Cobra Kai has already brought back plenty of familiar Karate Kid faces, like Terry Silver (Thomas Ian Griffith) and Ali Mills (Elisabeth Shue). Still, there's one former Miyagi-Do Karate student that hasn't resurfaced: Julie Pierce.
Portrayed by Hilary Swank, Julie appeared in 1994's The Next Karate Kid. Mr. Miyagi (Pat Morita) took her under his wing for karate training as a way to help Julie cope with the death of her parents.
It's not quite clear what role Julie could play in season 5. Beyond the late Mr. Miyagi, Julie really has no connection to other Karate Kid characters. However, Cobra Kai creator Josh Heald did confirm that The Next Karate Kid occurred in the same universe as the Netflix show. If Swank is up for returning, it seems there's a good chance Julie will pop up.
Terry Silver calls in Mike Barnes to assist at Cobra Kai
And speaking of Karate Kid guests, there's another villain to consider for next season. As seen in the video above, many Cobra Kai Season 5 fan theories suggest Terry could call in Mike Barnes (Sean Kanan).
In The Karate Kid Part III, Terry hired Mike as a ringer to defeat Daniel LaRusso (Ralph Macchio) in the All-Valley Tournament. Of course, Daniel wins anyway, but Mike does bully him throughout the movie.
Unlike Julie, Mike's role in season 5 is basically set up already. Terry has framed John Kreese (Martin Kove) for a brutal attack against Stingray (Paul Walter Hauser), sending him to prison. And Terry plans to fully take over Cobra Kai Karate, but he'll likely need a partner. Enter Mike. That's a terrifying duo, especially for Daniel.
Tory Nichols confronts Terry about the All-Valley Tournament and leaves Cobra Kai
Tory Nichols (Peyton List) has seemed bad to the bone since her debut in Cobra Kai, but she might soon turn over a new leaf. The Cobra Kai fighter showed more of her morally good side in season 4, especially during the All-Valley Tournament. She refused to fight dirty in her match with Samantha LaRusso (Mary Mouser) — there's a first time for everything.
Tory won the match, but she later overheard Terry talking to the referee about rigging the competition. She'll likely carry around with her the fact that her win wasn't legitimate. And now that Tory is showing more of her good side, she might confront Terry about the tournament. She may even move over to Eagle Fang or Miyagi-Do.
Daniel LaRusso finally uses the forbidden move in the Miyagi-Do scroll
Daniel has always treated Miyagi-Do Karate as a form of defense, not offense. However, his perspective seemed to change in season 4 after watching Sam use both forms to fight Piper (Selah Austria) at the tournament.
And although Daniel might not want to admit it, Mr. Miyagi did have some more aggressive techniques hidden in his secret scrolls. Fans already saw one scroll in season 3, depicting the Crane Technique that Daniel used in the first Karate Kid movie.
Season 4 offered a glimpse at another scroll. When Anthony LaRusso (Griffin Santopietro) explored his father's studio, he found the second scroll and opened it up. The picture showed a dragon and a sensei holding fire. Daniel said he hoped no one would ever need to use the technique, which means it's probably very powerful.
Heald confirmed to TVLine that the scroll held a never-before-seen karate move, but whether fans will see it next season is up in the air.
"It was there to introduce to the world that there are other scrolls. There is a history there," he said.
John Kreese teams up with Johnny Lawrence again
Now that Terry has betrayed Kreese, it seems unlikely the two will join forces again. Kreese might try to put an end to his former partner's madness. However, he'll need someone to get him out of jail. The most likely candidate? Johnny Lawrence (William Zabka).
Kreese and Johnny haven't been on the best terms, either, but Kreese has a better chance of teaming up with Johnny than Daniel. Or, maybe he'll fight solo once he's back on the streets of the Valley. Either way, someone has to take down Terry for good.
Cobra Kai Seasons 1 through 4 are now streaming on Netflix. Stay tuned to Showbiz Cheat Sheet for updates on season 5.