'Cobra Kai': Ralph Macchio Dishes on a Disgusting Deleted Scene Involving a Rancid Smoothie
Ralph Macchio revealed that his intense Eagle Fang training scene in 'Cobra Kai' Season 4 almost featured a gross moment with a rancid smoothie.
Cobra Kai cast members have had to do some pretty outrageous and gnarly stunts, but one deleted scene might take the cake. In a recent interview about season 4 of the Netflix series, star Ralph Macchio told the story of how he had to drink a rancid smoothie. However, after suffering through several takes, the scene never made it to the final cut.
[Spoiler alert: The following story contains minor spoilers for Cobra Kai Season 4 Episode 2, "First Learn Stand."]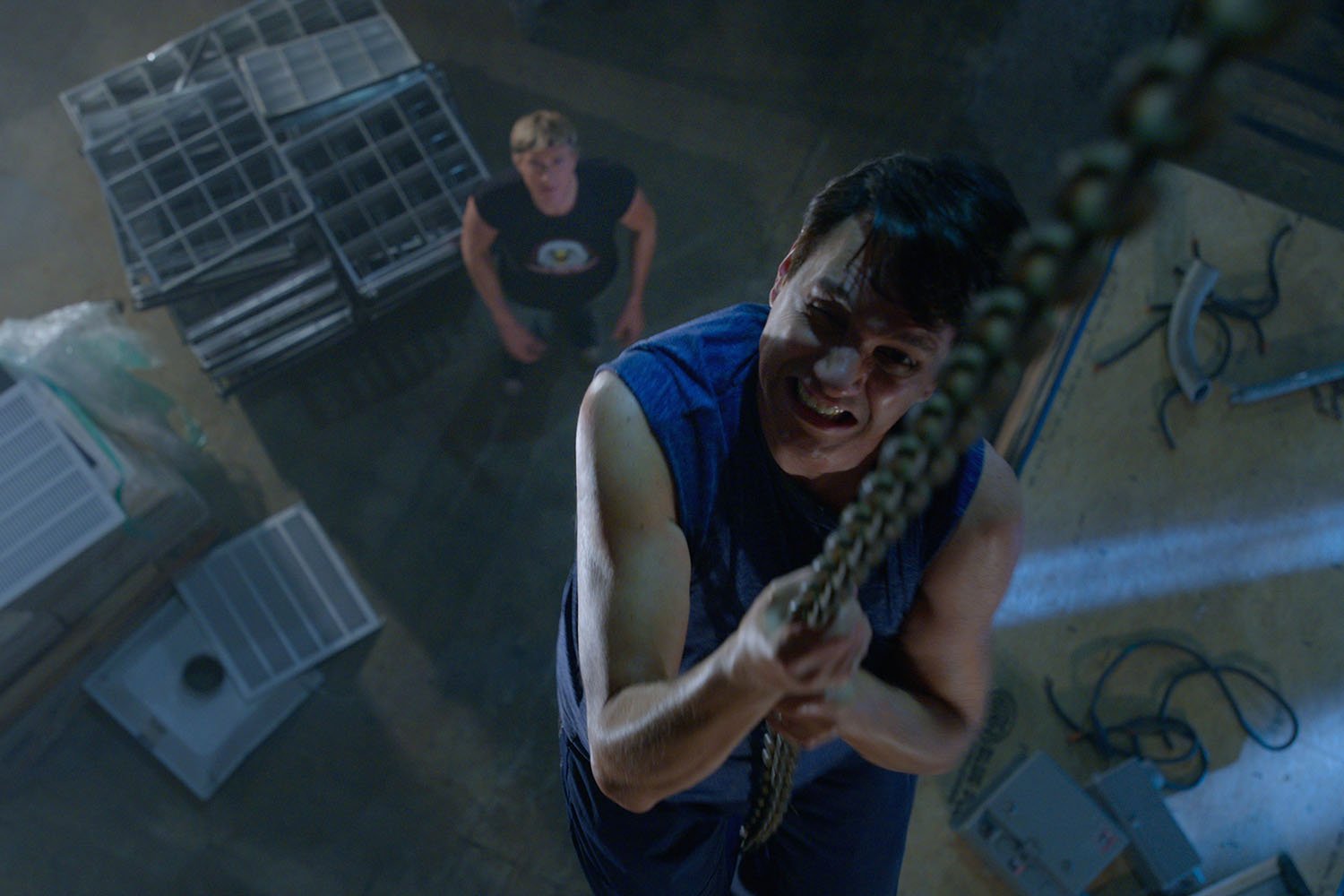 'Cobra Kai' Season 4 sees Daniel LaRusso and Johnny Lawrence train each other
In Cobra Kai Season 4 Episode 2, "First Learn Stand," Daniel LaRusso (Macchio) and Johhny Lawrence (William Zabka) finally agree to work together after a years-long rivalry. They decide to train their Miyagi-Do and Eagle Fang karate students in the same dojo. However, before they can teach their students, they need to understand each other's styles.
Daniel exposes Johnny to Mr. Miyagi's traditional karate teachings, using techniques like the classic "wax on, wax off" and "paint the fence." Surprisingly, Johnny cooperates with Daniel's slow-and-steady training, but he promises to put Daniel through the wringer the next day. And he certainly does.
In another hilarious training montage, Johnny teaches Daniel the brutal ways of Eagle Fang karate. Daniel must walk on hot coal, perform push-ups with his knuckles on hard wood, climb an industrial chain, and more. As rough as it may be, the former Karate Kid powers through the training for the sake of the dojo.
A gross 'Cobra Kai' deleted scene had Ralph Macchio downing a rancid smoothie
According to Macchio, Daniel's training included getting blindfolded and chugging one of Johnny's not-so-healthy smoothies. He told Entertainment Weekly that he had trouble filming the scene because the smoothie was just too disgusting.
"It was like if Johnny Lawrence grabbed everything in his fridge, whether it was expired or not, maybe threw in some protein that he heard about, and put it in the blender that was probably still rusty and mildewed," he revealed.
To help him get through the scene, Macchio said he thought about the famous Rocky moment where Sylvester Stallone drank a glass full of raw eggs. And, as Cobra Kai co-creator Josh Heald revealed, that's what they were going for — sort of.
"It was supposed to be like vodka and eggs," Heald told the publication. "Ralph had to drink it, and it took like an interminable amount of time for him to choke down whatever the heck the prop master made. It was like baby food in real life."
Unfortunately, Macchio's dedication to the scene didn't quite pay off, as the scene was ultimately cut from the episode. Perhaps it will appear in a Cobra Kai blooper reel one day. Although, if it's as gross as it sounds, maybe fans are better off without it.
Ralph Macchio admitted 'Cobra Kai' can be hard on his body, but he powers through
While that particular scene was hard on Macchio's stomach, others were harder on his body. Macchio and Zabka's many karate fights have left the actors banged up a few times. Still, they're always willing to keep going.
"My left shoulder, my left knee — just a little bit of mileage on the road, and a little bit of overworking," Macchio said when EW asked what hurt the most after filming. "But I am standing strong. Nothing some good ibuprofen won't take care of."
Cobra Kai Season 4 is now streaming on Netflix.