Colin Kaepernick Seemingly Shades Beyoncé and Jay-Z for Sitting During the National Anthem at Super Bowl LIV
Beyoncé and Jay-Z were among thousands who descended upon the Hard Rock Stadium in Miami on Sunday, Feb. 2 to watch Super Bowl LIV. As Demi Lovato kicked off the event with her rendition of the national anthem, many guests rose to their feet. But the famous power couple remained seated.
Unsurprisingly, the move triggered immediate and widespread criticism. But what is shocking is the message former NFL star Colin Kaepernick shared later on.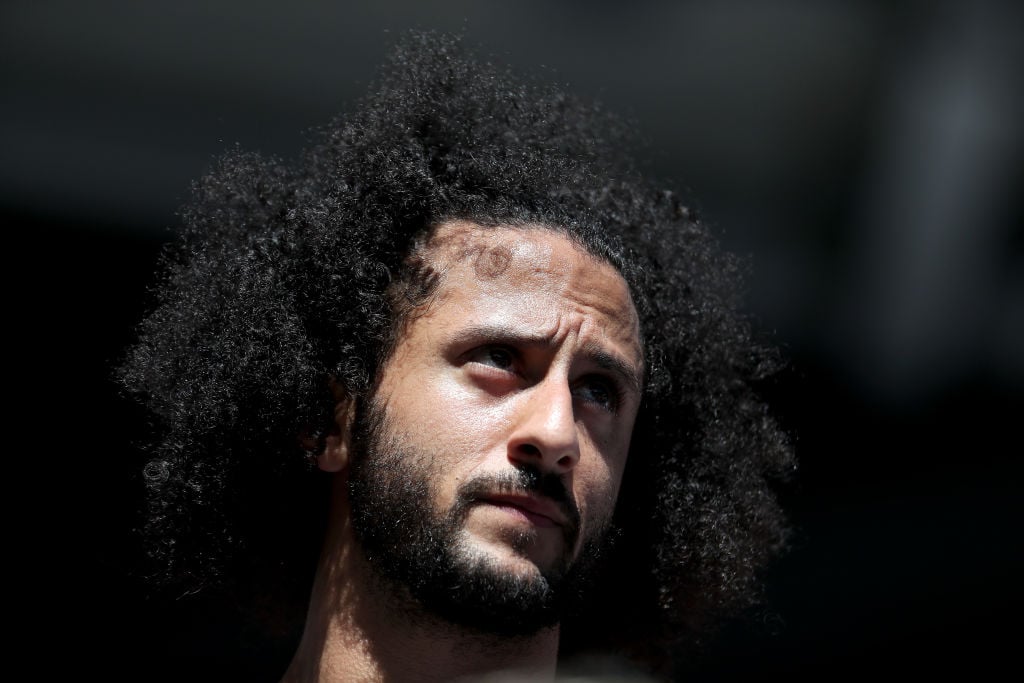 Why Beyoncé and Jay-Z sat during the national anthem
As of writing, neither Beyoncé or Jay-Z has addressed their decision to remain seated during the song — so we can't say for sure. But it's worth pointing out that many people choose not to participate in protest of police brutality and racial inequality.
The protests were popularized by Kaepernick, who used to play for the San Francisco 49ers. In 2016, he started sitting during the anthem at NFL games and then began to kneel during them.
"I am not going to stand up to show pride in a flag for a country that oppresses black people and people of color," he said at the time (via Vox).
Other players started following Kaepernick and taking a knee during NFL games. Kaepernick would eventually opt out of his contract in 2017, and he hasn't played for the league since. The football star claims he's been blackballed for his protests — something officials have denied.
What Colin Kaepernick had to say about Beyoncé and Jay-Z's failure to stand during the national anthem
It started with Miko Grimes, the wife of NFL star Brent Grimes. On Feb. 2, she took to her Instagram Story and posted a screenshot of TMZ's coverage of the couple's decision to sit for "The Star-Spangled Banner." Grimes captioned the image: "I thought we were 'past kneeling' [though]?" She ended her post with a thinking face emoji.
Kaepernick followed up by sharing Grimes' post to his own Instagram Story. His girlfriend, Nessa Diab, also posted the image to her page.
The caption is seriously shady
The caption references comments Jay-Z made back in August 2019. When asked in a press conference if he would kneel for the anthem, Jay-Z said (via The Hollywood Reporter): "I think we've moved past kneeling and I think it's time to go into actionable items."
He went on to secure a deal with the NFL for events and social justice initiatives, explaining that he was hoping to continue moving the conversation forward and incite change from the inside.
"No, I don't want people to stop protesting at all," he continued. "Kneeling — I know we're stuck on it because it's a real thing — but kneeling is a form of protest. I support protest across the board. We need to bring light to the issue. I think everyone knows what the issue is — we're done with that," he added.
"We all know the issue now. OK, next. What are we moving (on to) next?" Jay-Z went on. "…And I'm not minimizing that part of it because that has to happen, that's a necessary part of the process. But now that we all know what's going on, what are we going to do? How are we going to stop it? Because the kneeling was not about a job, it was about injustice."
Jay-Z faced criticism over his remarks and partnership with the NFL, with many accusing him of betraying Kaepernick.
Jay-Z says he still supports Colin Kaepernick
Jay-Z spoke to The New York Times in an interview published on Feb. 1 and admitted that he wholly stands behind Kaepernick.
"No one is saying he hasn't been done wrong," Jay-Z explained. "He was done wrong. I would understand if it was three months ago. But it was three years ago and someone needs to say, 'What do we do now—because people are still dying?'"
He also said he could live with the criticism as long as he can make a substantial change. So maybe he won't put too much stock into this post from Kaep.