Will Colton Underwood and Cassie Randolph Get Engaged on 'Bachelor in Paradise?'
Colton Underwood and Cassie Randolph say they are in the "pre-engagement period" of their relationship. Will Colton pop the question on the upcoming season of 'Bachelor in Paradise?' Find out, here.
Earlier this week, Bachelor Nation watched as Colton Underwood jumped a fence for the woman he loves. This season The Bachelor was, without a doubt, a shakeup from the usual protocol. And, although Colton and Cassie didn't get engaged in the two-part finale, they have plans for a future together and say they are in the "pre-engagement period" of their relationship, which leads us to believe they could get engaged this year — and on television.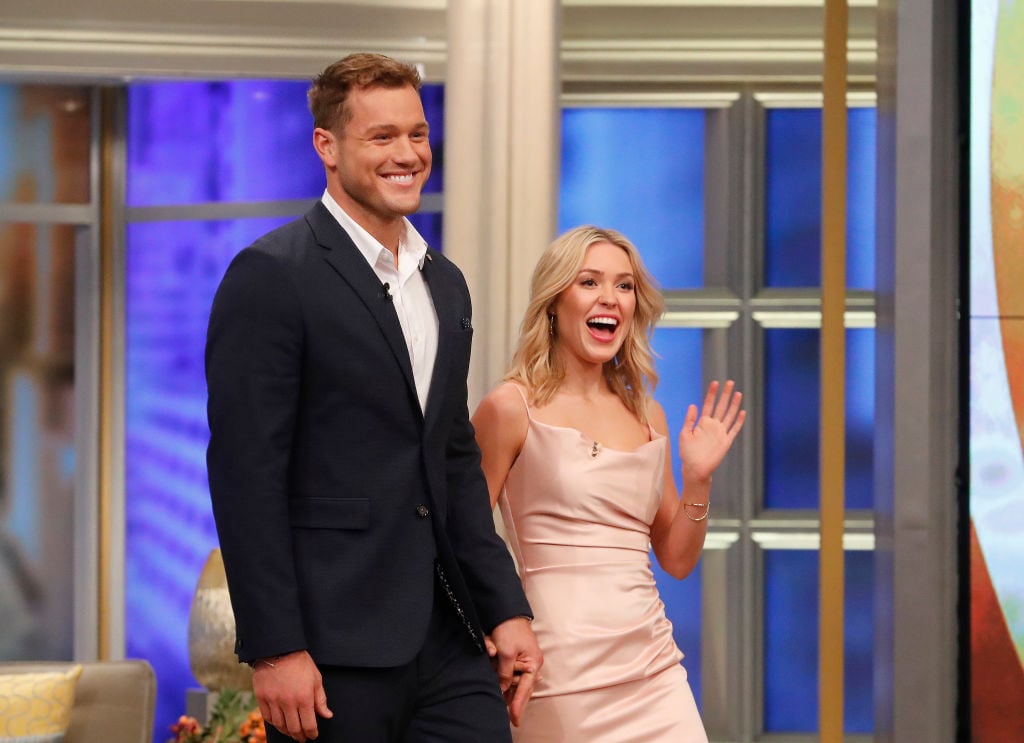 Will Colton propose to Cassie on 'Bachelor in Paradise?'

After starring on not one, not two, but three series under The Bachelor franchise, Colton Underwood is clearly a producer favorite. So, we wouldn't be surprised if executives invited him and Cassie Randolph for a little Paradise getaway this summer — all in the name of a surprise engagement, of course.

Following the two-part season finale on Tuesday, The Bachelor couple headed to Jimmy Kimmel Live! for their first appearance together outside of The Bachelor realm. When the late-night host asked about their relationship status, Colton called themselves "confidently boyfriend and girlfriend." He and Cassie continued to explain how they are more than boyfriend and girlfriend, but not yet fiancés. However, they hinted a future proposal and noted the "pre-engagement period" of their relationship.

Like last season, Bachelor in Paradise could begin filming in early June (following their wrap on The Bachelorette season 15), which — if you ask us — is perfect timing for a couple that claims to be in the pre-engagement phase.

It wouldn't be a first for 'Bachelor in Paradise'

Last season Bachelor couple Ashley Iaconetti and Jared Haibon made a guest appearance on Bachelor in Paradise to hand out a date card. But, Jared had a different agenda planned. "I thought we were going to [give out] a date card. We had been down there during Paradise season three and Jade and Tanner came down there for a date card," she told Glamour. Jared ended up surprising his now fiancé with a romantic proposal on the beach and — of course — a Neil Lane engagement ring.

Could Colton and Bachelor producers set up the same surprise for Cassie?

They already have a ring

Proposing on a Bachelor series — even if it isn't in the traditional way — has its perks. In exchange for promotion, jewelry Neil Lane provides Bachelor couples with an engagement ring. But, since Colton didn't pop the question on his season, the jeweler didn't get the screen time he was hoping for. Instead, he surprised the two on Jimmy Kimmel Live! with a stunning Neil Lane engagement ring.

Colton and Cassie's engagement ring features a 2-carat princess-cut diamond in the center, surrounded by 162 round brilliant-cut diamonds and weighs a total of 3-carats. It's unclear whether or not they get to keep the ring, although Jimmy Kimmel's comments lead us to think they do (or, at least, they will once they get engaged on Bachelor in Paradise — wink, wink). "If you don't want that one, you can pick out a different one," he told the happy couple. "It doesn't have to be that ring," he added.

If Colton proposed to Cassie on Bachelor in Paradise, the couple will receive a complimentary Neil Lane engagement ring. That said, if they break up before the second anniversary of the season finale, they would have to give the ring back. "In the contract, it says if you are not together for two years after the final day of the show airing, you have to give them the ring back," Jesse Csinsak, who was engaged to DeAnna Pappas, told Bustle. However, Bachelor in Paradise might have different terms, since the proposal wouldn't occur during the season finale, like other Bachelor franchised shows.

Check out The Cheat Sheet on Facebook!