Bachelor Nation Supports Colton Underwood and Cassie Randolph After Their Split
A lot can change in a few months. In late May 2020, The Bachelor Season 23 stars Colton Underwood and Cassie Randolph split after nearly two years of dating. The couple's breakup may come as a bit of a surprise, as the former football player was still smitten with his girlfriend while promoting his new book in early April. 
Nevertheless, rumors have been circulating since Underwood went home to Colorado after recovering from coronavirus (COVID-19) at Randolph's family home in California. But regardless of what happened, when Underwood and Randolph announced they are no longer together on Instagram, members of Bachelor Nation — from fans to alums — rallied in support of the two reality stars on social media.
'The Bachelor' stars Colton Underwood and Cassie Randolph split in May 2020
RELATED: 'The Bachelor': If You Want to Go on the Show, Be OK with ABC Owning You for Years
On May 29, Underwood announced his split with Randolph in an Instagram post. The former bachelor revealed they decided to close the chapter after doing some self-reflecting. However, it seems Underwood and Randolph will remain friends moving forward.
"Its been a crazy few months to say the least, Cass and I have been doing a lot of self-reflecting," Underwood wrote. "Sometimes people are just meant to be friends – and that's okay. We both have grown immensely and been through so much together – so this isn't the end of our story, it's the start of a whole new chapter for us."
Meanwhile, Randolph echoed her ex-boyfriend's Instagram post with a statement of her own. And the Bachelor Nation alum hinted she will still be part of Underwood's life. 
"First off, I want to say this is one of the hardest things I have had to share as neither one of us is quite ready to talk about it yet," Randolph wrote. "However, because our relationship is such a public one, our silence on the matter has been speaking for us. Colton and I have broken up, but have decided to remain a part of each others lives."
She continued, "With all that we have gone through, we have a special bond that will always be there. I love Colton very much and have an enormous amount of respect for him. We have both learned and grown so much these past couple years, and will always have each others back. Always."
Bachelor Nation alums react to Colton Underwood and Cassie Randolph's breakup
RELATED: Is 'Bachelor in Paradise' 2020 Officially Canceled? — Bachelor Nation is Begging for New Content
When Underwood and Randolph announced their split on Instagram, Bachelor Nation alums lent their support to both parties individually. Clay Harbor, Jason Tartick, and Blake Horstmann — who were on Becca Kufrin's season of The Bachelorette with Underwood — commented on their former co-star's page. 
"You both are amazing and wishing the best for both of you guys…always here for you man," Tartick wrote. 
Meanwhile, the women from Underwood's season of The Bachelor — like Elyse Dehlbom, Katie Morton, Onyeka Ehie, and Sydney Lotuaco — commented on Randolph's post.
"Love you Cass and hope that everyone can give you the space to move forward in peace and for you both to find your happiness," Dehlbom wrote.
Then, of course, other Bachelor Nation alums — such as Kaitlyn Bristowe, Raven Gates, Ben Higgins, Vanessa Grimaldi, DeMario Jackson, and Chris Bukowski — all offered a few words of support to both Underwood and Randolph. 
What happened to Colton Underwood and Cassie Randolph?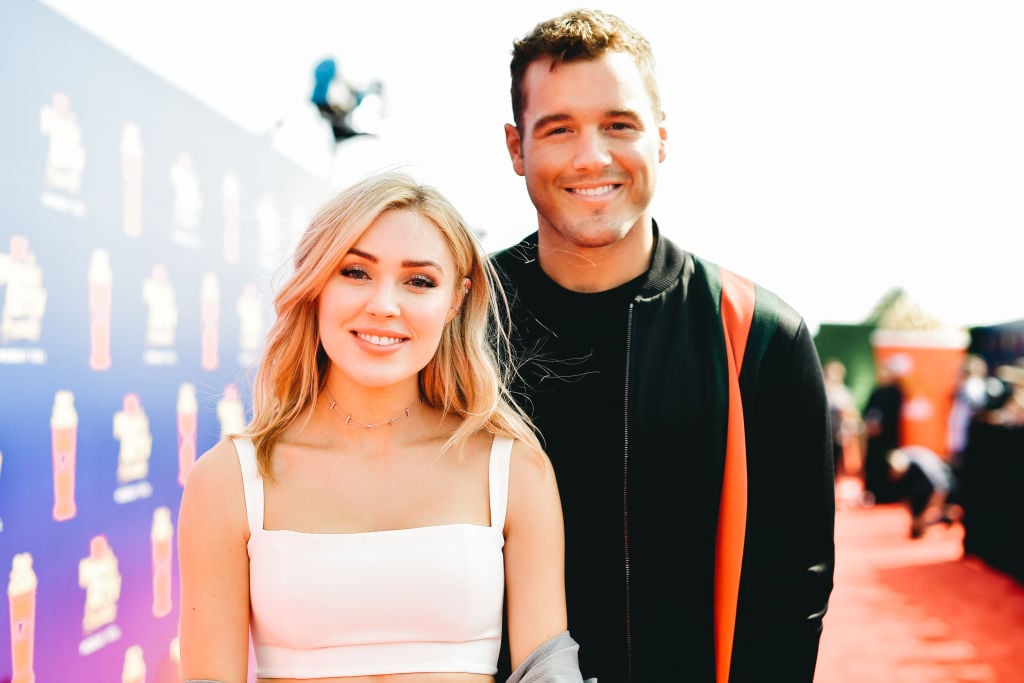 RELATED: Did Natascha and Ryan Stay Together After 'The Bachelor: Listen to Your Heart'?
For the most part, The Bachelor fans are hoping for the best when it comes to Underwood and Randolph. However, as mentioned, many viewers seemed to have speculated the split before the official announcement due to the couple's social media activity.
"I've always liked C&C as a couple, but like many others here I had been suspecting they broke up/that a break up is coming so this does not come as a surprise,' a fan wrote on Reddit. "I'm wishing the best for both of them!"
As Underwood and Randolph's Instagram posts suggest, the split was mutual. Then a source told E! News that Randolph tried to end the relationship multiple times before the breakup announcement. 
"In truth, the relationship had become more of a friendship than a hot romance," the source said. "Cassie was just not as ready for the settled-down life Colton wants right now and she tried to end it a few times."
Then another source claimed Randolph was the one to "initiate" the breakup conversation. Meanwhile, People reported Underwood and Randolph weren't on the same page when it came to their relationship.
"Colton really wanted to settle down and get married. He's been ready for a long time," a source told the publication. "And Cassie just wasn't ready. They both knew it wasn't going to work."
Regardless of what happened to Underwood and Randolph, it's clear Bachelor Nation wants the best for the two reality stars. And hopefully, they're able to move forward.
Check out Showbiz Cheat Sheet on Facebook!