'Comedians in Cars Getting Coffee's' Top Ranked Episode Features Jerry Seinfeld's Former Co-star
Jerry Seinfeld's unique series Comedians in Cars Getting Coffee is currently on Netflix. It's very popular with fans of the comedian, good comedy, cars, and celebrities in general. The top-rated episode of the series actually features Seinfeld's former co-star Michael Richards who played his neighbor on the hit show, Seinfeld, for nine years.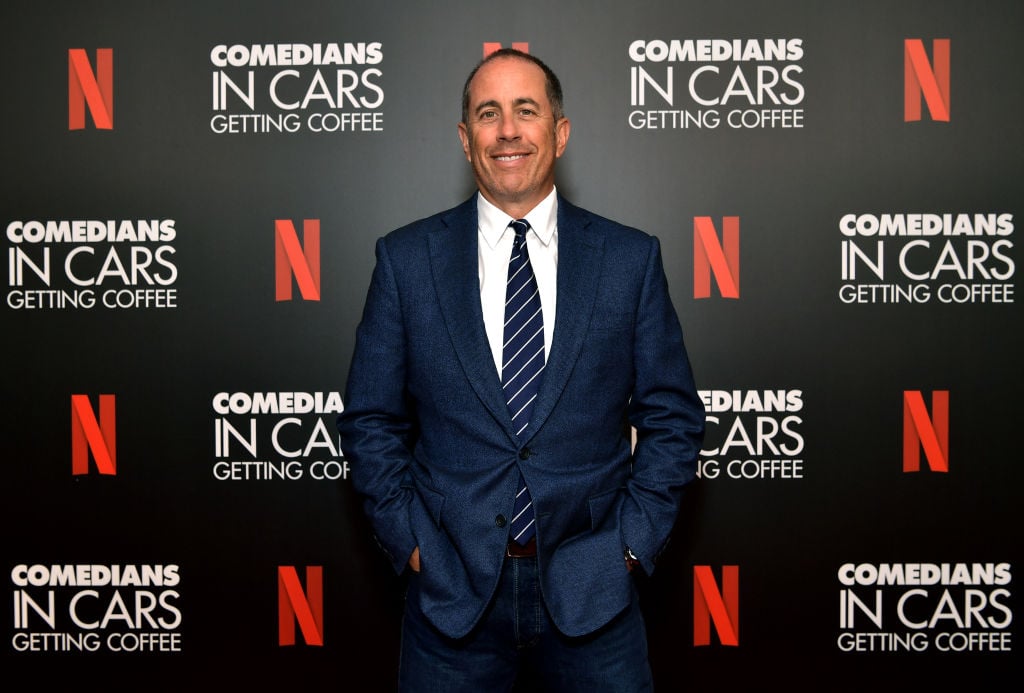 A special reunion
It started out as a web-only series in 2012. Jerry Seinfeld's Comedians In Cars Getting Coffee seems to set out to prove that comedians are regular folks. Seinfeld selects the appropriate vehicle for his guest star each episode. Then he picks them up for coffee and they chat before going their separate ways.
There's been a wide array of top comedians on the show including Eddie Murphy, Alec Baldwin, and Sarah Silverman. The episode called "It's Bubbly Time, Jerry" featuring Michael Richards has 8.8 stars out of 10 on IMDb making it the top-rated episode. 
Seinfeld selected a special vehicle for Richards. The 1962 VW split-window double-cab bus featured a 1971 60 horsepower dual-port four-cylinder engine. It was dove blue, primer gray, and rust in color with gray vinyl and duct tape interior. Seinfeld mentioned that it was once a service vehicle in Campbell, California for a VW Porsche repair shop. Richards was very appreciative of the selection.
Perhaps it's nostalgia? Maybe it's just that we don't see Richards now and in the episode, Richards discusses why that is.
In 2006 at the Laugh Factory in West Hollywood, hecklers interrupted Richard's stand-up routine and told him that he wasn't funny. Richards lost his temper, responding with a racist diatribe that was widely reported. Despite multiple apologies for the incident, Richards at the time of the episode was still struggling with it. He pointed out that it was seven years ago during the episode.
"I blew it," Richards told Seinfeld in the episode. He explained that it busted him up and broke him down.
It was a truly poignant moment in an episode otherwise filled with laughs and happy memories.
A history together on Seinfeld
Seinfeld was one of the top shows on television for nine years. While it ended in 1998, it continues on in re-runs. Richards played Seinfeld's peculiar next-door neighbor, Cosmo Kramer. 
Loosely based on comedian Kenny Kramer, Seinfeld co-creator Larry David's ex-neighbor across the hall, Richards played Seinfeld's friend and neighbor in Apartment 5B. He was also a friend to Seinfeld characters George Costanza and Elaine Benes. Unlike the other three primary characters on the hit show, Kramer had no identifiable means of support. The few jobs he held that the audience was made aware of turned out to be mere flukes.
While Seinfeld praised Richards' performance in the show, pointing out his ingenuity in how he portrayed his character on the show. Richards had a gift for physical comedy that isn't often seen.
Since then, the pair have both appeared on Larry David's show Curb Your Enthusiasm and in the 2007 film Bee Movie.
Highlights of the episode
As they drove in the VW bus, Richards points out the Getty Villa was supposedly sliding down the hill. That the pool of the estate had apparently started sliding down the hill. Laughing, he told Seinfeld that with just a tilt of the axis, it would all slide down and it would be "bubbly time." It would all be under the sea. 
On the way to get coffee, Richards asked to take a side road. He claimed to know where professional boxer Sugar Ray Leonard lived. They stopped at the home, oddly encountering producer Barry Katz at the stop. Seinfeld claimed he hadn't see Katz since his 2002 documentary Comedian. The home ended up being that of actor and comedian Jay Mohr who they didn't talk to personally.
On the way to coffee, Richards admitted that he didn't actually know Sugar Ray Leonard.
Once they reached their destination, the pair remembered moments on their hit show. Richards recalled auditioning for the show, telling Seinfeld that he knew he'd get the role. He also told a hilarious story about playing chess against a homeless man twice and losing epically.
Richards told Seinfeld that he gave him the role of a lifetime. Seinfeld told Richards he gave him the experience of a lifetime.