'Coming 2 America' Star Eddie Murphy Almost Fought Paul Mooney the First Time They Met
Eddie Murphy, producer and star of Coming 2 America, has created lifelong relationships with some of the world's leading comedians. However, not all of them started off on the right track.
The Academy Award-winning actor didn't have the best introduction to comedian Paul Mooney, whom he once stole stage time from at a comedy club.
According to Murphy, Mooney was so angry during their encounter that he threatened to "shoot him if he'd had a gun."
Eddie Murphy got into a confrontation with Paul Mooney at a comedy club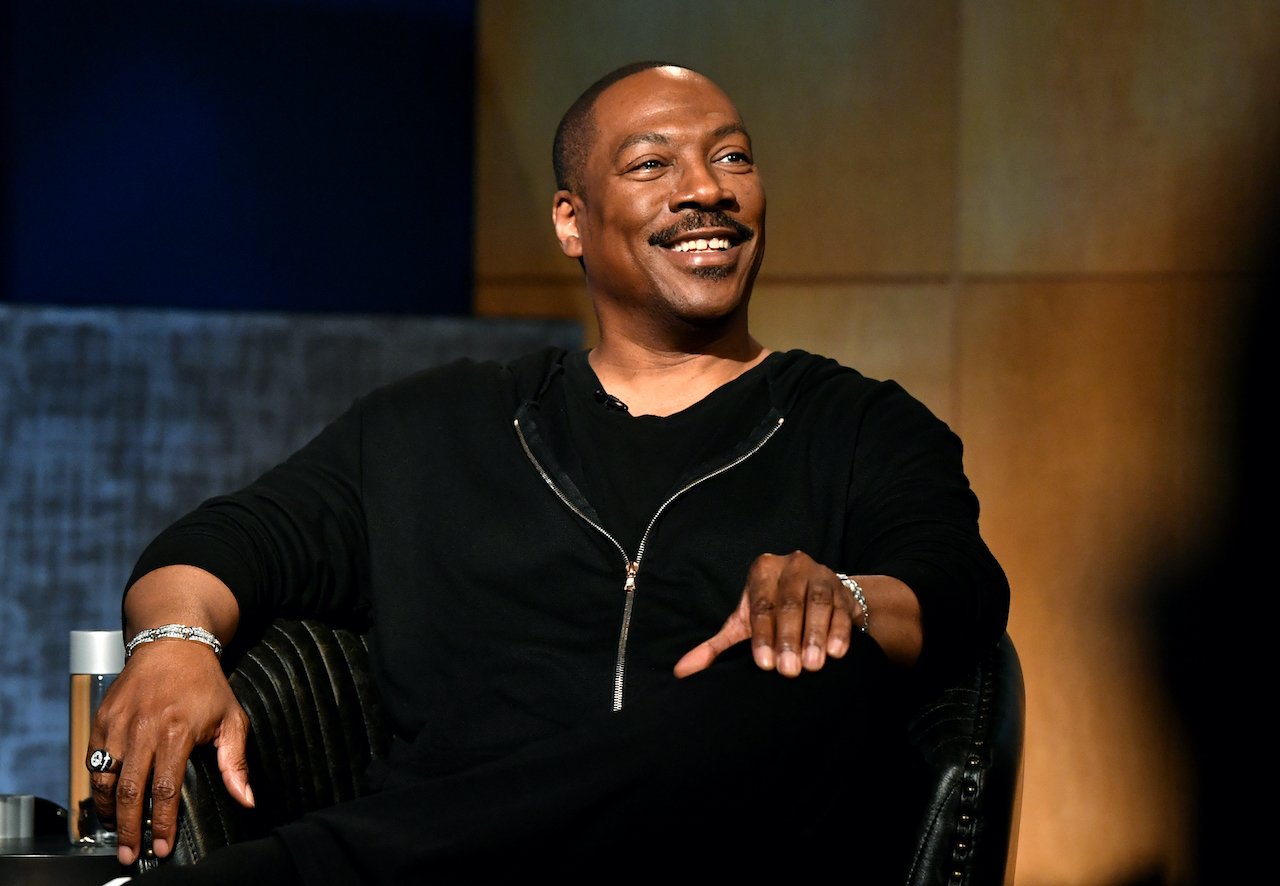 Murphy recalled the incident during a recent interview with Seth Myers. He joked that Mooney couldn't beat him up if he wanted to. 
"Not 'Tried to beat me up,'" Murphy said, laughing. "First of all, Paul Mooney could never beat me, not even when he was young. In fact, most comics, as far as comics go, I'm pretty scrappy. I don't know if I've met a comic that, you know, could—at any rate …
Murphy claimed that their confrontation was caused by an incident at a comedy club many years. He had refused to get off stage when it was time for Mooney's set.
"There was an argument because they gave me the light the first time I was at the Comedy Store," Murphy said. "Paul Mooney and them, they gave me the light because I was going on. I just kept going and going. I hadn't met Paul Mooney yet and they gave me the light. And that was like, first year SNL, and I was killing. And I was like, 'They're giving me the light?' And I was only there for 10 minutes."
Eddie Murphy wouldn't let Paul Mooney perform his stand-up routine
Murphy claimed he had no idea who Mooney was and ended up staying on stage for another hour. 
"I was like, 'Who's supposed to be coming on?'" Murphy recalled. "They said, 'Paul Mooney.' I said, 'Who's Paul Mooney?' … I said, 'Do you want to see me or Paul Mooney?' And it was like, 'Ahhh!' So I did like, another hour or some sh*t."
Paul Mooney confronted him outside the comedy club
Even though the audience loved Murphy's performance, the club's employees weren't so happy. 
"So when I came off the stage, they were like, crazy," Murphy said. "And Spoon, Witherspoon, was in by the bathroom at the Comedy Store, and he said, 'Next time they tell you to get off that stage, you better get your ass off that stage.' I said, 'Man, f*ck you!' He said, 'F*ck you, and f*ck your momma, too!' And we went outside in the parking lot."
After Murphy exited the club, Mooney walked up and asked him about a routine that Murphy liked to perform. Murphy refused to show him the routine, which made Mooney even more angry. 
"Then Mooney came walking up, and he's like, 'Excuse me homie. Yes, you have a routine about The Amityville Horror, about the ghost in the house?" Murphy said. "And I was like, 'Yes.' He said, 'Well, I have a routine that's very similar. Let me hear your routine homie.' And I was like, 'I'm not doing my f*cking routine in a parking lot.' And he said, 'F*ck you.' And I was with John Landis. He said, 'F*ck you, and he said, 'F*ck you too, white man.' If I had a gun, I'd shoot the both of you.' That was the first night I met Paul Mooney."
Luckily, Murphy and Mooney's relationship is on much better terms now.