'Coming to America' Sequel: Who Are the New Characters in 'Coming 2 America'?
Coming to America fans are excited to see the whole gang back for the sequel, Coming 2 America. The 30 plus years since the original comedy Coming to America has allowed them to introduce many new characters. Here's who will be joining Eddie Murphy, Arsenio Hall, James Earl Jones and Shari Headley in the Coming to America sequel.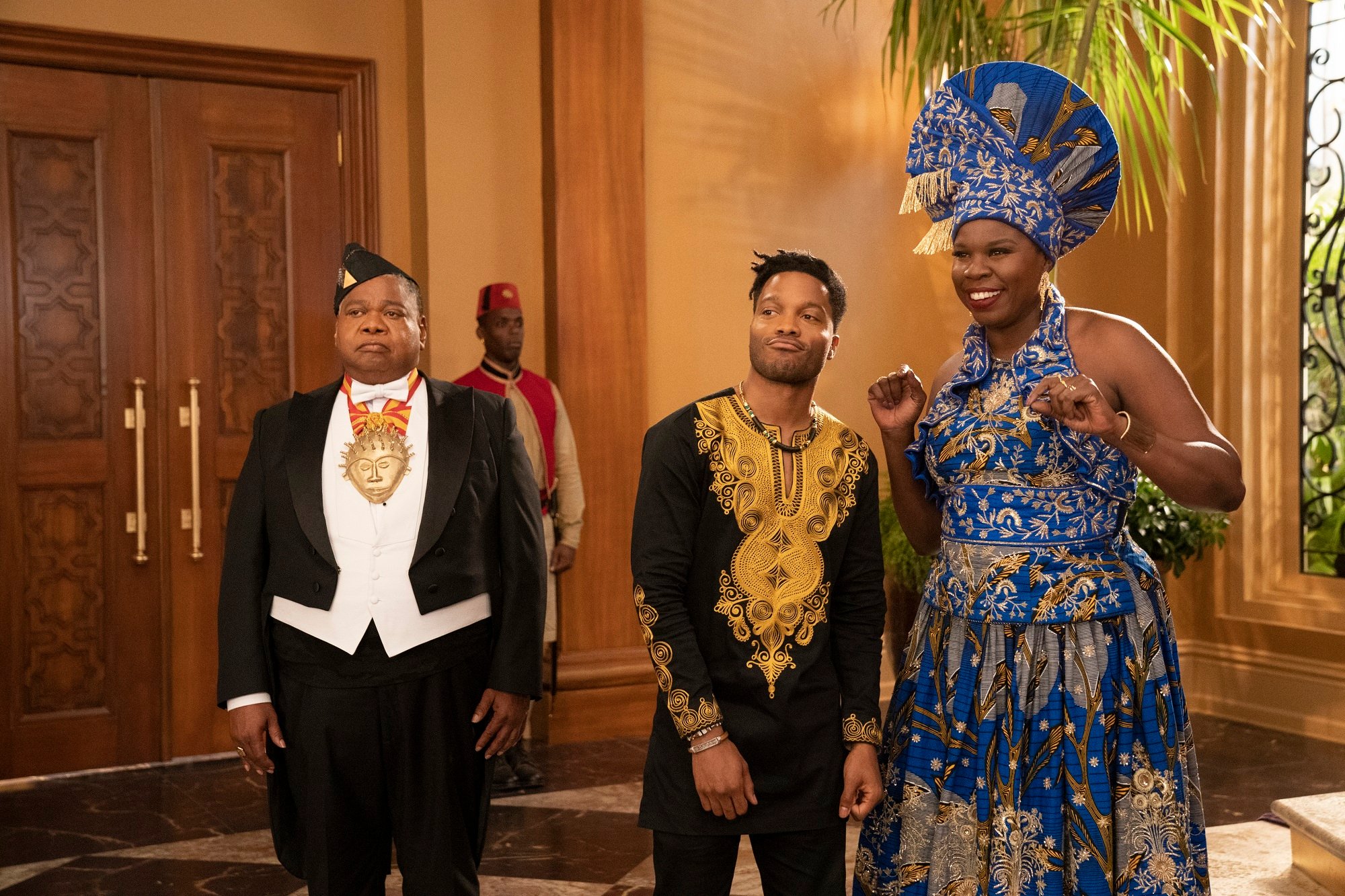 Leslie Jones, Tracy Morgan, Jermaine Fowler, Nomzamo Mbatha, Bella Murphy, Akiley Love and Teyonah Taylor spoke at a press conference about their new characters in the Coming to America sequel. We'll have more with the cast and filmmakers behind Coming 2 America on Showbiz Cheat Sheet before it premieres on Amazon Prime March 5.
The 'Coming to America' sequel introduces Prince Akeem's extended family
In Coming to America, Akeem (Eddie Murphy) came to Queens to find love. Now, he is married to Lisa (Shari Headley) with daughters, but discovers he had a son from an encounter in Queens. Leslie Jones plays Mary, a woman Akeem met before Lisa. 
"The character is me," Jones said. "Seriously, just so ghetto, so free in life. You ain't gotta take care of me. I'll take care of me. I didn't need no prince to raise my son. Oh, you're here now. … It was just so easy to play because it was just one of those characters that you do embrace. I love these type of characters that are in a movie that are going to join everybody together. Just carefree. Yeah, girl, I'm sorry for sleeping with your man."
Their son is Lavelle, who Akeem takes back to Zamunda after coming to America one more time, to teach him how to be a prince. Jermaine Fowler plays Lavelle.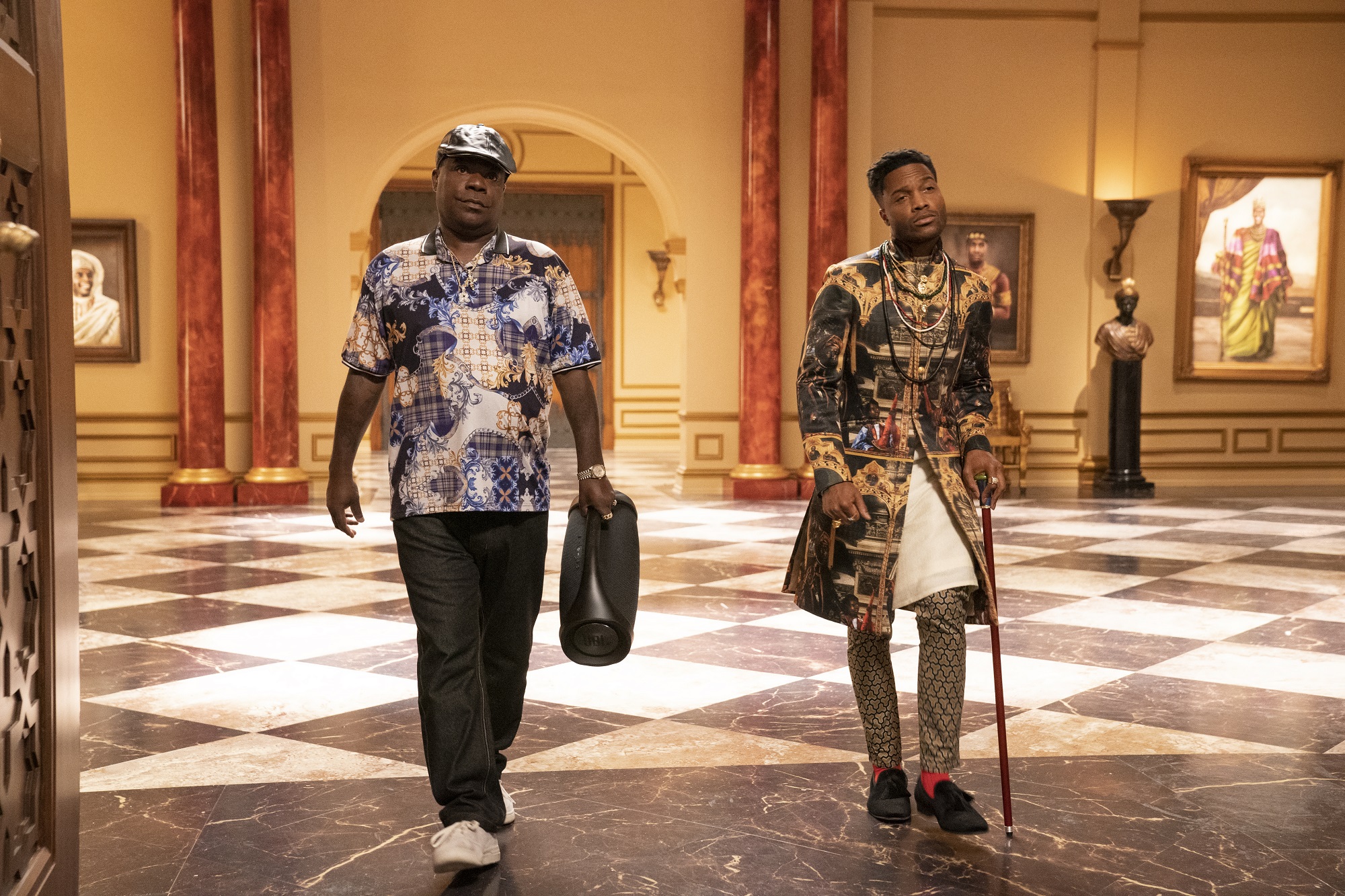 RELATED: 'Coming 2 America' and 12 More R-Rated Movies With PG-13 Sequels
"He starts to get his bearings but it isn't without the support of the people around him when he starts to realize that," Fowler said. "He doesn't take it seriously at first. Then he starts to."
Lavelle's Uncle Reem comes with him and Mary to Zamunda. Morgan joins the Coming to America cast as Uncle Reem.
"I thought of myself on the set as the Old Dirty Bastard to Wu Tang," Morgan said. "He was the whole Wu Tang. You always got that one person in the family that keeps everybody together. Even though his moms is my sister, she probably was a slut on the streets, she's still my sister. I knew that but I love her anyway."
The 'Coming to America' sequel is full of girl power
When Coming 2 America returns to Zamunda, you'll meet the next generation of powerful women. Akeem's daughters (Love, Bella Murphy and KiKi Layne) are all warriors, as is General Izzi (Wesley Snipes)'s daughter Bopoto (Taylor). Love and Murphy trained for their action scenes. 
"I just personally pick up on things very quickly and I learn very easily," Love said. "It was really fun doing that but I was kind of nervous because they wanted me to beat up this really huge guy. They wanted me to us the bo staff and just hit him where the sun doesn't shine. So I was doing that and then I was actually having lots of fun because I got to swing glasses at and crack a vase over his head."
Coming 2 America has a lot more action than Coming to America. Murphy actually fights Snipes in the end.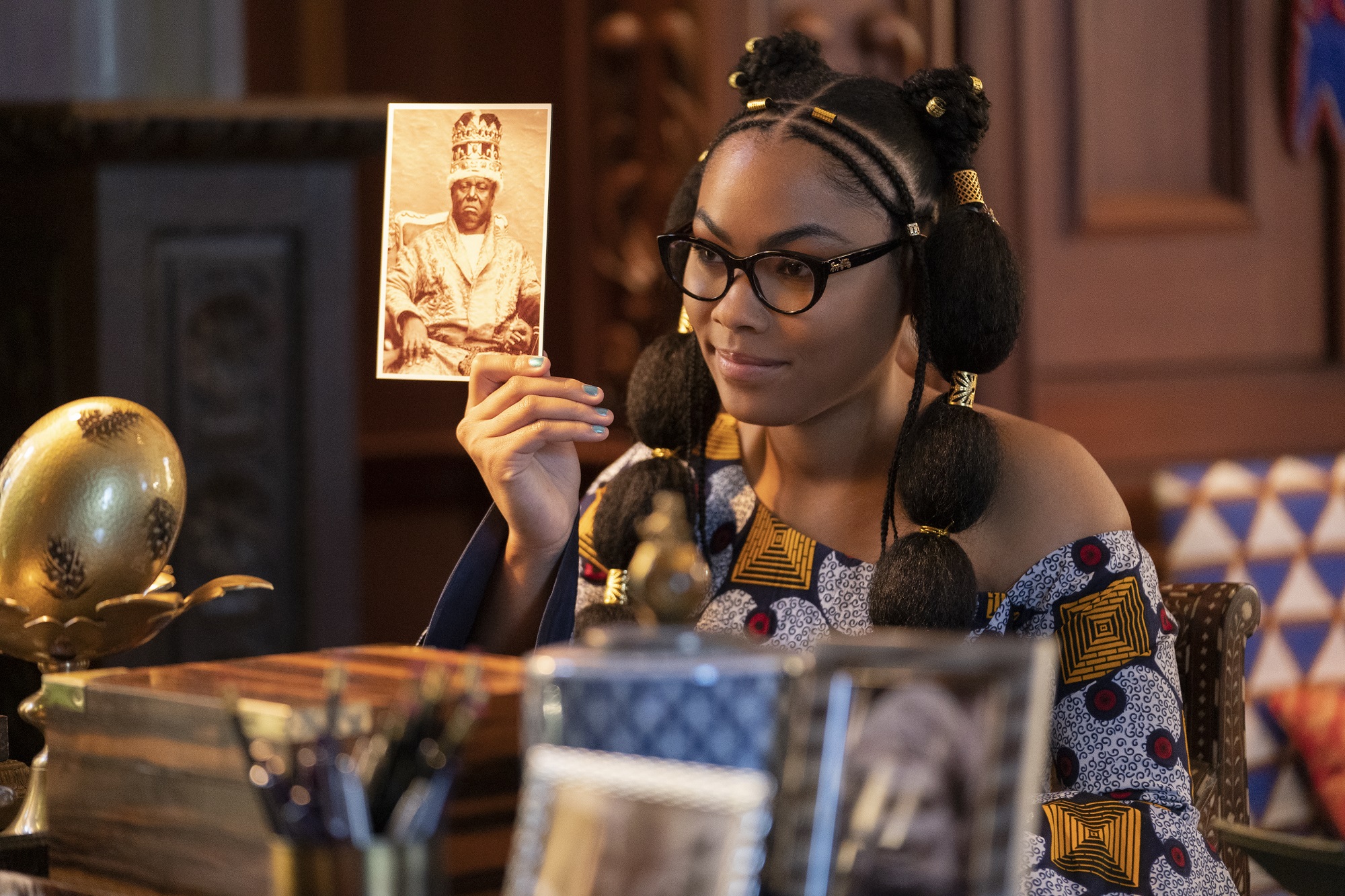 RELATED: Eddie Murphy Revealed All the Characters He Plays in 'Coming 2 America'
"I was nervous because I was flailing my stick around and I didn't want to hit Wesley Snipes in the head because that's not a good impression," Murphy said. "It actually turned out really well but it was really cool to play a character like that because I just felt so empowered. I feel like the story shows how women can do just as much as men. If not, they can do it even better."
The sequel has more music than the first Coming to America, too. Taylor performs a musical number when Izzi introduces her to Akeem and Bopoto.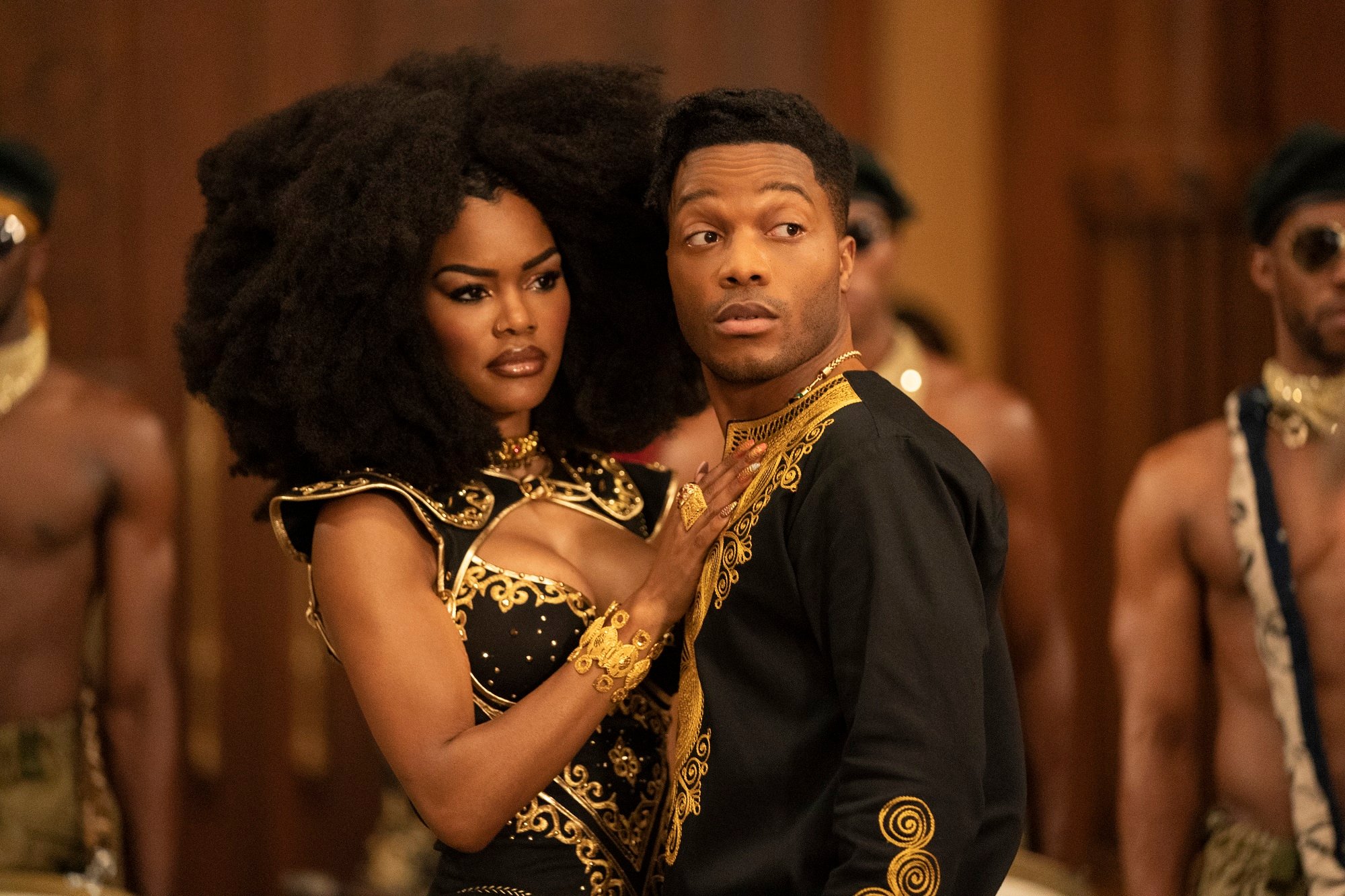 "The big performance was added on a little bit later," Taylor said. "So when I heard I was doing it, I was like okay, I've got way too many big shoes to fill. That scene is also re-enacting the original so it's kind of like damn, oh my God, this is too much."
The new characters teach Akeem something, too
It's royal barber Mirembe (Mbatha) with whom Lavelle falls in love.  Their romance bears some similarities to the original Coming to America.
"It was about what I as an African woman am able to bring in terms of the nuance, in terms of roots and rooting it in so much texture and culture and seeing ourselves," Mbatha said. "Mirembe is witty, she's smart, she's sassy but she also brings a lot of grounding. I'm really just excited for every brown girl, every little girl around the world to just see themselves, to hear themselves through the central theme."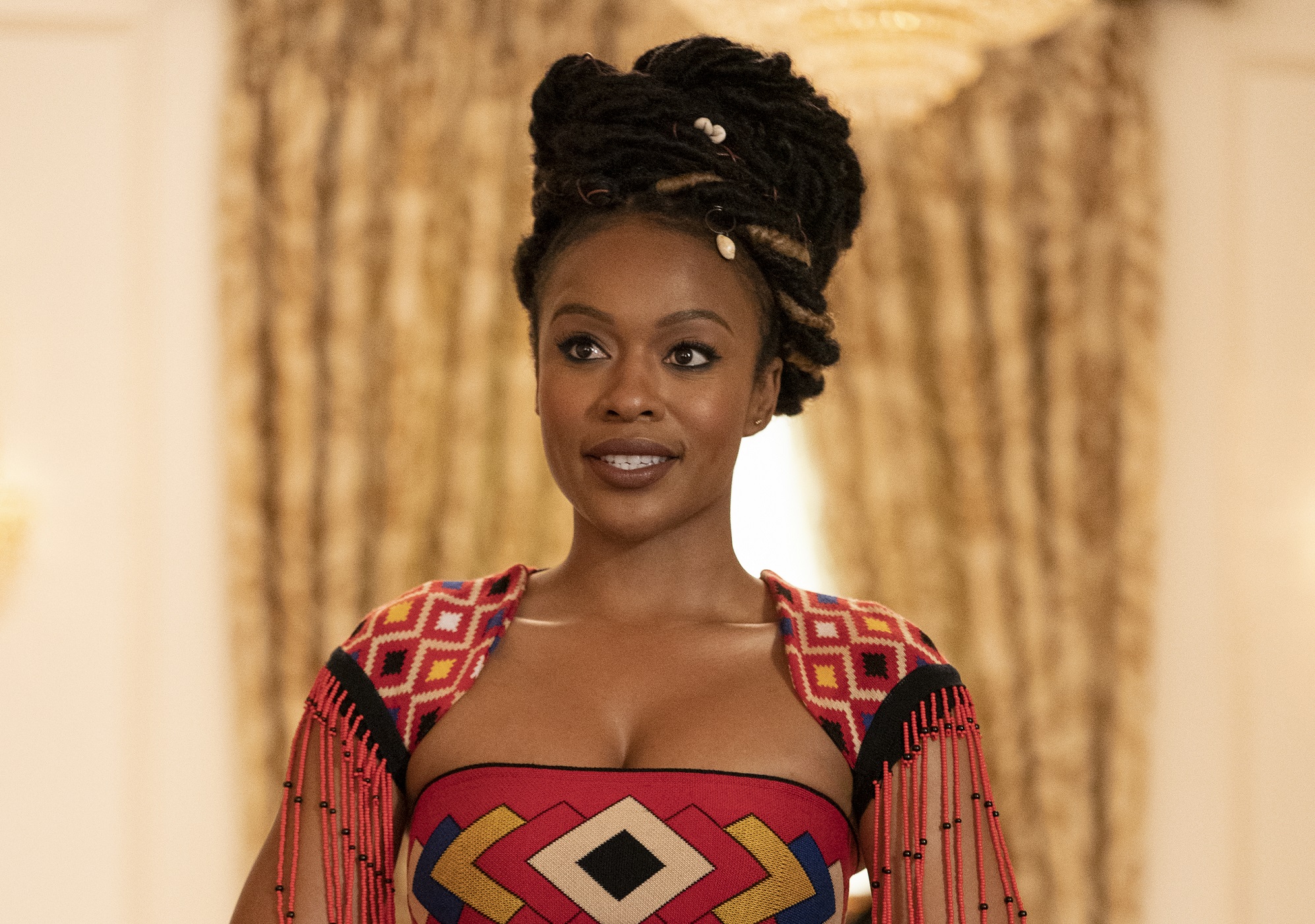 RELATED: 'Coming 2 America' Gets Official Release Date: Here's How to Watch the Sequel to Eddie Murphy's Classic Comedy
Initially, Akeem seeks out Lavelle so he can take his place on the Zamunda throne. When Laelle falls for Mirembe, Akeem has a thing or two to learn.
"What I go through with my situation with Mirembe, he slowly gets reminded about what had drawn him to Queens and his love for Lisa," Fowler said. "All that comes back to him, but it's something you learn throughout the movie. This movie is just a reminder of what true love is. Sometimes we've got to get bumped in the head a little bit just to remember that."