'Community' Fans Demand Netflix 'Add Back' One of the Series' 'Best' Episodes
Netflix recently pulled the "Advanced Dungeons and Dragons" episode of Community from their catalog due to Chang's (Ken Jeong) appearance as a black painted elf. Now, as fans take to social media to try to clarify the context of the episode, many are also demanding the streamer add it back.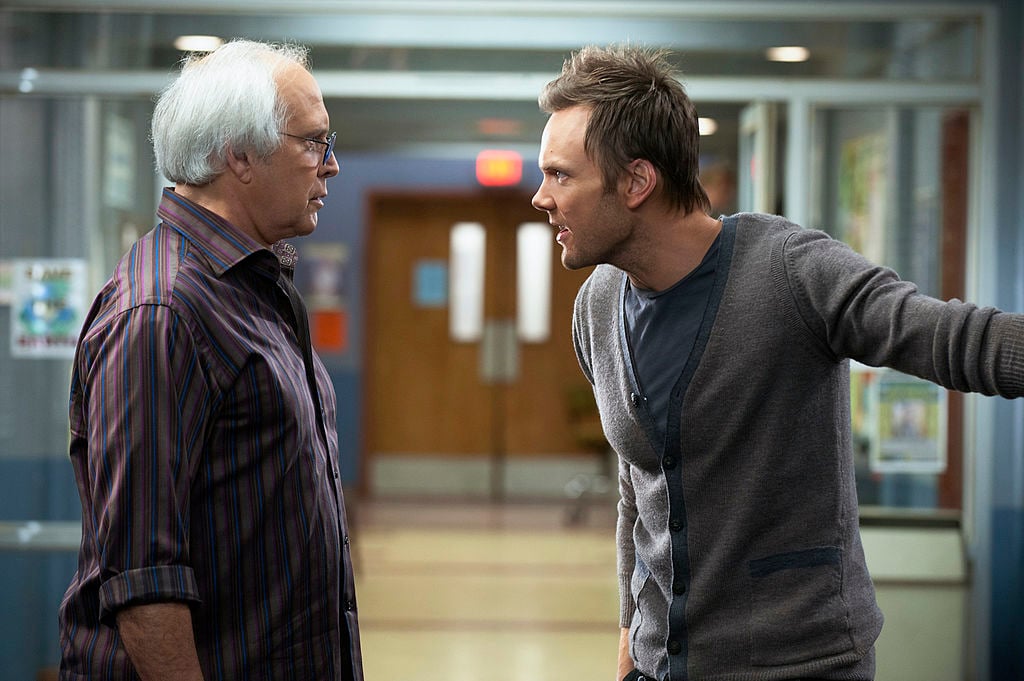 What the 'Community' episode 'Advanced Dungeons and Dragons' is about
The fourteenth episode of Season 2, 'Advanced Dungeons and Dragons' follows the study group as they try to cheer up one of their fellow Greendale Comunity College students. When they see that Neil (Charley Koontz), who is nicknamed "Fat Neil," is depressed, and possibly suicidal, they put together a session of his favorite game, of Dungeons and Dragons to make him feel better. 
As the dungeon master, Abed (Danny Pudi) writes the game to ensure Neil will win. But when Pierce (Chevy Chase) shows up uninvited, he continuously picks on Neil and eventually leads Jeff to confess he was the one who coined Neil's nickname. 
Fans consider it one of the best episodes 
"Advanced Dungeons and Dragons" is often regarded as one of the best episodes of Community. It touches on sensitive subjects like suicide and bullying but also features moments of self-reflection and growth for its characters. 
"This episode contains all the elements that make Community a great show," one fan wrote on Reddit. "It implements a unique concept, yet it doesn't feel like it relies on it too much to drive the story along; and it's full of quotes and gags that really utilizes each ensemble member well.
"A masterwork episode," another Redditor suggested. "It has virtually no on-screen action yet is incredibly compelling. I have a feeling that this episode will be shown to film students in the future as a reference on how to tell an incredible story out of virtually nothing."
Why Netflix pulled the episode
Netflix carries all six seasons of Community, but it recently pulled "Advanced Dungeons and Dragons" because of a scene in which Chang appears with black paint on his face and hands. Donning a white wig and elf ears, he suggests he is an elfish character called Brutaltiops the Magician. 
"So, we're just going to ignore that hate crime, huh?," Shirley (Yvette Nicole Brown) says upon seeing Chang's painted face, to which he replies, "I'm a dark elf or a drow."
'Community' fans demand Netflix add the episode back
Immediately after Netflix pulled the episode, fans took to Twitter to share their outrage. Some tried to clarify and explain the context of Chang's get-up.
"@netflix regarding #Community S2 episode 'Advanced Dungeons and Dragons,'" one fan tweeted. "Chang's character is an actual fictional character." 
"I CANNOT believe the Community episode 'Advanced Dungeons and Dragons' was pulled from Netflix," another fan wrote on Twitter. "Blackface is used by nonblack people to perform black roles; Brutalitops the magician was a DROW. They even addressed it on the show so it won't be misread and it still was."
Pointing out that Chang was dressed up as a character from the game, fans insisted he was not trying to representing a race. Many demanded that Netflix add the show back to its catalog, and some even signed a petition asking the streamer to do so. 
"@netflix Advanced Dungeons and Dragons isn't just one of the best episodes of Community but one of the best episodes of TV ever written and filmed," one fan suggested in a tweet. "Undo this."
"Hey @netflix! Could you kindly reinstate Community ep. 214 Advanced Dungeons & Dragons?" another fan tweeted.  "Your crusade to eliminate all things offensive has missed the mark on this one as the claim that a character is in blackface is false. Please watch the episode and understand the narrative."
Netflix has not given a public statement about the episode. But with all this backlash from fans, they may address the issue in the coming days.